Next big Atlantic storm approaches
We enjoyed a window of dry, calmer weather and sunshine today thanks to a weak ridge of high pressure but it's time to batten down the hatches again!
The next big Atlantic storm is heading towards Ireland bringing another dose of heavy rain, blustery showers and very strong winds. So be prepared for more flooding, travel disruption and possible power cuts over the weekend.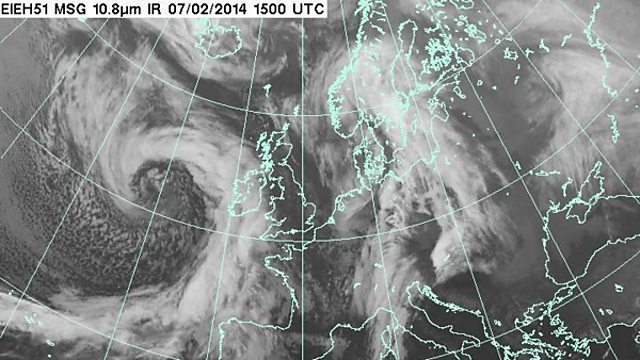 Satellite picture for 3pm Friday 7 February.
Met Office warnings remain in force, one for heavy rain, plus an amber warning for severe gales in southern counties. Gusts of 70 to 80mph are likely on exposed parts of the Bristol Channel coast tomorrow. Even inland gales are likely with gusts over 50mph which could bring down a few trees given the ground is so wet.
At the Liberty Stadium, strong winds will ruffle the feathers of Cyril the Swan and the Bluebirds. It will be wet at times as well in Swansea and feeling cold.
Not quite so windy in Dublin for the Six Nations rugby on Saturday afternoon but watch out for heavy showers.
Sunday will stay windy with further rain and showers and snow on some hills and mountains. Later in the day it should turn drier and the wind will slowly ease.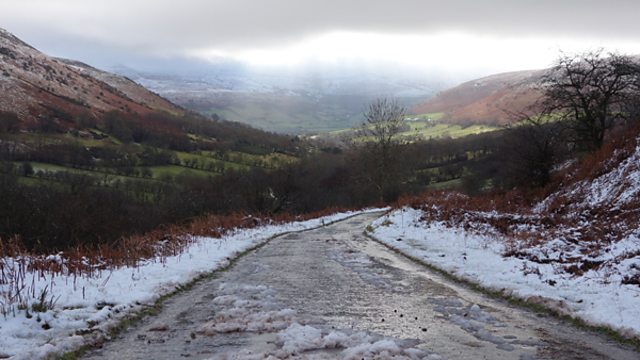 Photo of snow in Cwm Sorgwm near Llangors in Powys taken this morning
This weekend the tides will be lower than recently but a large swell and big waves are expected in the south west. So there is a risk of further flooding on parts of the south and west coast, especially where defences have been weakened by recent storms.
Next week, Monday will be calmer with some sunshine but another area of low pressure may bring more rain and strong winds by Tuesday, although there is uncertainty about the exact track it will take.
Further ahead, there is still no sign of the weather settling down so the record breaking wet winter is set to continue for a while yet.