Mad Mountain Stitchers recreate magic of Big Pit
A group of textile artists living in the Brecon Beacons have pooled their talents to create a version of the Big Pit National Coal Museum in Blaenavon on fabric.
Rather than being a woven tapestry, the work uses a raft of creative techniques and materials and has taken its inspiration from archive images of the site made available by the Royal Commission's archive, the National Monuments Record of Wales.
The result is a stunning mixed media piece which shows both the machinery of industry and the lush green backdrop of the mine's setting above ground, as well as the history of toil and tunnels which happened in the bowels of the earth below.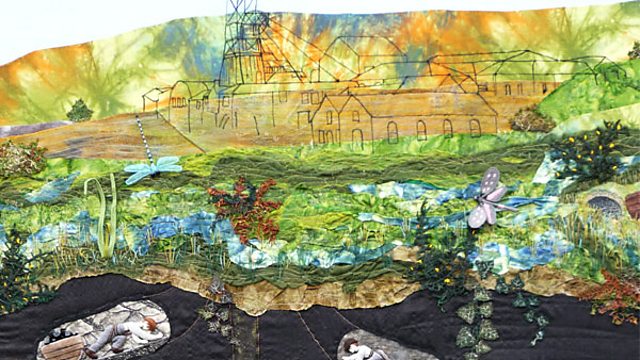 Detail from the Big Pit fabric form completed by the Mad Mountain Stitchers
The collective call themselves the Mad Mountain Stitchers and all live close to Crickhowell in Powys. They consist of Margitta Davis, Ann Notley, Penny Turnbull, Milli Stein and Jan Winstanley, a group of friends who have been stitching together for almost a decade and more recently formed their own group.
Margitta said: "Working on Big Pit, in various media, was a fun challenge especially as the site is not far from our work place. We were, therefore, able to visit many times to get a feel of the place. There were so many ideas; they just kept coming so we went for it!
"Obviously we couldn't get underground and take pictures because of the gas that is there but the Royal Commission has so many fantastic images on its website and we were given a special licence to use the images.
"It's a beautiful area and we were all able to bring something different to the process."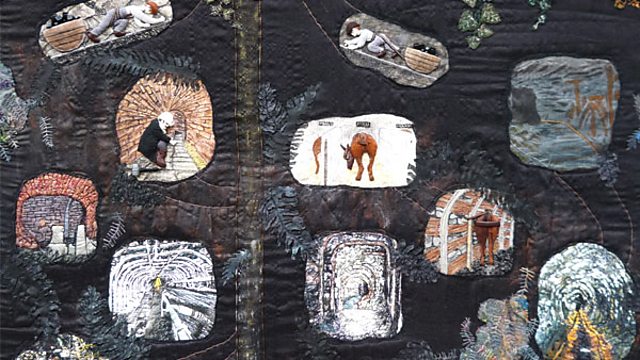 More detail from the piece. Images courtesy of the Mad Mountain Stitchers
Among the materials used were felt, organza, calico, cottons, dyed and painted leather, beads, silk tops, voiles, embroidery wire and various threads. Techniques used were appliqué, stumpwork, embellishing, hand and machine embroidery, needlelace and stencilling.
The piece is 80cm by 123cm and the group are hoping it may be exhibited by the museum or a local gallery.
It is not the first popular local landmark they have celebrated in fabric form. Previous collaborations include versions of Patrishow Church in the Black Mountains and the Thomas Traherne windows at Hereford Cathedral. Next they are hoping to focus on the magnificent ruins of the Llanthony Priory in the Ewyas valley, near Abergavenny.
Margitta said: "We are all a bit impressionist - we like to see a picture of somewhere and make it happen in our own way using our various different techniques."
The group say they are indebted to the Royal Commission for allowing them to use its images.