There are some big names on the station this week – mainly in the afternoons. Andy Bell and Vince Clarke join Eleri on Thursday to talk about Erasure's new album and tour. Michael Palin joins Wynne on Friday's Big Welsh Weekend.
Meanwhile, Tom Jones is on Tuesday afternoon to talk about a huge music festival in Aberystwyth featuring him, Blondie, Katy Perry, The Doors and Oasis. Ok, ok, it's a tribute act festival, but it should be fun nonetheless!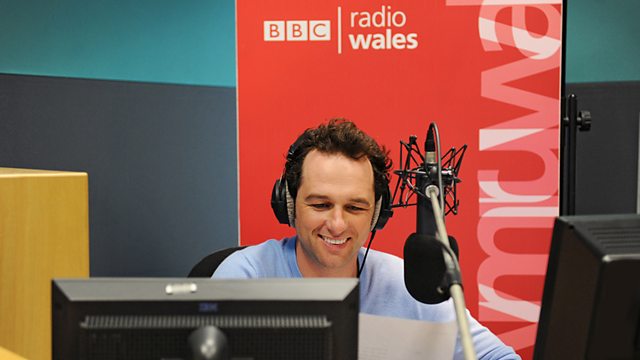 Matthew Rhys
Talking of big stars – legendary Welsh goalie Neville Southall is the subject of this weekend's Jacko's Sporting Almanac (Saturday at 1.30pm). I hope Nicky Davies can channel Nev when she keeps goal for Wales against England. That crucial Women's World Cup Qualifier is live on Radio Wales on Thursday night. Radio Wales Sport will also have much of the action from the IPC European Paralympic Athletic Championships in Swansea throughout the week.
A slice of country for our Radio Wales Artist of the Week this week. Taylor and Marie are Sam Taylor and Radio Wales Music Day alumni Jodie Marie. Their new single All I Need can be heard across the station – plus they'll be joining Eleri on Tuesday afternoon.
Beti George is joining Jason on Thursday morning to update us on the progress of her partner, broadcaster David Parry Jones. David has Alzheimer's and there's another chance to Beti's three part series on how to live and cope with dementia, David's Story, Thursday at 6.30pm.
We've got quite a few special moments for the Bank Holiday weekend. On Sunday night at 8pm, Bethan Elfyn presents The Welsh Anthology - a special concert featuring harpist Catrin Finch, pianist Gwilym Simcock and singer-songwriters Al Lewis and Kizzy Crawford. 
Then on Bank Holiday Monday morning at 9am, as part of our year celebrating the centenary of Dylan Thomas, Matthew Rhys reads The Outing - Thomas' story of a trip to the seaside which includes people's memories from the summers of the 1920s and 30s.
Straight afterwards at 10am, Alex Winters is guided through a Bank Holiday special of Clueless by Wynne Evans (I'm very sorry, Alex). Finally, Chris Corcoran plays snippets from the best of his summer guests, Monday at midday.
Have a great Bank Holiday weekend.