Line up for Artes Mundi prize announced
The organisation behind Artes Mundi, the UK's biggest contemporary art prize has announced its shortlist.
Selectors have whittled down the choice of talent from 576 different artists to just seven, who will now vie for the prestigious £40,000 prize.
The seven artists are: Miriam Bäckström (Sweden), Tania Bruguera (Cuba), Phil Collins (England), Sheela Gowda (India), Teresa Margolles (Mexico), Darius Mikšys (Lithuania) and Apolonija Šušteršič (Slovenia).
They were selected by Sofía Hernández Chong Cuy, who is curator of contemporary art at Colección Patricia Phelps de Cisneros, New York and curatorial agent for dOCUMENTA (13), and Anders Kreuger, curator at M HKA in Antwerp, Belgium.
Ben Borthwick, Artes Mundi's chief executive and artistic director, who joined the team from Tate Modern in 2010, said: "We are delighted with the exceptional quality of this shortlist, which was drawn from a very strong field of nominations.
"I look forward to welcoming the artists to Wales and creating an exhibition in October that will give audiences the opportunity to engage with the most exciting international contemporary art."
Anders Kreuger added that he was honoured to have been a selector for the prize: "Almost 600 artists were nominated this year, and it was a huge challenge to whittle these highly accomplished individuals down to just seven.
"We have chosen seven very different but equally talented artists, of different generations and from all across the globe, to exhibit at the National Museum of Art this autumn."
All of the shortlisted artists will exhibit their work in a 14-week show at the new museum from 6 October 2012.
The final decision on the winner will be made by an international judging panel halfway through the exhibition, with £4,000 handed out to all the runners-up. And one of the shortlisted artists will also get the chance to exhibit in a solo show at the Oriel Mostyn in Llandudno in 2013.
The artists selected have all used various mediums to explore life and comment on their experiences and social issues, but all of their work is said to share the common threads of action and performance.
Swedish artist Miriam Bäckström uses photography, text, theatre and video to explore the idea of the documentary and the fictional and to recreate memory.
In 2005 she represented Sweden at the Venice Biennale and collaborated with artist Carsten Höller.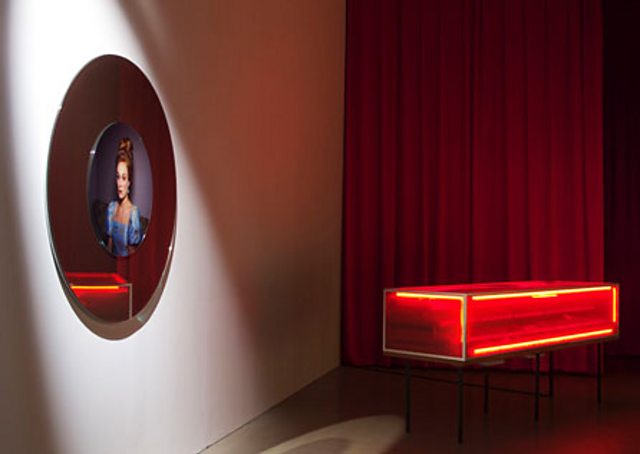 Miriam Bäckström, Attractions/Red Vitrine (2010).
Coloured (red) vitrine in glass and wood, with interior made of wood and coloured mirrors, neon light (red) with electric support. Four black painted iron legs. Objects placed in the interior, on the mirrors.
Tania Bruguera, from Cuba, uses performance, installation and social interventions to reflect on what it means to be Cuban.
She is particularly interested in how art transects daily political life, and how the individual's sense of self links to a collective historical and contemporary social memory.
In 2003 she founded the alternative art school Cátedra Arte de Conducta (Art of Behaviour) in Havana to help up and coming Cuban artists access channel intellectual and technological resources unavailable in Cuba. It has been credited with helping an entire generation to display their work internationally.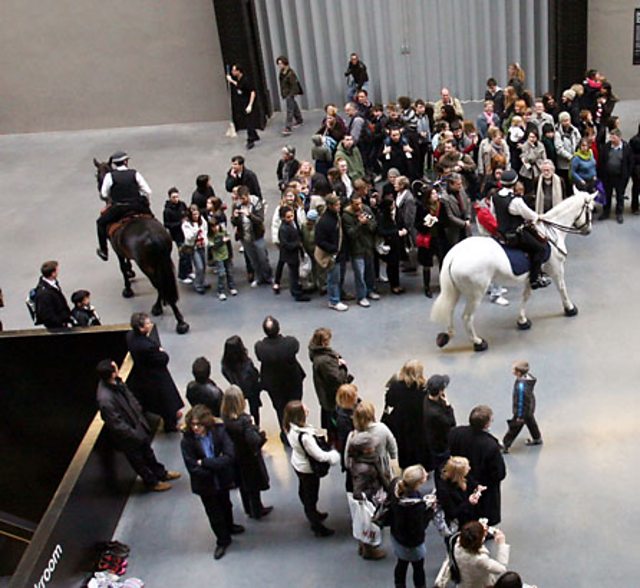 Tania Bruguera, Tatlin's Whispers #5, 2008.
Photo: Sheila Burnett, Courtesy Tate Modern
Phil Collins is from the UK but based in Germany and works mainly in video and photography in places that have experienced political unrest such as Baghdad, Belgrade, Bogotá, and, most recently, Jakarta.
He is keen to explore the relationship between producer, participant and viewer and how history is narrated in various forms, be it documentary, reality TV, soap operas and music videos.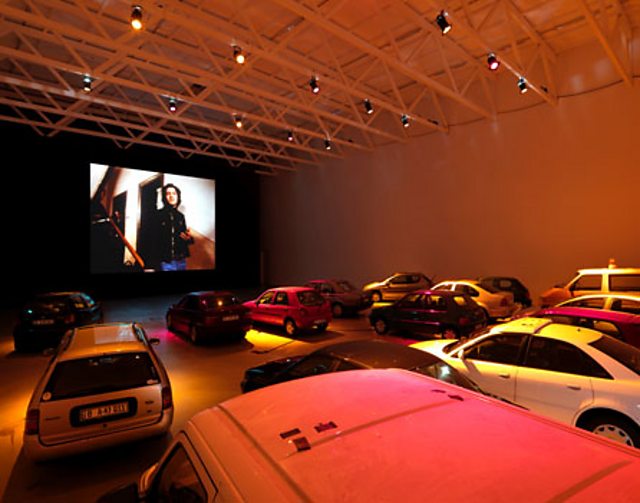 Phil Collins, Auto-Kino!, 2010.
A stationary drive-in cinema with a curated programme of films and videos. Co-organised with Siniša Mitrović. Installation view, Temporäre Kunsthalle, Berlin - courtesy of Shady Lane Productions
Sculptor Sheela Gowda from India is fascinated by the social and cultural reality of her home country and how the unconventional materials she uses in her work can reference that context.
From thread and hair to traditional dyes, patterns and weaving, she investigates India's traditions of labour, inequity and oppression.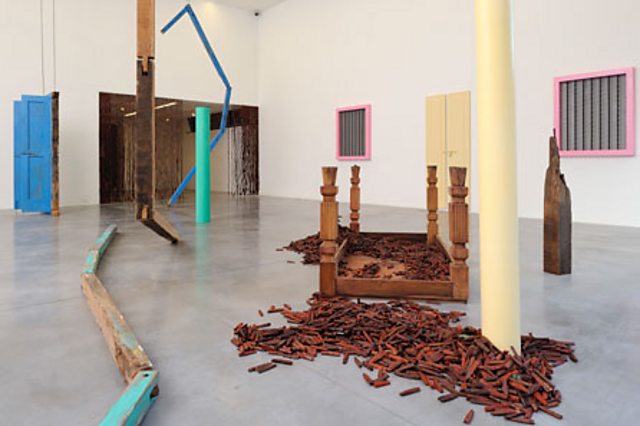 Sheela Gowda, Of All People, 2011.
Wood, metal, Print on paper. Installation, variable dimension
Mexican Teresa Margolles' work has a particular focus on the drug culture of northern Mexico and the impact of violence and murder on the community.
She has a diploma in forensic science and explores how the morgue and dissecting room often bear witness to social unrest.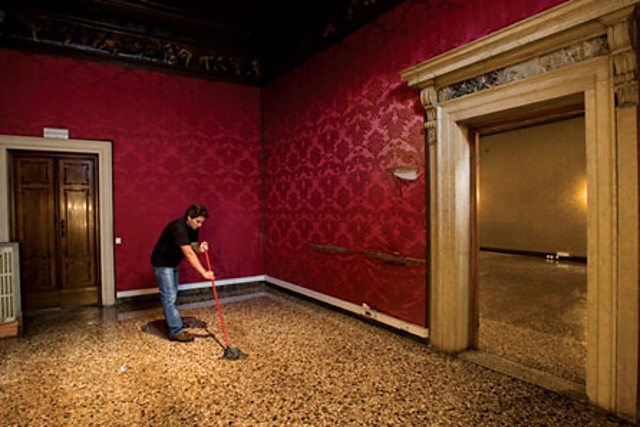 Teresa Margolles, What Else Could We Talk About, Cleaning, 2009.
Image courtesy of the artist and Galerie Peter Kilchmann, Zurich
Darius Miksys from Lithuania is a fan of experimenting and re-imagining processes of making, displaying and engaging with art.
For the 54th Venice Biennale, he invited all Lithuanian artists who had received European grants to submit a work to his project Behind the White Curtain, 2011. Visitors were then able to select works to create their own displays of post-Soviet Lithuanian art.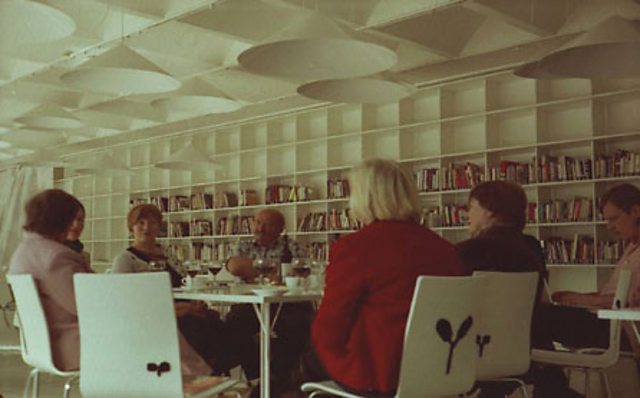 Darius Mikšys, Artist Parent's Meeting.
Lithuanian Art 2000-2010: Ten Years (2010), Contemporary Art Centre Vilnius (CAC), Vilnius.
Finally Apolonija Šušteršič of Slovenia uses her background in architecture to create works within urban environments and encourage a socially engaged practice that brings together artists and architects, critics and curators.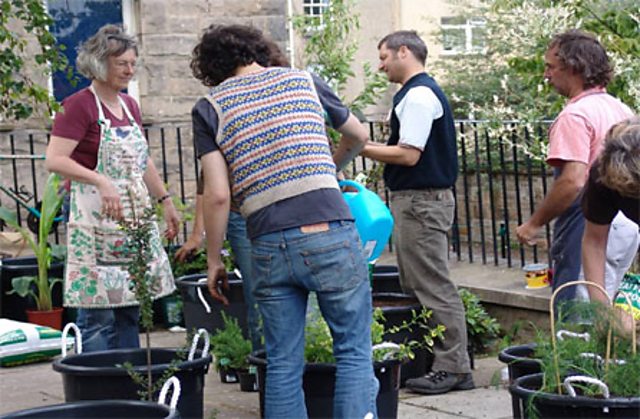 Apolonija Šušteršič, Garden Service (2007).
Project by Apolonija Šušteršič and Meike Schalk, Edinburgh 2007
Established in 2002, Artes Mundi supports contemporary visual artists from around the world whose work engages with social reality and lived experience.
Every two years, the organisation works with artists, galleries, art institutions, curators and the British Council, to seeks nominations of artists perhaps famous within their own countries but little known on the world stage.
In 2010 the Artes Mundi 4 Prize was awarded to Yael Bartana who went on to represent Poland at the 2011 Venice Biennale (June-November 2011).
Artes Mundi is publicly funded by the Arts Council of Wales and by Cardiff City Council.