Bank holiday weather prospects
Well first of all thanks for all your comments on my previous blog post. It's good to know that a lot of people are passionate about nature and the weather, and also what's happening across the country.
Last night, as expected, turned quite cold with some ground frost and even some air frost. In Tirabad in Powys the temperature fell to minus 4 Celsius, 25 Fahrenheit. But with clear skies and strong sunshine today temperatures have shot up reaching 17 Celsius, 63 Fahrenheit this afternoon.
Tonight will continue dry. Not as cold as last night but chilly enough in places for a ground frost where skies stay clear, eg in Gwynedd and Ceredigion.
Tomorrow will bring a change. Some bright or sunny intervals are likely but generally it will be cloudier than today with less sunshine. A few showers will break out too later in the morning and during the afternoon and if you catch one it could be heavy with thunder.
Having said that, the showers will be hit and miss so if you're having a street party you may be lucky and stay dry. Top temperatures in the range 14 to 17 Celsius with a light to moderate north-easterly breeze.
If you're looking for something to do tomorrow, the first Great Tregaron Walking Weekend begins. There's more information on the website: www.walktregaron.co.uk
Over the bank holiday weekend, the wind is going to be a feature. Brisk and gusty, blowing from the east or north east. Strong to gale force on high ground making it feel chilly so if you are going walking in the hills and mountains go prepared.
In the south there is a risk of some showery rain at times, which could be heavy in places with thunder possible. Mid Wales and the north should stay dry and here the best of the sunshine. Highest temperatures 16 to 19 Celsius.
Finally, here's a photo taken this morning by Mike Barrell, of the Wye Valley and Radnor Hills.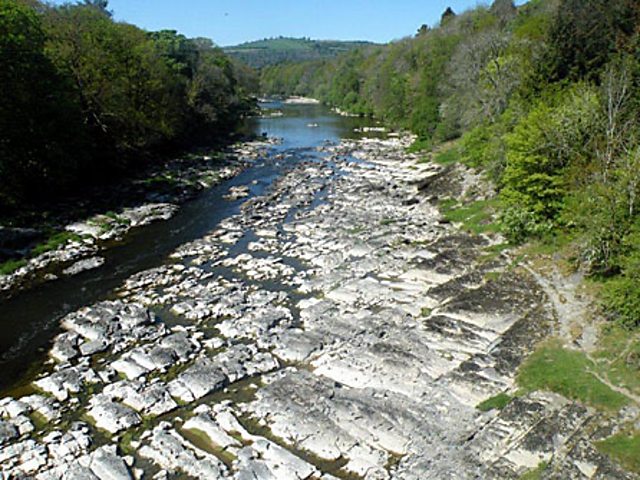 Wye Valley and Radnor Hills. Photo: Mike Barrell