All aboard for a Barry bus journey with a difference
The new theatre company Papertrail is launching its first-ever production next weekend and the action will take place on-board a bus as it journeys through Barry.
Day To Go is a new site-specific show insired by the people of Barry and their favourite stories and is created and directed by Bridget Keehan.
She told me how as a frequent bus user in the town she was struck by the wealth of history and different landscapes the area has to offer and wanted to celebrate some of the quirkier characters who appear in Barry's shared history.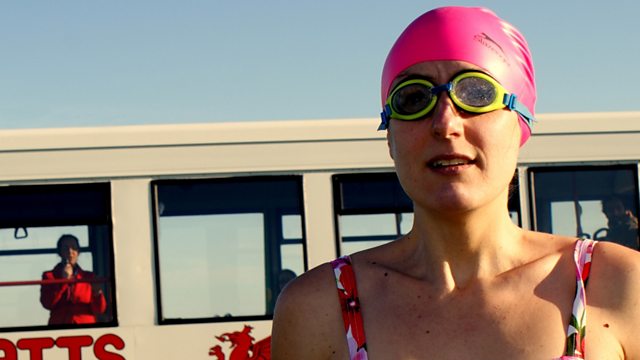 Day to Go. Image: Wyn Mason
"I was really impressed by the different aspects of Barry and the wealth of history absorbed in the landscape, from the industrial areas, the chemical works and the docks to the Memo, the Island and the beaches and beauty of the Knap and Porthkerry Park," she said.
"Through working with different groups in the local community like the Barry Male Voice Choir, people who work at the Memo, arts groups, allotmenteers and even a young mums' group, I soaked up the stories and created a performance that really focuses on what they see each day in everyday life and what they are talking about."
The audiences will travel on the bus and listen to different strands and stories through their headphones but they will also be encouraged to look out of the windows at what's happening around them and how the characters respond to the outside world.
There are also various characters notorious in Barry's mythology who appear en route: the abandoned bride, the woman who can't stop swimming, the former Butlins Redcoat who has a confession to make and even the patron saint of Barry himself.
Bridget said: "One of my favourites is Protesting Pat, a woman very active in opposing the closure of the Lido who collected hundreds of signatures. In the play she refuses to stop swimming and stages swimming protests with various women in bathing costumes.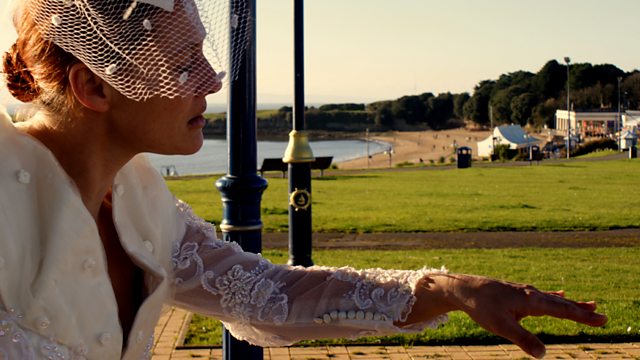 The abandoned bride in Day to Go. Image: Wyn Mason
"There's also an abandoned bride called Kitty who did actually exist and who lives as a newly-wed as if her husband hasn't left. It's a tragic story but local people did have a great deal of affection and sympathy for her."
But the show is not just aimed at residents of Barry and aims to demonstrate what a vibrant place it is to audiences from other places who come to see it.
Bridget added: "I hope that even those who do live here will see it anew and realise what an incredible place it is and think about what the future of the town is and what Barry might become.
"In my work in Barry I have been struck by the deep affection and sense of loss many people feel for places such as the Lido, Bindles Ballroom and the Butlins camp.
"This performance seeks to recreate something of the joy and excitement of these places and, through the characters we meet during the journey we get to think about the importance of keeping hold of what is precious but also, how getting stuck in the past can mean you just go round in circles.
"While the town of Barry and those who live here have been the inspiration and starting point for the show I think what we've created asks broader questions about the life you are leading, the bus journey also functions as a metaphor and invites the audience to ask themselves questions about the direction of their own life."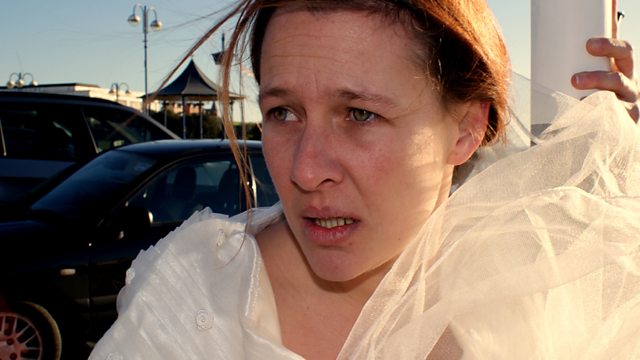 Image: Wyn Mason
The show involves professional artists from outside of Barry such as Anna Maria Murphy from Kneehigh Theatre in Cornwall as well as local performers and dancers, including Emma Mallam from the Vibe Project and Jodie Allinson - a performance artist who was born and brought up in Barry.
Emma and Jodie are both former students of Bryn Hafren and last worked together when studying for their A-level drama at the school.
They said: "It's been fantastic to work together now as professional artists on a show about our home town and we're hoping that everyone who comes - but especially people from Barry or anyone who has a personal connection to the town - really enjoys the show."
Day To Go will be on Saturday 5 and 12 April 2014 at 12pm, 2pm and 4pm (running time: approx. one hour). The journey starts at Memo Arts Centre in the heart of Barry.
Tickets are £10/£8 concessions (no booking fees) and available from Memo Arts Centre, Barry on 01446 738622 and Chapter Arts Centre, Cardiff on 029 2030 4400.
Tickets are limited to 20 seats available per performance. Further information about the project can be found at www.papertrail.org.uk