Dyled Eileen: a personal protest that inspired a generation
A new play produced by Theatr Genedlaethol Cymru tells the fascinating story of Eileen and Trefor Beasley's eight-year protest in the 1950s to receive their tax bill in Welsh, a struggle that left them with almost nothing.
When the newly married Beasleys' first council rates bill arrived through the letterbox of their new home in Llangennech in 1952 it was written in English. They decided to take a stand and not pay until they received a bilingual version from Llanelli rural district council.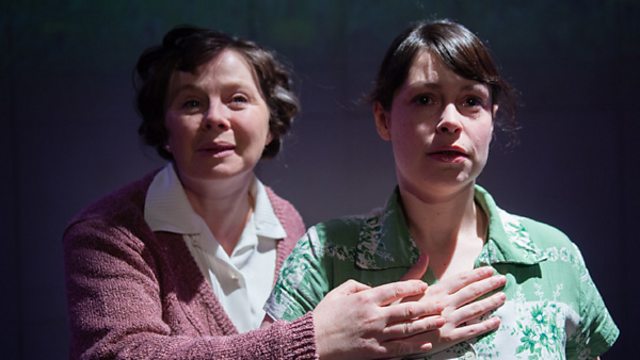 Rhian Morgan and Caryl Morgan as Eileen Beasley in Dyled Eileen. Photograph: Keith Morris
This decision marked the start of an eight-year campaign of civil disobedience in which the couple was summonsed to court over 16 times. The family's piano was the first of their possessions to be taken by bailiffs, with successive visits seeing more home comforts taken away piece by piece. By the end of the protest even their carpets had gone. For many years the couple and their two young children lived with just their beds and a table and four chairs.
The play, Dyled Eileen, aims to tell the personal story behind the protest. The production team worked closely with the Beasley family to gather stories and bring the idea of the play to life. I spoke to director Elen Bowman, who said: "Angharad Tomos, the writer, was fortunate to know Eileen's daughter, Delyth Beasley. She had a few lengthy conversations with her.
"At the archive department at St Fagans Museum we discovered a CD of Eileen speaking about her childhood and life. She had taken part in an event in 2001 hosted by Merched y Wawr where many of the then members were asked to speak about their lives. There were three hours of stories and reflection that proved to be a very useful resource for us."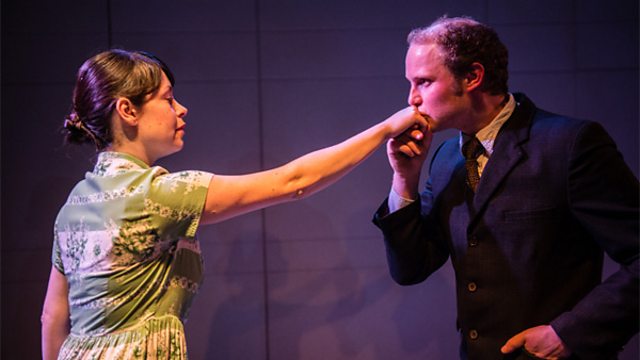 Caryl Morgan and Ceri Murphy in Dyled Eileen. Photograph by Keith Morris
I asked Elen what made Eileen different. She said: "As far as we understood she came from a background where politics was not discussed at the table. But as a girl she was influenced by the trial of Penyberth in 1936 and this seemed to deeply resonate with her and shaped her need to take action. Trefor, her husband, shared her views and together they made a formidable team.
"They also had friends who were fighting for the Welsh language, notably the poet Waldo Williams, who also had visits from the bailiffs at his home and lost possessions. The idea of making a stand was already in the air within their circle of people.
"It would seem that Eileen was the driving force in keeping the campaign going, but Trefor was a rock for her and supported her every step of the way. For Eileen, her religious belief and her patriotism were one. People mentioned that it was as if she felt a religious calling to protect the Welsh language."
Their determination paid off, and in 1960 the council printed its first bilingual rates demand and Eileen's legacy as a champion of the Welsh language was set. The Beasleys' example was quoted in Saunders Lewis' famous radio lecture of 1962, the Fate of the Language. Their success is still a source of inspiration and Eileen is known as the 'mother of direct action' by many language campaigners in Wales today.
"Their legacy is huge in that we now, for every day of our lives, have a choice of living life more fully with the Welsh language, whether it be filling official forms in Welsh or choosing welsh at the bank checkout machines," says Elen.
"Their battle was a personal one, fought in their own home. There is something deeply powerful about that metaphor; it's one that people can identify with simply, in a human way. It's also a refreshing Welsh success story too."
Dyled Eileen is on tour across Wales throughout March 2013, closing at Sherman Cymru, Cardiff, on 20-22 March 2013. Details of the tour are listed on the Theatr Genedlaethol Cymru website.