Vets 24/7: surgical stories
I was lucky enough to work on the first series of Vets 24/7 so I was thrilled to be going back to help make series two.
Making a second series with the same people was a joy, as they were all very welcoming and more relaxed.
They also understood the filming process more: they would leave doors closed on us (a good thing as it gives you edit cut points), they provided us with natural ends to questions and would also gently remind us whenever anything was about to happen to one of the fluffy inpatients we'd been following, ensuring that one of the teams was there to capture the moment.
I was filming with David Steele, one of the five veterinary partners. During the first series David was the only partner not to make the final cut. I felt under pressure this time to make sure he'd feature.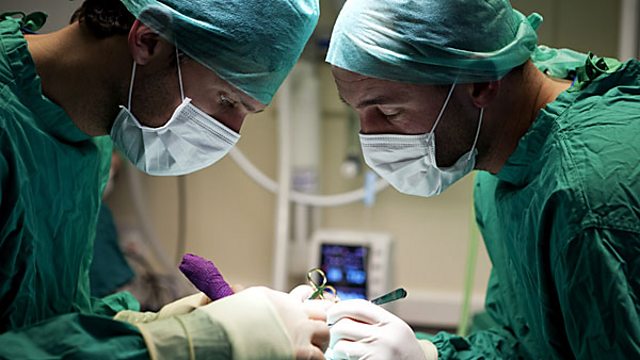 David Steele and Gareth Field at work
David was born in Northern Ireland but was attracted to Wales due to its stunning scenery. We filmed him as he surfed on Llangennith's beach, one of the many activities he enjoys when he's not at the practice.
I don't think cameraman Paul will ever fully forgive me for making him put on a wetsuit, and join David in the water on one of the coldest days of the year, but the result is a really beautiful sequence.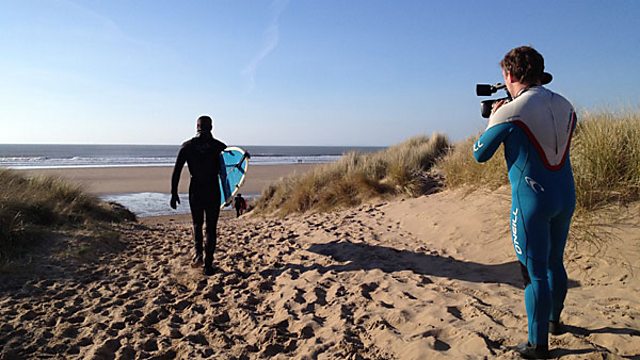 Filming on the beach at Llangennith
David's speciality is orthopaedic surgery so, while we weren't wishing broken bones on the animals of south Wales, we were hoping that we'd be able to observe David doing what he does best. As it happens we were very lucky, although sadly two poor dogs weren't.
While we were filming, Mittens - a tiny Pomeranian puppy - was brought into the practice with a broken leg. Due to her bones being so small and fragile, David had to order in special metal parts to fix it. We observed him as he worked hard in theatre to save her leg.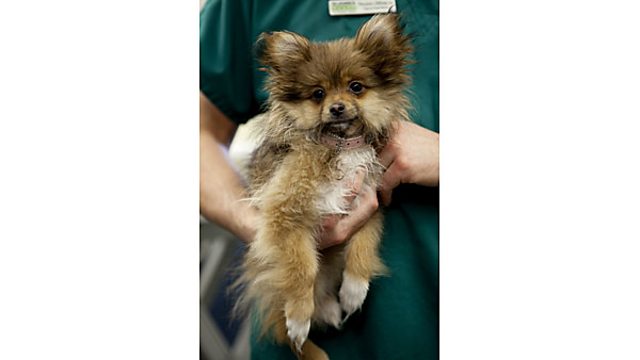 Mittens the Pomeranian puppy
The next day another Pomeranian puppy was referred from the Neath branch. Daisy had also broken her leg and in an incredible twist of fate we learned that while their owners lived 20 miles apart, the pups were actually sisters!
Even more amazingly both had broken the same paw, during the very same week and had arrived at the same practice for treatment.
Poor Daisy's injury was far more severe, and Gareth Field, another of the vet partners who also specialises in orthopaedics, was brought in. We were in theatre for hours watching in awe as they both worked with enormous precision and concentration. The surgery wasn't without its complications but you'll have to watch the episode to find out what happened.
When you're filming for just one week, the chances of capturing such natural coincidences are so rare. We're very grateful to Daisy's and Mitten's owners for letting us tell their story.
Carrie Smith is the shooting director of Vets 24/7. Episode three of the second series can be seen on BBC One Wales on Monday 16 September at 7.30pm.