Kaite O'Reilly on In Water I'm Weightless
If you ask Kaite O'Reilly whether devising a piece of theatre for a cast of exclusively disabled actors presents specific staging challenges, she will noticeably bristle.
As a playwright who has worked widely both in the mainstream and with deaf and disabled artists, she believes the assumption that it will be difficult to accommodate the impairments of a disabled cast in any play is damaging and limiting in scope.
Her production of In Water I'm Weightless for National Theatre Wales is about to open in London as part of the Cultural Olympiad, following rave reviews after its run at the Wales Millennium Centre in Cardiff.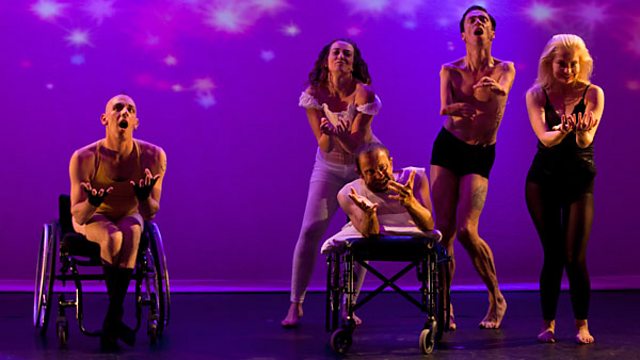 The cast of In Water I'm Weightless: Nick Phillips, Sophie Stone, David Toole, Mat Fraser and Karina Jones. Photo: Farrows Creative/National Theatre Wales
It is her second collaboration with the theatre, after her version of Aeschylus' The Persians, which was staged at a military base in the Brecon Beacons and won the 2010 Ted Hughes award for new work in poetry.
A mixture of dance, physical theatre, live projections and monologues, In Water I'm Weightless is performed exclusively by deaf and disabled actors. The project has been four years in the making for the Ceredigion-based artist, who is herself visually impaired - or 'vis imp' as she prefers to call it.
Following years of conversations with other disabled people, Kaite wanted to create a series of monologues that showed how, just like able-bodied people, those living with disability lead complex and fulfilling lives and do not need help, pity and charity.
She told me: "I wanted to make a series of monologues for deaf or disabled actors which reflected the great body of experience they have which is normal, funny, sexy, positive and subversive rather than negative or dramatic.
"I get very frustrated with how disabled people are always cast as victims or as evil villains and with how, in the mainstream, able-bodied people are often cast to play the roles of those with impairments because there's a perception that there aren't many really talented deaf or disabled performers out there. It's simply not true.
"There's also a myth that disabled people don't have sexual lives or partners and I wanted to explode that myth, which is why the play is very provocative and sexy in places."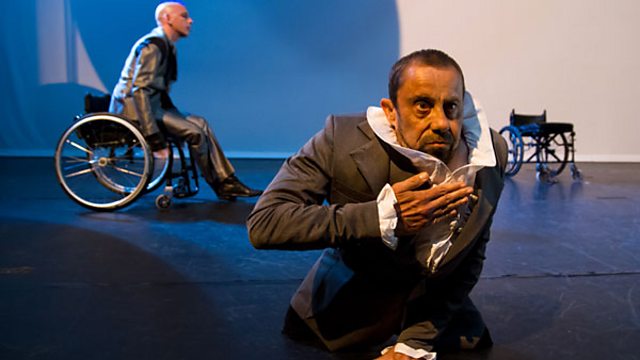 David Toole (foreground) and Nick Phillips. Photo: Farrows Creative/National Theatre Wales
The seeds of the project began four years ago when she received a Creative Wales award from the Arts Council to explore and develop a series of monologues, which she chose to do under the umbrella title the 'd-monologues', with d standing for disability or death.
Then, with John McGrath, the artistic director of National Theatre Wales, she successfully applied for an Unlimited commission as part of the Cultural Olympiad.
The production will be presented alongside the other 28 Unlimited commissions at Unlimited: the Revelation starts here (31 August – 9 September), an 11-day festival celebrating arts and culture by deaf and disabled artists at London's Southbank Centre.
After a very lengthy casting process, they found six performers - Mandy Colleran, Mat Fraser, Karina Jones, Nick Phillips, Sophie Stone and David Toole – who they felt embodied a broad spectrum of performance styles.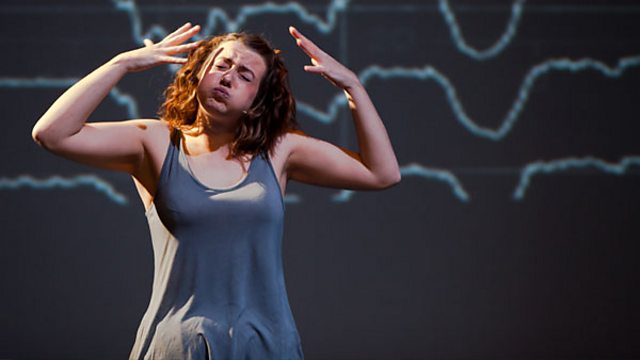 Sophie Stone during a performance. Photo: Farrows Creative/National Theatre Wales
Sadly the original choreographer Nigel Charnock died of stomach cancer during production. Then, just the day before the performance was due to open in Wales, Mandy had an accident and broke her femur, so John had to rework the performance to suit just five performers at the 11th hour.
"There have been significant challenges but it has gone fantastically well so far," said Kaite.
"It's an incredible crew; the designer, director, the actors, everything has been a dream - it's been exhilarating to be part of it."
Although the play was born out of years of discussions Kaite has had with her own disabled friends and some strangers too, she says it is not autobiographical, nor has she lifted any personal stories verbatim, as she feels that would be theft.
Director John McGrath said: "One of the most interesting things about the production was that Kaite had so much material that we got to pick and choose so that it really was unique to this group of performers and it gave us an enormous amount of freedom.
"It has never felt like a play people are taking part in but like something we've all been involved in all along.
"It was very emotional losing Nigel during the production process but it makes his contribution to the show so precious."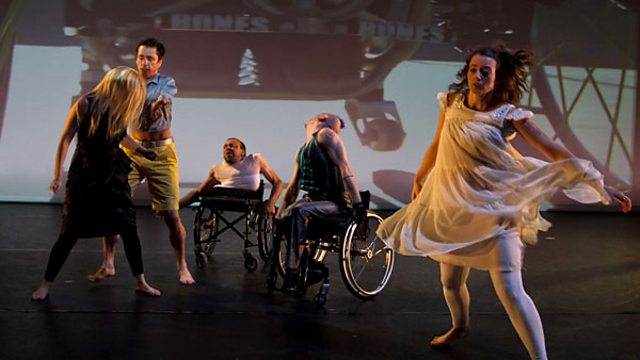 The cast of In Water I'm Weightless. Photo: Farrows Creative/National Theatre Wales
The production takes National Theatre Wales to London for the very first time and John says he is immensely proud to be part of the Cultural Olympiad.
"They are all amazing actors and it is a very poetic, visually dynamic and funny piece."
One of the most incredible things about the production for Kaite has been the feedback.
She said: "When we staged it at the WMC, we had a big chalkboard outside where people could write comments and each day I took photographs so I could remember what they had said.
"So many people told us they found it funny and thought-provoking. I guess it is a bit of a rollercoaster in terms of mood. Unlike the Vagina Monologues, it is a montage and those monologues appear almost chorally - so it's a collage piece, like a mosaic.
"I wanted it to be like stand-up comedy - although in many of our cases it's sit-down of course. It's been an amazing chance to plait together my work in the mainstream and my work for deaf and disabled actors.
"It's also the first time a script written by somebody who identifies themselves as disabled, with a cast of deaf and disabled actors, has been performed on a national platform.
"I really hope there will be a legacy from the Unlimited festival and that work from such a range of people really helps to challenge preconceptions about disabled people in the future."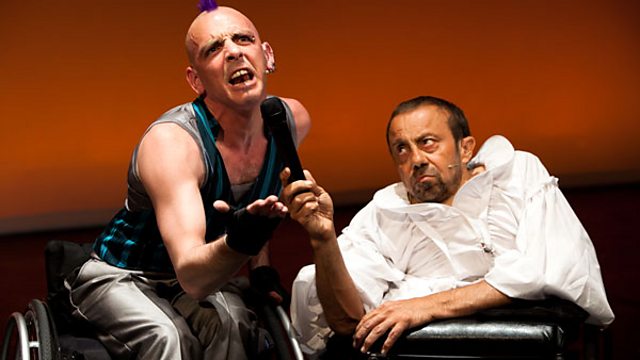 Nick Phillips and David Toole. Photo: Farrows Creative/National Theatre Wales
The play features movement direction by Nigel Charnock and Catherine Bennett and has been designed by the award-winning media artist Paul Clay.
In Water I'm Weightless is on at the Southbank Centre in London on Friday 31 August and Saturday 1 September.
For more information about Kaite O'Reilly visit kaiteoreilly.com, for more on National Theatre Wales visit nationaltheatrewales.org and see southbankcentre.co.uk/unlimited for more on the festival.
Read an interview with cast member Nick Phillips on BBC Wales News online.