The death of Lloyd George
David Lloyd George was the only Welshman to have become Prime Minister of Great Britain. By the time of his death on 26 March 1945, his glory days were long past and although still a member of Parliament during most of the war years, he rarely attended the House of Commons during that time and took no part in the debates.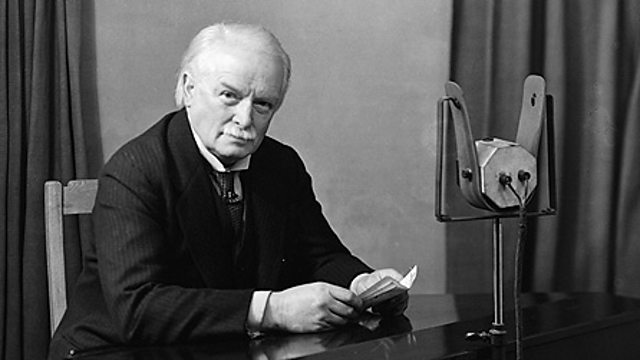 David Lloyd George
When the offer of an earldom came from Winston Churchill on the morning of 18 December 1944, Lloyd George was, at first, undecided as to whether or not he should accept. He had, after all, always regarded himself as a man of the people. After sleeping on the problem he finally cabled back the simple message "Gratefully accept." He was to become 1st Earl Lloyd George of Dwyfor but, in the event, did not live long enough to enjoy the honour.
Lloyd George and his second wife, Frances, had moved into his house Ty Newydd outside Llanystumwy in September 1944. He was old and ill, clearly suffering from cancer. He had, in effect, come home to die.
David Lloyd George had been born in Manchester on 17 January 1863. The family moved to Pembrokeshire when David's father, William George, became ill and, after his death, moved again, this time to Llanystumdwy in north Wales. Here the young David fell under the influence of his uncle Richard Lloyd - so strong was the relationship that the young man even added his name, Lloyd, to his own.
He qualified and worked as a solicitor and, almost inevitably, moved into the political arena. On 13 April 1890 he became Liberal MP for Caernarvon Boroughs, winning the seat by just 19 votes. He made his political name by his opposition to the Boer War, being instinctively on the side of any small nation that was in danger of being oppressed by a larger one.
Soon the Liberal Party realised that it was safer having this charismatic and wonderful orator on the inside, rather than waiting on the fringes where he could cause any amount of political carnage. Consequently, he was brought into the Cabinet, becoming President of the Board of Trade in 1906. When Herbert Asquith became Prime Minister, Lloyd George replaced him as Chancellor of the Exchequer.
Lloyd George, of course, is famous for his People's Budget of 1909. Contrary to popular belief, he did not introduce old age pensions (that had already been done by Asquith) but he was responsible for the introduction of state support for the sick and infirm. During World War One, he was, by turns, Minister of Munitions, Secretary of State for War and, finally, in 1916, Prime Minister. In each of those roles he was hugely successful, a dynamic and thrusting leader who, by his example and energy, did much to actually win the war.
He had much to contend with during his years as leader of the wartime Coalition Government, not least representing Britain at the Versailles peace talks of 1919. It was, in no small degree, thanks to him that the Treaty of Versailles was not a great deal more vindictive in its terms. Desperate to achieve peace in Ireland, Lloyd George also presided over the Anglo-Irish Treaty when, along with Michael Collins, the Irish Free State was created. In hindsight it was a flawed solution but in the immediate post-war years it is hard to see what else could have been done.
Lloyd George's political life was one of huge success and a fair degree of scandal. He was accused on "insider dealing" during the Marconi Scandal of 1913, when he was, at best, economical with the truth in his responses to Parliamentary questions. And, of course, the taint of selling honours in return for funds for the Liberal Party followed him to the grave.
As the 1920s progressed Lloyd George and a Liberal Party that was, in no small degree due to the man himself, split into warring factions, gradually lost power and influence. By 1944 he was clearly "yesterday's man" as the growing Labour Party pulled away so many working men and left wing intellectuals. Always something of a ladies man, however, Lloyd George retained his charisma and appeal right to the end.
Barbara Jones was, in 1944 and 1945, a Wren, serving in the naval base at Pwllheli. On their days off she and her friends would go to the river close to Llanystumdwy where they would sit and throw stones into the river:
"Sometimes this rather short man with grey hair would come and chat to us, ask us where we were from and what not. He used to wear a black trilby and a black cape - it had seen better days, that cape. He was our little old gentleman. Then we heard that Lloyd George had died. All the photographs were in the papers and we thought 'Oh gosh, that's our little old gentleman.'"
It had been announced, in January 1945, that Lloyd George would not be present in the House of Commons for some time because of a severe case of the flu. He was 82 years old and the announcement fooled very few. His cancer was growing - it could only end in one way. On 26 March it soon became apparent that the end was near and, with his family by his bedside, Lloyd George slipped into unconsciousness and died.
The funeral was a memorable affair. Lloyd George had always said he did not want to be buried in a cemetery or church yard and the spot chosen was the bank of the River Dwyfor, a place he himself had selected back in 1922. As Barbara Jones remembers:
"Those of us who used to talk to him went to the funeral. The coffin came up on a farm cart, pulled by an old dray horse. It had trails of leaves coming right over the cart, coming down over the coffin. I remember the colours because on the other side of the river there were two fields and they were a mass of colour. People were singing hymns. It was absolutely gorgeous."
Lloyd George was far from a conventional politician. He made mistakes but he achieved much during his long lifetime. And he is still the only Welshman to have ever risen to the supreme post in the British political system.