Over the years thousands of men and women in Wales – or with Welsh connections – have gloried in the name Roberts, many of whom have wielded significant influence over the society in which they lived.
Bartholomew Roberts
None was more successful in his chosen trade than Bartholomew Roberts. Black Bart as he was known - Barti Ddu in Welsh - was an 18th century pirate from Little Newcastle outside Fishguard.
Black Bart plied his vicious trade for no more than three years and yet still managed to capture nearly 500 ships. He was so powerful that between 1719 and 1731 almost all of the commercial trade in the Atlantic was disrupted. Many sea captains simply refused to sail, knowing there was a possibility that Black Bart might attack.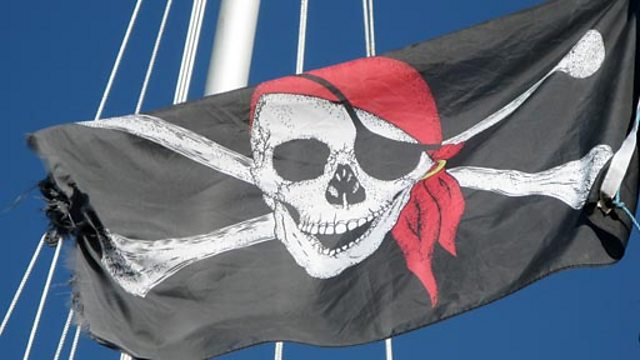 Jolly Roger flag
Black Bart was one of the first men to fly the Jolly Roger, now taken as the traditional pirate flag, and always wore a red coat, waistcoat and breeches when he went into battle. Contrary to the popular  perception of pirates, Black Bart allowed no alcohol on his ships - he drank only tea - but it did not stop him being a violent and bloodthirsty criminal whose avowed intent was "A short life and a merry one."
Eventually, the Royal Navy dispatched two ships to hunt down the Welsh pirate. They ran him to ground off the African coast where he was killed by a shot of grapeshot to the throat. Over 50 of his crew were subsequently hanged for piracy.
Evan Roberts
At the other end of the spectrum from Black Bart was the religious revivalist Evan Roberts. Born in Loughor outside Llanelli, from 1904 onwards he led a hugely successful religious revival across the whole of Wales – and over the border as well. Sometimes the support and the enthusiasm for Roberts and his mission seemed to assume fanatical, even hysterical, proportions.
The very nature of the Methodist Revival caused many of the more staid and reactionary church leaders to question Roberts' motives and the processes involved. Yet there was no doubting the wave of  emotion that his preaching evoked. He was an inspirational leader at a time when moral and religious values were under significant threat but by 1909, exhausted and drained by his efforts, Evan Roberts retired from the public domain. He lived on for many years, finally dying in Cardiff in 1951.
Kate Roberts
The writer Kate Roberts was born in 1891, the daughter of a quarryman from north Wales. A teacher and publisher, she is best known as a short story writer but her Welsh language novel Traed Mewn Cyffion (Feet In Chains in English) remains one of her most powerful efforts. Drawing on her childhood experiences, she portrays the hard life and terrible poverty of the slate quarrying workmen and their families.
Lynette Roberts
The poet Lynette Roberts was another great Welsh writer. Actually born in Argentina to Welsh parents, she and her husband Keidrych Rhys settled in Llansteffan where they established a printing house and befriended other writers such as Alun Lewis and Dylan Thomas. Lynette Roberts was a poet of some skill, often being referred to as being one of the early magical realists.
In later life Lynette Roberts divorced her husband and left Wales. She suffered a breakdown before eventually returning to Wales where she became a Jehovah's Witness. Although she published only two collections of poetry, she remains a significant Welsh literary figure.
Rachel Roberts
The actress Rachel Roberts, born in Llanelli in 1927, won several Bafta awards in a distinguished career that was cut short by illness, alcohol problems and, eventually, death in 1980. She was at her best playing feisty but troubled women, roles of depth that showed the full range of her talents.
Rachel Roberts is best remembered of these films are such early British classics as Saturday Night And Sunday Morning and This Sporting Life.
Isaac Roberts
Astronomer Isaac Roberts is little known these days but in the 19th century he was a hugely influential man, a Fellow of the Royal Society and the holder of the prestigious Royal Astronomical Society's Gold Medal.
He was born in north Wales in 1829 and made his fortune as a builder in Liverpool, his success giving him time to pursue those pastimes that really interested him – geology and the study of the stars. He pioneered the use of photography in astronomy, his most famous photograph showing the spiral form of the Andromeda nebula. It was the first photograph ever taken of objects outside our galaxy.
There are many other significant Welsh figures who bore - and still bear - the name of Roberts. Their achievements range right across the spectrum, helping to make the Welsh nation what it is today.