Born on this day: Tommy Cooper
Loved for his on-stage magic trick buffoonery, trademark Fez hat and infectious laugh, comedian Tommy Cooper was born on this day in 1921.
Tommy Cooper on 1952 programme It's Magic
Though Cooper's family moved to his mother's native Devon when he was just a few years old, the comedian was born in Caerphilly on 19 March 1921.
His love of magic started at an early age when he was bought a magic set as a child, and he spent time during his service in the army in World War Two refining his variety act, performing magic tricks and comedy routines for his colleagues.
He became a popular name on the variety circuit after the war and made his television début in 1948 on the show New To You, starring in his own shows soon afterwards.
Cooper's apparent on-stage incompetence during the performance of his magic tricks was a carefully constructed act. He was an accomplished magician and a member of The Magic Circle, but he nailed the art of performing failed tricks and routines for great comic effect.
This archive clip, in which Cooper is preparing to perform his famous eggs trick during the 1964 Royal Variety Performance, highlights his comic style to a tee:
Here are some classic Cooper jokes - feel free to contribute your favourite in the comments box below if we've missed it out:
Someone actually complimented me on my driving the other day. They put a note on my windscreen that said, 'Parking Fine'. So that was nice.
A man said to me, "Do you always drink whiskey neat?" I said, "No I don't, sometimes I don't wear a tie and leave my shirt hanging out."
I love kids, I went to school with them.
I backed a horse today, 10 to one. It came in at 20 past four.
They say take an aspirin for a headache. Who wants a headache?
Did you hear the joke about the short-sighted bank robber? He went into the bank and said, "Stick 'em up... are they up?"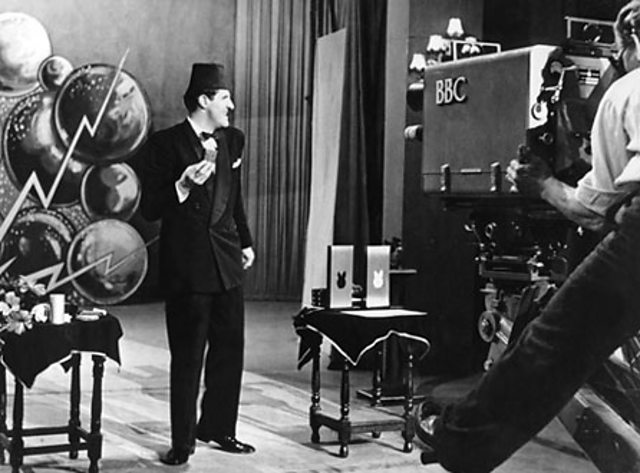 Tommy Cooper performing on BBC's Gala Variety in 1950
Read a full profile about Tommy Cooper's life on the BBC Wales Arts website.