Dark comedy about the dysfunctions of families to tour Wales
We've all felt the pressure cooker effect of a family Christmas, when we're cooped up together for far longer than is decent and old behaviour patterns die hard.
Now a new comedy which plays on the tensions and difficulties most families encounter is to tour Wales ahead of the festive season.
Wyneb Dros Dro or Temporary Surface has been written by Glenn Jones and will be performed by Cardiff-based Cwmni Theatr 3D, which is celebrating its 10th birthday this year. And, if you're asking, 3D stands for Tair Dynes (three women).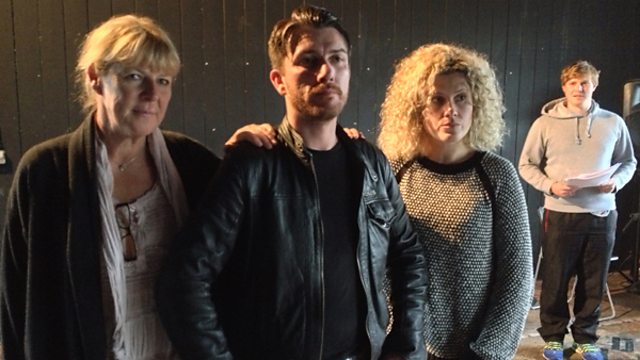 Manon Eames, Dyfrig Evans, Llinos Daniel and Rhodri Trefor in rehearsal
The company was set up by three Aberystwyth university friends - Hannah Wynn Jones, Nia Wyn Jones and Catrin Wyn Jones (no relation). It prides itself on developing original Welsh drama and resurrecting classics to encourage new audiences to choose the theatre as a source of entertainment.
Hannah told me: "This is our first national tour and we are really excited about it as it's such a wonderful play.
"Glenn has been acting with us for years and wrote a piece we took to the Eisteddfod in the past, so when we heard about his idea for Wyneb Dros Dro, we asked him to develop it.
"We then took it to the Eisteddfod and it got a really great response from the audience. Then we got the chance to work on the show further via the Incubator Project at the Wales Millennium Centre in 2011, where even non-Welsh speakers enjoyed it and understood what was going on.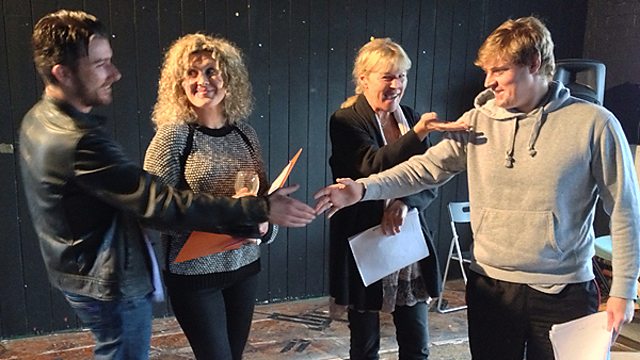 Dyfrig Evans, Llinos Daniel, Manon Eames and Rhodri Trefor
"It's a comedy with a dark edge and centres on a newly divorced matriarchal mother with a surprising spring to her step, all thanks to the new young man in her life – and her son and daughter-in-law are about to meet him over the Christmas turkey.
"It really looks at how the family interacts over this pressurised time and will ring true for a lot of people and there is an element of farce about it as all families are farcical in some way."
Glenn Jones, originally from Caernarfon, said: "I'm firmly part of the 3D family now. I've always loved their ethos of providing a platform for artists in Wales to showcase their abilities, and now I'm experiencing it first-hand."
Since 3D was set up, they have produced on average two shows a year, including six years of performances at the National Eisteddfod and a successful run at Edinburgh Festival Fringe.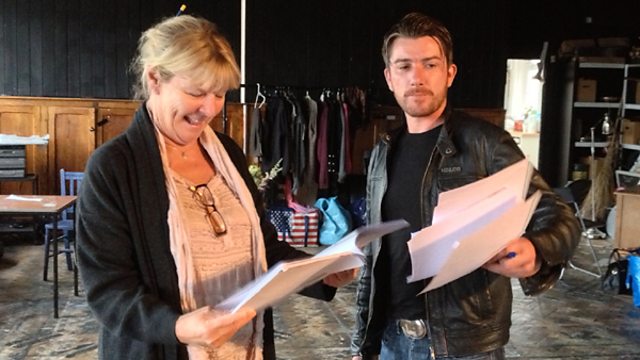 Manon Eames and Dyfrig Evans in rehearsal
Nia said: "It's a huge thing for us to achieve, from contracts to casting to script to workshops... but it's a labour of love, always has been and always will."
The plays stars Manon Eames, Dyfrig Evans, Rhodri Trefor and Llinos Daniel, and will begin its tour on 8 October in Galeri, Caernarfon, before zigzagging down south and calling at Wales Millennium Centre's Weston Studio where it all began.
It will be at Neuadd Dwyfor, Pwllheli on 9 October; Theatr Colwyn, Colwyn Bay on 10 October; the Weston Studio, Wales Millennium Centre on 14 and 15 October; Pontardawe Arts Centre on 16 October; Lyric, Carmarthen on 17 October; Gartholwg Lifelong Learning Centre on 18 October; Borough Theatre, Abergavenny on 19 October; Theatr Felinfach on 23 October; and Theatr Mwldan, Cardigan on 24 October.
For full details of tickets and timings visit cwmnitheatr3d.co.uk.