Jeweller Anne Morgan to design 2012 Eisteddfod crown
Anne Morgan has been selected from a shortlist of Welsh artists to design one of the iconic prizes of the 2012 National Eisteddfod.
The Penarth-based jeweller will design the crown for next year's National Eisteddfod, which will be held in Llandow in the Vale of Glamorgan. The 2012 crown will be sponsored by the Vale of Glamorgan Council.
Anne said: "I'm extremely proud that my design has been selected for this year's crown. In fact, I feel a real 'ownership' of the Eisteddfod this year, especially as it is being held in the Vale of Glamorgan. I wanted the crown to represent exactly what I love about the Vale."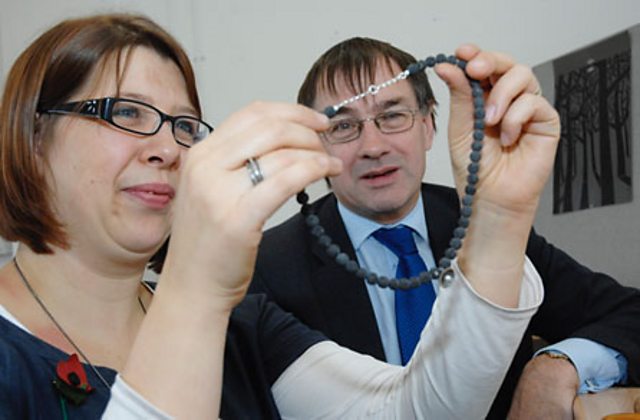 Anne Morgan with Vale of Glamorgan Council leader Gordon Kemp. Image courtesy of Vale of Glamorgan Council
Although the design details of the crown are being kept very much under wraps, the Vale of Glamorgan coastline will inspire her creation.
Anne added, "I haven't submitted a design for this calibre of commission before," she said. "It was a nerve wracking experience. So the fact that mine was chosen is fantastic. But knowing the makers of the crown who have gone before me, it's quite a daunting experience."
The crown is awarded to the winning bard at the welsh cultural event of the year. This year it was won by Geraint Lloyd Owen.
For clips and highlights from this year's Eisteddfod browse the BBC Wales Eisteddfod website, and for the latest news ahead of the 2012 event, browse the official website, www.eisteddfod.org.uk.