Llangollen 2013: day three
Day three at the Llangollen International Eisteddfod and we're still basking in glorious sunshine here. And yes, my bald spot is still getting burnt, no matter how much sun cream I stick on it!
I started the day in town meeting with the winners of the folk song choir competition, Jazz-Choir of the State Children Philharmonic Society from Russia.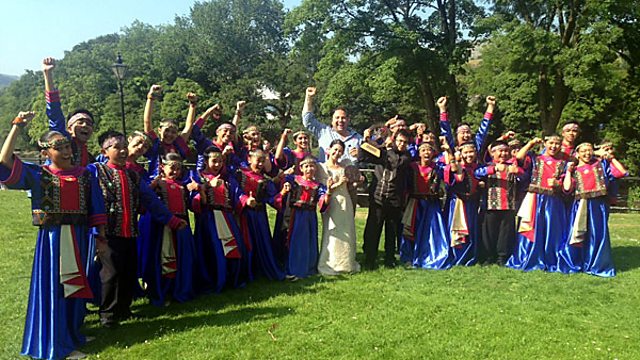 Jazz-Choir of the State Children Philharmonic Society
They gave an impromptu performance for me in the town and managed to stop all the traffic, I even managed to learn to say congratulations in Russian, which for an ageing tenor is quite an accomplishment.
Next onto the river to meet the winners of the Youth Choir of the World title - Hail Mary the Queen Children's Choir from Manila in the Philippines. This was a choir formed in 1998 by a man who thought the singing was poor in the church they attended and made an instant quartet with his own four children.
The choir has since gone onto win the Choir Olympics, the Asian Choir Games and now Llangollen. They sang the Welsh folk song Suo Gan and it was spellbinding. Definitely a highlight of the week for me.
And so to last night's concert, Strictly Cuban starring James and Ola Jordan from Strictly Come Dancing. The pair were relaxed and in great form when I met them backstage during rehearsals.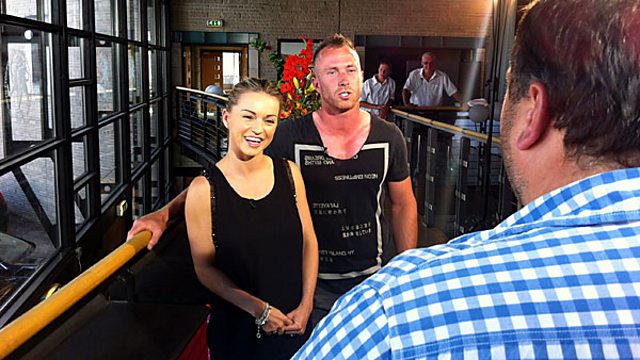 James and Ola Jordan
I asked them if the thought I should use more sequins in my everyday life and how I might make the jump from amateur to professional dancer. For some reason they just laughed at me. So I'm off to practice my samba.