Last year I was asked to investigate a story for a lady aged 91. Once I discovered the basic details I knew it would be a case that I just had to solve no matter what was involved or how long it took me.
In 1942 Sylvia Bowman was aged 20 and serving in the Land Army based at Sapcote in Leicestershire. At that time her forewoman was a young woman called Ruth.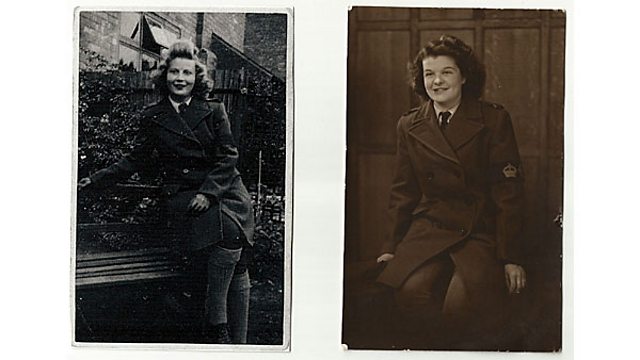 Sylvia and Ruth as young girls in uniform
Sylvia and Ruth were naturally very friendly and spent a lot of time together. During this time Ruth married an army officer named Bob Turner.
Soon afterwards Sylvia was planning her own wedding to her sweetheart William, who was serving in the RAF. She gladly accepted Ruth's kind offer to borrow her wedding veil for their special day, since rationing restrictions meant that luxuries like lace were difficult to obtain.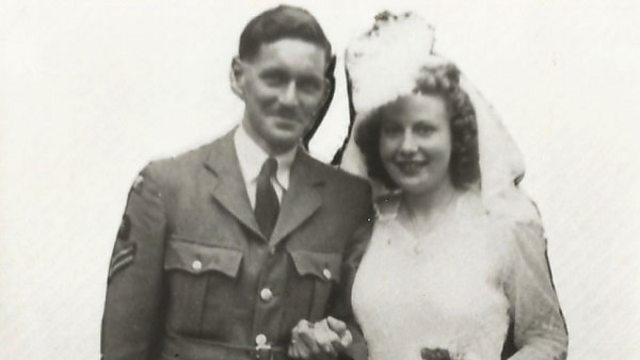 Sylvia and Bill Bowman on their wedding day
In June 1943 Sylvia proudly wore the veil made from Brussells lace. Soon afterwards she was transferred to Ashby-de-la-Zouch and thinks that Ruth gave up the Land Army shortly after her wedding, sending Sylvia a letter from Breaston saying she was going to be a good wife.
Over the years Sylvia has moved house and recently downsized. During the obligatory declutter she discovered the veil, laundered and carefully stored!
So my mission was clear: return the veil to Ruth.
Sylvia could not recall Ruth's maiden name and could only confirm that Ruth was a little older than her, making her born before 1922, and that she was, in Sylvia's words, "a bit posher than most of us!"
But at least we knew that Ruth married before June 1943 so I searched the marriage indexes, making a list of all those involving men called Robert Turner in 1943 and a couple of years either side just to be sure.
After a little while spent cross-referencing the list against women called Ruth it turned out that there was just one possible match. Robert Turner married Ruth M Godbold on 5 July 1942 in Long Eaton, Derbyshire.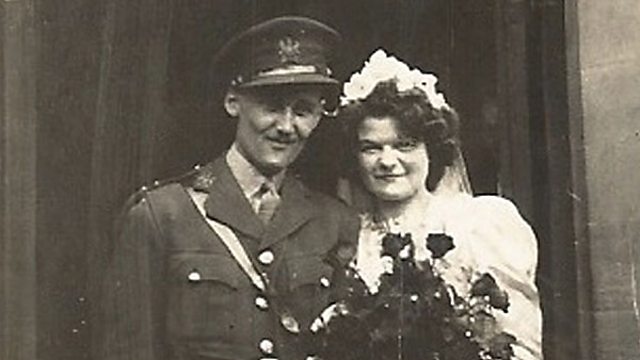 Ruth and Bob Turner on their wedding day
I ordered the marriage certificate (via www.gro.gov.uk) to confirm the additional details. Once it arrived I could see that Ruth's middle name was Mary, she was aged just 20 and her father James Robert Godbold used to be a vet.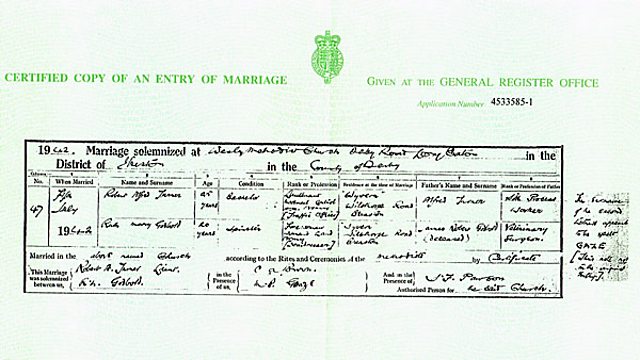 Bob and Ruth's marriage certificate
Ruth Mary Godbold was born in 1921, the youngest of five daughters. Sadly her father died when she was just four years old but at least I knew that there would probably be cousins out there somewhere and all I had to do was find them and they could hopefully tell me what happened to Ruth after the war.
I could find no entries in the birth indexes of Turner/Godbold babies born after 1942 but it could have been possible that any children could have been born abroad or that they waited until after the war or even that they adopted.
Researching into the Godbold family tree confirmed that there were in fact 11 cousins and I quickly located two female cousins with unusual surnames on the current electoral register online.
When I contacted Pamela and Melanie they confirmed my worst fears, that Ruth had died in 2005 and that she had had no children.
But this is not a sad ending or even remotely disappointing because on 11 July Sylvia made the long journey to Southwold from her home to meet Pamela. They were able to share photographs and stories about Ruth, and of course to return the veil to its original family after 70 years.
Asked about the day Sylvia replied: "Ruth was such a good friend and I always felt bad that we lost touch and I couldn't return her wedding veil. So, it was lovely to meet Ruth's nieces and know that, after 70 years, the veil is at last back where it belongs."
And rumour has it that the veil might be worn once more when Pamela's sister Betty's granddaughter gets married.