Portrait of Lord Wigley to be unveiled at National Library
A new portrait of Dafydd Wigley by Welsh artist David Griffiths will be unveiled tomorrow at the National Library of Wales in Aberystwyth, as Lord Wigley steps down from his role as the president of the organisation.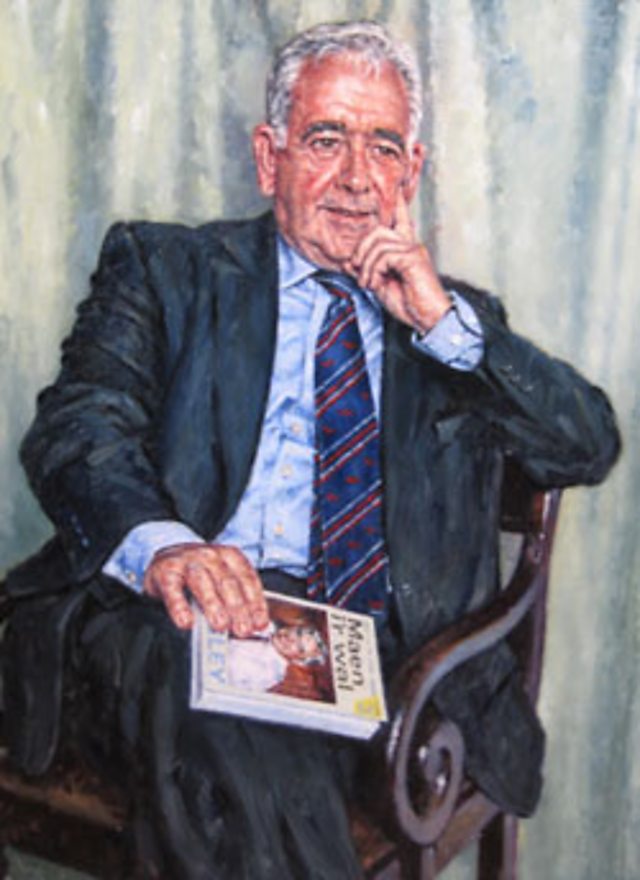 Lord Wigley portrait by David Griffiths. Image courtesy of the artist
The portrait will be unveiled at a farewell event for Wigley at the library. The painting shows the former MP, and later AM, of Caernarfon in a relaxed pose holding the third volume of his autobiography.
Griffiths, who was raised in Pwllheli and attended the Slade School of Fine Art, is one of Wales' most well-known portrait painters.
He has painted many famous politicians, clerics and sports people including the Prince of Wales, Bryn Terfel, Gwynfor Evans, Sir Geraint Evans and Joe Calzaghe.
Earlier this year he painted two portraits of the former First Minister of Wales Rhodri Morgan, one of which resides in the Pierhead Building in Cardiff Bay while the other is housed in the National Library in Aberystwyth.
Griffiths has also depicted the previous three presidents of the National Library, and this portrait will hang in the Library's Council Chamber alongside the other presidential portraits.
Lord Wigley will officially retire from the post of president on Friday 2 December after four years in the job. His replacement will be Sir Deian Hopkin, a historian and former vice-chancellor of London South Bank University.