A tale of the three Sheppards continues
The tale of the three Sheppards from Tonyrefail continues with this update from Anita Farrell, whose two great uncles and great great grandfather featured in my blog last November to commemorate Remembrance Day.
"I learned so much about Arthur Sheppard from Cat Whiteaway when I visited BBC Radio Wales to appear on Eleri Sion's afternoon show. Many people told me they were in tears listening. To think he only lived for 19 days after being sent to France and Flanders, and he was only 18 years old.
I was given copy of the moving letter his mother had written to his commanding officer asking for information on his whereabouts as she hadn't heard from him.
I was also given replicas of both of Arthur Sheppard's medals and details of the battles he was involved in.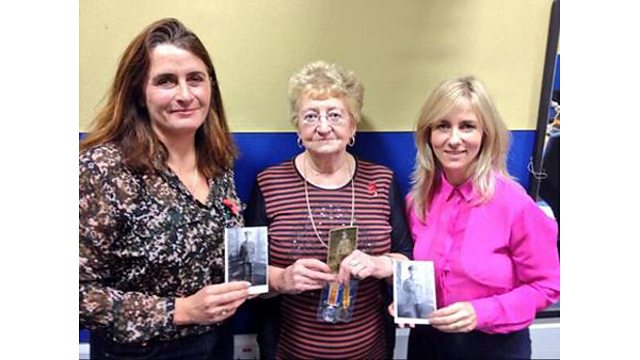 Cat Whiteaway, Anita Farrell holding replicas of Arthur Sheppard'™s medals and Eleri Sion.
My grandchildren have taken the photographs and medals into their schools to show with pride.
I was still eager to learn more about William, and luckily Cat's brother Tim offered to help me find out more, as I had been unable to trace anything myself.
It seems that William and his father Thomas both enlisted with the Duke of Cornwall's Light Infantry (DCLI) which seems rather odd given their location in south Wales. It had been suggested to me that maybe that regiment came to Wales to recruit. The family were originally from the Bristol area, so maybe this also had some influence.
William enlisted on the 31 August 1914 and arrived in France on 23 July 1915 as a corporal with the 7th battalion of the DCLI. He was promoted to sergeant and later became acting company Sgt. Major with the same unit. His service number was 15618.
On the 17 August 1917 he was discharged due to injury. We know he lost part of his right hand but are not sure of other wounds. Tim Whiteaway believes he was involved in the 3rd battle of Ypres in August 1917, where it seems a lot of men were lost. Unfortunately up to now no service record or pension record has come to light and this seems unlikely now.
As well as being awarded the usual three campaign medals: 1914-1915 Star, British War Medal and Victory Medal (affectionately known as Pip, Squeak & Wilfred) William is also was listed on the Silver War Badge indexes provided on Ancestry. The SWB is given to those discharged due to sickness or injury.
Additionally he was entitled to wear an oak leaf emblem with the Victory Medal as he was mentioned in Haig's Dispatches in the London Gazette 4th January 1917.
We tend to forget those who waited at home and supported our soldiers, so I must mention that while he was in the army he had a pen pal whom he had never met.  Her name was Constance Reed and she was from Keynsham in Bristol. Constance's sister lived in Tonyrefail and on one of her visits she met William's sister and thus the friendship began.
When William arrived home Constance went to meet him at Cardiff Station. Even though she had never met him she recognised him from his photograph and his wounded hand.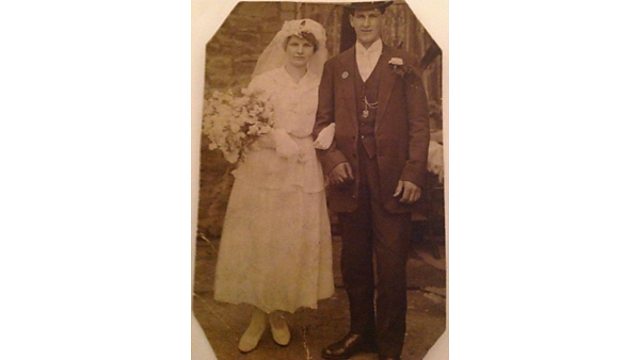 William and Constance on their wedding day, 1918.
They began a courtship and married in 1918. On their wedding photograph you can see William wears a leather glove to hide his missing fingers. My mother and her sisters have such fond memories of them both. They had no children but were kind and loving to their nieces.
William returned to work as coal miner but sadly died aged just 38 from chronic colitis, exhaustion and cardiac failure.
Unfortunately we've found no information about Thomas Sheppard other than he enlisted in the same regiment as William. His death certificate confirms he had an army pension and I know he lost a leg. If you can help with any information about Thomas please get in touch with Cat or leave a comment below.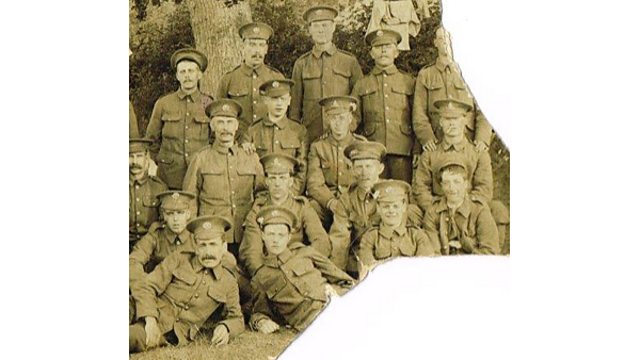 Thomas Sheppard can be seen 2nd row from the back, with a young soldier's hand on his shoulder, directly in front of the tree.
Other people know so little about their ancestors and I feel privileged and lucky to have acquired all this information especially as so many army records have been lost."
If you have any stories or would like to learn more about what your ancestors did during WW1 then please contact cat.whiteaway@bbc.co.uk
Cat Whiteaway will be a guest on Eleri Siôn's afternoon show on BBC Radio Wales on Wednesday 22 January.