Children's writers to descend on Cardiff
Next week sees Cardiff hosting some of the younger generation's favourite authors and characters as the city's first-ever literature festival specifically for children gets underway.
Organisers are hoping to inspire thousands of children to pick up books and get reading, as well as adults who may be interested in penning their own magnum opus for a younger audience.
Despite it being the inaugural event, the festival has attracted some big name writers including the How To Train Your Dragon creator Cressida Cowell, Horrible Histories illustrator Martin Brown, and comedian and Young Bond author Charlie Higson, who many parents may recognise from that popular 90s comedy programme The Fast Show.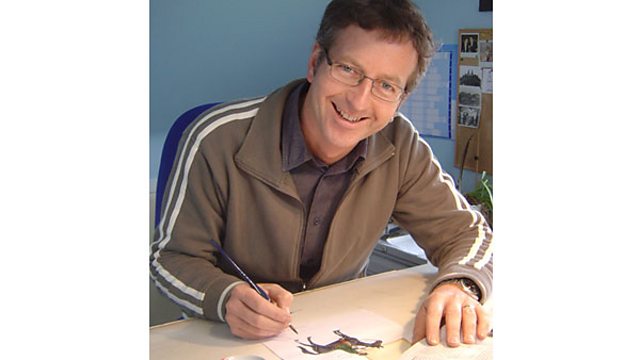 Illustrator Martin Brown. Image courtesy of the artist
Various venues in the city centre are hosting events, with some aimed at older children and teenagers, as well as evening lectures, workshops and 30 family sessions.
But alongside the public events, the festival has been running an outreach programme in 16 schools, involving 2,500 pupils from Cardiff and south Wales.
Welsh writers including Elen Caldecott, Eurig Salisbury, Huw Aaron, Jasper Fforde, Ceri Wyn Jones, Dan Anthony, Gwennan Evans, Aneirin Karadog and Simon Rees have visited schools and worked with children at National Museum Cardiff and St Fagans in workshops in storyboarding, scriptwriting, poetry and prose.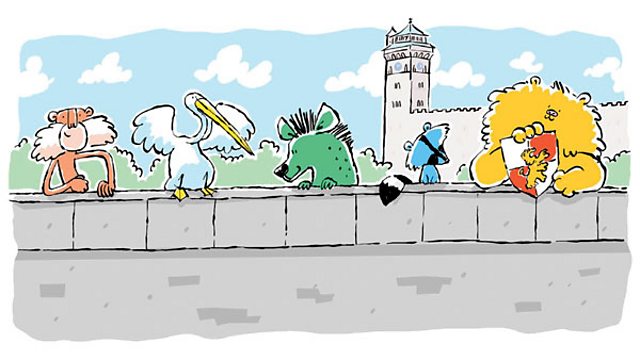 Illustration of Cardiff Castle's animal wall by Huw Aaron. Image courtesy of the artist
The result of this work is featured in an exhibition which opened on Wednesday at The Cardiff Story and runs until 7 Apri. There will also be school events throughout the festival in both English and Welsh.
I caught up with one of the organisers, Helen Dunning, for whom the festival is the result of several years' hard work and planning.
She said: "The whole plan of the festival is to make reading fun and encourage parents to engage in it alongside their children. The message is: you don't have to like highbrow literature to get involved in reading.
"We're hoping guests like Cressida Cowell and Martin Brown will appeal to children who have seen How to Train Your Dragon or Horrible Histories on television and might not know about the books.
"All tickets are priced between £2.50 and £3.50 to keep it affordable and there are also free events like a treasure hunt and a Where's Wally hunt as well as craft sessions and street entertainers.
"We really want Cardiff to feel like a festival city while the event is on, with all the events in walking distance, so there are some at the castle, the city hall, the library, the museum and the university."
Highlights across the week include Writing The Detectives with Young Bond author Charlie Higson, and Young Sherlock author Andrew Lane; Young People's Laureate for Wales Catherine Fisher covering her new fantasy series; exploring the science fiction of Doctor Who with author Mark Brake and rap artist Jon Chase; as well as a range of Welsh language contributions from the likes of Dewi Pws, Angharad Tomos and Bethan Gwanas.
Young visitors can also take on the Cardiff Zombie Walk, hear from expert Tintinologist Michael Farr, Bardd Plant Cymru (Children's Poet Laureate) Eurig Salisbury and S4C's TV stars Stwns and discover how Martin Brown draws 'Horrible' in teaching youngsters history.
Older children can learn about the fantastical characters of the bestselling Edge Chronicles in a session with storytellers Paul Stewart and Chris Riddell which involves live drawing of cartoons.
For teenagers there is a chance to meet fiction author Lucy Christopher as she is interviewed by the Festival's Young Critics, a team of budding writers who will be reviewing and writing about the events across the weekend.
And Peter Hunt, who is Professor Emeritus in Children's Literature at Cardiff University, is also giving a talk on why children's books should be read and studied by adults, as he takes the audience on a tour through classics including Alice, Treasure Island, The Wind in the Willows and The Secret Garden.
The full programme is available on cardiffchildrenslitfest.com and tickets are on sale for all events through Ticketline UK on 02920 230 130. You can follow the festival on Twitter @CDFKidsLitFest.