Joy Formidable tour diary - day four
Today has been - against my best intentions - probably a de facto touring band experience... i.e. calling into a city (Philadelphia) but not having the energy, or time (despite having little better to do than sit down and watch Full Metal Jousting on TV [seriously!], to go and check the city itself out.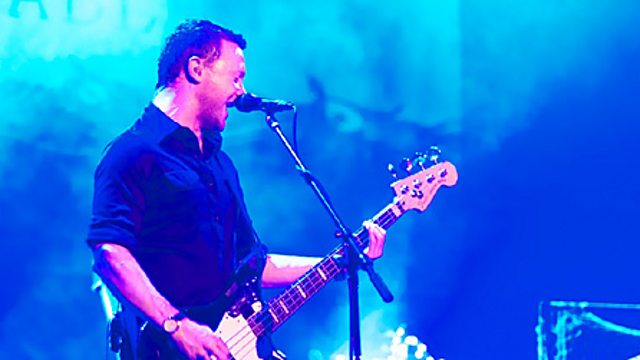 The Joy Formidable
To be fair, due to situations outlined in the last blog, I only had an hour - two, at a push - sleep. Fuzzy, fuzzy, fuzzy. For the majority of the day I have felt like I was trying to traverse the deck of a ship in a wild storm. And I wasn't even hungover.
Well, not much.
The Joy Formidable are up against a deadline with their second album. All of the parts are recorded, but as is the case with the modern recording process, there is much to be comped, trimmed, edited and binned before they can begin the all important mixing process.
And much of this happens on the tour bus. Serious aside, this band work hard. They're doing nine - maybe 10 - dates in a row. That with the all-encompassing focus on the album has left them running on fumes. As with all great bands, they save the fuel that is left for the show. So, planned interviews have to be postponed. I understand. The last thing I'd want in their situation is me asking probing, red-faced questions. We'll save that joy and delight for tomorrow. I love tomorrow. It's my favourite day for getting stuff done.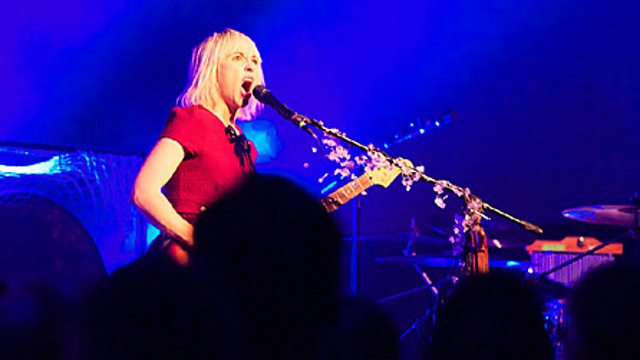 The Joy Formidable
So, to the show: the soundcheck is a little more protracted - nothing is for certain, or predictable, in the technology behind rock 'n' roll. Still, the techs and engineers work until things are as right as they can be, even if this means postponing things like band promo and meet 'n' greets. By the time everything has been tweaked, even in the empty, church-like confines of the Union Transfer, the band sound incredible. I keep saying that, keep using words of that magnitude, but it's true.
Ah, the meet 'n' greet. Did I mention the meet 'n' greet yesterday? This is a phenomenon I've not experienced before. Understandably... not many would line up to get a photo taken and press flesh with me! But it's become an increasingly important part of the US touring band's responsibilities. I think - in general - that UK bands are a little too cynical or self-regarding to schmooze in this way. That The Joy Formidable manage to leave the 40, or so, fans who've turned up to meet them with smiles on their faces is no mean feat considering they all want to pass out on their feet./p>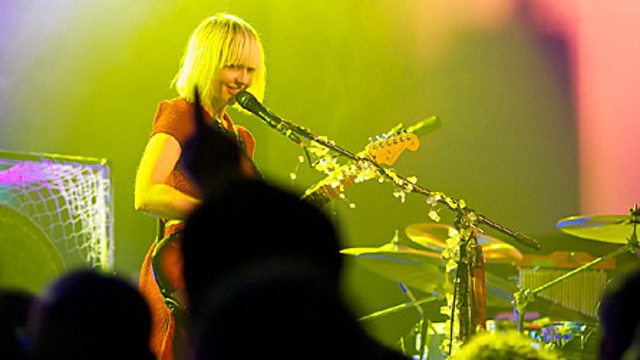 The Joy Formidable
I ask a couple of the attendees why they're here:
"They're a great band. There's something different about them. I can't explain it."
Do you know where they're from?
"Wales, right?"
Yes, right. Right, right, right!
Everyone on the tour bus, bar tour manager Andy and me, goes to catch a few Zs before the show starts. It's no wonder they're knackered. I've started hallucinating, and I've only been living this life for a couple of days.
I wonder how the lack of energy will affect the show. This band don't just stand there looking disinterested, exerting all of the effort of a moth at midday. They give it their all.
The band who erupt on stage - spurting hot plumes of sound into the Philadelphia night - are unrecognisable from the B-movie zombies who've shambled around wordlessly for most of the day. They sound even better than they did in New York. Perhaps it's because they're having to fight themselves a little. They beat themselves to fantastic effect.
The set is perfectly structured, consumately plotted like one of Chekov's short stories. It has a real beginning, middle and end. I've never seen fewer people drift off partway through the set to go to the bar. It's fair to say that Philadelphia is riveted.
From A Heavy Abacus through to an epic, destructive, Whirring, that ends with Rhydian violating a massive gong releasing all the pent up frustrations and tirednesses of the day in a few hammering blows, it's another phenomenal show.
I'm not using that word lightly.
Every aspect is designed to blow minds and give the audience an ultimate experience: the sound is thunderous but clear and pristine; the light-show is the best I've ever seen in a venue this size; the set - complete with lighthouse, nets and lobster traps (I think!) - mysteriously nautical. None of these things come cheaply, but they improve the wow factor exponentially.
But at the heart of this show's success is the band and their songs. Strip away all of the theatre and I'd still be mindblown. I understand the lineage of much of what I hear, but tracing The Joy Formidable is a much more difficult task. They breathe new colours into a pensionable palette. A few of their songs nudge you off kilter with strange time signatures - and unpredictable changes - but none of that is arty farty. The Joy Formidable's leftfield still neighbours great, great tunes. We've mentioned those great, great tunes already, haven't we?
We haven't really mentioned Ritzy, though. The well worn cliche is that a great performer has the audience eating out of their hand; well, Ritzy could have them eating off a cowshed floor. She is imperious and impish as a performer. One of the reasons the Americans love the Joy Formidable is because they're not too up themselves to put on a show, to invite the audience along for the ride. Songs die and then leap back into life like heroes. It'd take a cynical heart to not be swept up in such drama.
Ritzy wheels around the stage - part psychotic marionette, part Siren, part sweary Welsh woman from Mold. She is remarkable. I do hope that word is italicised. Just as I hope Ritzy, and this great band, get idolised the way they deserve to be.
All fuzziness has been blown out of my system. I even manage a good night's sleep on the tourbus. Wife and daughter aside, I wish I wasn't going home in a couple of days time. This has been incredible.
On to Boston....
Feel free to comment! If you want to have your say, on this or any other BBC blog, you will need to sign in to your BBC iD account. If you don't have a BBC iD account, you can register here - it'll allow you to contribute to a range of BBC sites and services using a single login.
Need some assistance? Read about BBC iD, or get some help with registering.