Books and music: A 'Desert Island Disc' evening in Cardiff Bay, Thursday 15 September
Over the past few weeks I've been doing an interesting project with Llên Cymru, Literature Wales, where we've had a 'Desert Island Discs' evening with some of Wales' finest writers.
The first evening was in English with the first poet laureate for Wales Gwyneth Lewis, and hip writer Joe Dunthorne, whose novel Submarine was made into a film recently. The first night was a huge success, with the writers choosing music ranging from Aphex Twin to Mozart. We heard how music plays a part in their lives, and how these tracks in particular bring back very good memories for them both.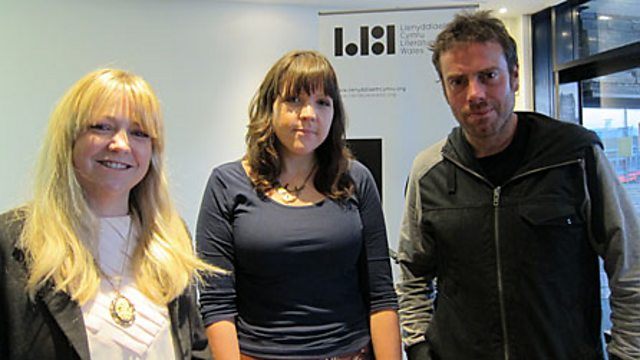 Bethan with Catrin Dafydd and Dewi Prsyor
The second evening, last Thursday, was with two Welsh language poets and writers: Catrin Dafydd, author of Pili Pala, Random Deaths And Custard, Y Dyn Handi and Tiwniwr Piano, and Dewi Prysor, author of Brithyll, Madarch, Crawia and Lladd Duw.
Both have had high praise indeed for their work. Catrin's Random Deaths And Custard came second in the Books To Be Talked About poll from The Guardian in 2009, and Dewi's Lladd Duw was shortlisted for the 2011 Wales Book Of The Year award, and was voted People's Choice by Golwg magazine. I've just finished Lladd Duw too and it was a gripping and jaw dropping read from start to finish: a gritty tale of two London gangsters trying to hide out in a quiet sleepy Welsh village and the mayhem that follows.
Catrin and Dewi have a wonderful sense of community, politics and comedy in their writing, so I was intrigued to hear what music they would choose for the evening. I've asked them both to write a little about their choices for this blog, so I could share with you some musical gems. Do look up the tracks as you read about them - you won't be disappointed!
Here are Catrin Dafydd's three choices and explanations:
Bob Roberts - Moliannwn (Sain)
"Bob Roberts Tai'r Felin from Cwmtirmynach near Bala has always been a hero of mine and should be hailed in Wales as a national treasure. Born in 1870, he was most famous for singing traditional songs and ballads in his community but later reached a wider audience when he performed on the BBC radio series Noson Lawen in the 1940s. Bob Roberts and others like him offer a key to our identity as Welsh people. He is best known for his song Moliannwn, a song about the coming of spring."
Nina Simone - Mississippi Goddam
"Nina Simone was a force of nature. She's been a favourite of mine since I was an early teenager. Her singing and piano playing taps into the very core of human existence. I chose Mississippi Goddam because it's an example of Nina at her best.
"She wrote the song in response to the assassination of the African American civil rights activist Medgar Evers in Mississippi and the church bombing in Birmingham, Alabama that killed four children. All oppressed people should be able to appreciate how simply and succinctly she calls for equality in this song."
Steve Eaves - Ymlaen Mae Canaan (Sain)
"Originally from Stoke-on-Trent, Steve Eaves is amongst Wales' most talented contemporary musicians. Singing only in Welsh, the singer-songwriter has recorded nine albums and is well known for his blues, jazz and rock. Eaves relates the struggle of Welsh language communities to common struggles across the world. He is spiritual yet pragmatic, local yet international. That's why I'm such a fan. I chose Ymlaen Mae Canaan - Onwards to Canaan because the words encapsulate the resilience of the human spirit."
Here are the choices from Dewi Prysor:
The Ruts - Jah War
"I love most music but my passion is punk, ska and dub reggae. My first love was punk, and my favourite of all those brilliant punk bands were The Ruts, Sex Pistols and The Damned. I had a friend in London, four years older than me, who was right in the middle of the punk scene and who used to spend school holidays next door to me in rural north Wales.
"He'd bring loads of home recorded tapes of all the latest punk bands' albums and singles, and I'd tape them. He later spent years as a roadie for The Damned and Motorhead, and then went on to manage the Brixton Academy. I believe he's still there. The Ruts had their roots in the Misty In Roots reggae collective, and though they did a lot of Oi stuff to begin with they started experimenting with reggae and developed into a really clever, tight punk band with a strong social conscience.
"I still listen to them, and their later incarnation following Malcolm Owen's death, Ruts DC. I chose Jah War for its punky roots dub style, its political message, and the fact that the two main characters in my fourth novel, Lladd Duw (Killing God), are from a background in the London squats where The Ruts and Misty played at parties, when the controversial sus laws (which The Ruts also sang about) were first introduced.
"A scene in the novel involves one of the main characters listening to Jah War while getting smashed in a caravan in north Wales. Also, my favourite English author, John King, uses a lot of Ruts references in his excellent social commentary novel, Human Punk (which is also a title of a Ruts song)."
System - One Style MDV
"In the early and mid-90s a friend of mine, Bryn Roberts, who has a community record label in Gwynedd, used to organise tours of north Wales for two reggae bands, End Of Culture and One Style (later, One Style MDV) from London. The gigs were really memorable as it was a sort of solidarity thing between two cultures that are struggling against injustice - the black people's communities and the Welsh speaking communities of Wales.
"This song is in the Welsh language, and Bryn Roberts himself sings the vocals. Over 15 years later, in 2010, I was writing Lladd Duw (Killing God) and for a number of relevant reasons I weaved this song into three or four chapters of the novel. I had lost my copy of the cassette, but I still remembered its catchy chorus and the message in the lyrics. One evening I finished writing a scene containing the song, and travelled to a gig in mid Wales where I was to perform some slam poetry.
"To my amazement, who was there at the event but Floyd, guitarist and shared vocalist with One Style! I hadn't seen him in 15 years, but now he was back in north Wales living with a local girl whom I had also known for years. I told him that I had just been writing about System in my novel, and we were buzzing about the coincidence.
"But it didn't end there. A few weeks later I was to do a preview reading at a literary festival fringe event in Caernarfon. The organiser emailed to ask if I wanted music played as I walked on stage. I told her I'd like System and explained that I'd lost the cassette and asked that if she found the track could she email it to me. When I listened to the track, a tagline from the verse lyrics jumped out at me. It was a line that I had forgotten, and it finished with the words 'Lladd duw' - the name of the very novel in which I'd used the song!"
Peatbog Faeries - Captain Coull's Parrot
"About four years ago, fellow author Catrin Dafydd and I took part in an S4C documentary in which we investigated our Celtic identity and traced our Celtic ancestry through genetics. During filming we attended the Celtic Festival of Wales at Porthcawl.
"A fairly alternative folk band from Scotland, Shooglenifty, were playing there. When I got home I searched Amazon for their stuff. During that search I found the Peatbog Faeries, who seemed from the reviews of their albums to be more up my street - dance/dub orientated instrumental folk. I bought the Faerie Stories album, and to this day I am still listening to it - and their other six albums - and have been to see them three times, twice in the highlands and isles of Scotland.
"The Peatbogs are one of the best live bands you'll ever see. The lead instruments are the bagpipes and two fiddles, with a full band - bass, lead guitar, drums, synthesiser effects, and also a brass section for some songs. The Peatbogs play their thumping, banging dance-powered pipes and fiddle numbers live, but their albums also contain some subtler tracks that fuse reggae and dub with wonderful traditional Celtic fiddlery! One of those tracks is Captain Coull's Parrot from the Faerie Stories album, which is simply sheer faerie magic!"
Hope you enjoyed the musical choices as much as I did last Thursday, and look out for more Desert Island Discs evenings organised by Literature Wales in the future.