H Hawkline, Sex Hands, R Seiliog - Soup Kitchen, Manchester
I missed H. Hawkline at Green Man because of a hold up on the A470. His set had been one of the treats for early attendees on the Thursday. Well, we didn't arrive early enough and then had to tolerate people waxing lyrical about his excellence all weekend. Salt in wounds + anchovies in grass cuts x capers on scuffed knees.
In the Green Man aftermath I find myself in Colwyn Bay talking to a man about seagulls for BBC Radio Wales' Science Cafe programme. Like all professional radio presenters I make sure my phone is 'off' so that our recording isn't interrupted constantly by endless calls from my agent fielding job offers and invitations to open supermarkets.
I don't have an agent.
The only time my phone rings it is my wife reminding me to breathe out after I have breathed in. At least, I think it's that way round.
It's something of a surprise, then, to find a message from Ted Cloud Sounds (a fine music promoter and radio show maker in Manchester - whose support of Welsh music is MBE-able):
"You still up for DJing tonight? Cate has had to pull out. She's ill."
Or words to that effect.
I'd forgotten that I'd offered to DJ at the Soup Kitchen in Manchester that night. It's lucky he texted me. "Lucky" is being used somewhat ironically in this instance.
A couple of phone calls and a quick freshening rummage through my Green Man muddy record box and I am in Manchester, sat outside The Soup Kitchen, talking to H. Hawkline himself. Well, I'm talking. Huw appears to be dragging boulders across his larynx. He left his voice somewhere in the middle of Glanusk.
I'd seen Huw a few times over the previous weekend. He'd been having a very good time. A Very Good Time Indeed. But beer, and smoke, and cold air, and late nights is the kind of vocal preventative we should all wish on One Direction.
Huw is unphased.
"I'll be OK," he says. I think.
Huw's drummer, Robin 'R Seiliog' opens live music matters up with a set of electronic sounds that appear completely unreconstructed. Electronic music, in 2012, has evolved a long way away from the predictable lego bricks of four-beat loops/samples, Cubased together so that even a blindfolded donkey could stick a pin in the next chorus. Ableton and evolution have given artists like Ifan Dafydd, the freedom to be much more freeform. The 'jazz' word never crossed my fingertips. Well, not until then.
R Seiliog isn't dropping weirdness into Ableton on a laptop, though. I'm not really sure what he's using to generate his waterfall of electro sonics. Whatever tools in his box, it's a fascinating concoction. Melodies appear like fireflies from a thick fog.
It's the mystery that bewitches. He straps on a guitar and I feel like I'm being chased into a shadowy forest of music, filled with synth claws and filtered fangs. It's bloody great, obviously. And very very unlikely to end up soundtracking Hollyoaks. A major - gas giant-sized - boon.
Sex Hands are (mostly) from the north Wales coast. They're also muchly a splinter from Klaus Kinski. What they don't know about spirit, and spontaneity, and fuzz is not worth knowing. I get the sense that far too many bands spend far too many hours wasting fat too many words on strategies that will inevitably fall onto far too many deaf, uninterested ears.
Sex Hands just do. They know that doing is far, far more interesting than thinking about doing, and then doing. Because thinking about doing, and then doing, undoes the magic that should be inherent in the done. For example, their collective anathema for tuners isn't laziness, or shoddiness, it's an innate understanding that instruments on the verge of being in tune are - in this sanitised age of digital precision and prescriptivism - capable of a far more interesting collective noise than their better behaved neighbours. And rock n roll - its occasional movements forward - is all about interesting collective noise made by people you wouldn't want as your neighbours.
They write songs The Vaccines would give up their substantial inheritances for. They're potentially as game changing as Pavement were. They're Wales' best new band. This is not hype. It is fact. It's entirely likely that by the time anyone other than you and I have realised this, they'll have decided to do something else entirely.
H. Hawkline didn't appear out of nowhere like the titular antihero of Pale Rider. Everyone with a musical inclination in Wales knew Huw. They knew him from telly and tall, handsomeness. They all know his dad's face. These are the kind of obstacles that shouldn't really be obstacles, but that would obscure or sully a talent unless it happened to be Very Flipping Good Indeed.
Fortunately Huw is better than Very Flipping Good Indeed. Even minus most of his voice his songs transmute 'hackneyed singer songwriter with guitar' into song-sized nuggets of purest great. He's got Bob Dylan in his hair, Syd Barrett in his heart, Daniel Johnston in his fingertips and Jonathan Richman down his trousers. This is my way of telling you he is entirely H. Hawkline. I can only do that by referencing other artists because my impossible task is to describe an original in a way that will communicate to you what he is about.
Well, he is about H. Hawkline, but that isn't necessarily a useful comparison to those of you who haven't heard him. Please put that at the top of your 'To Do' list. Not only will it make this easier for me the next time I write about him (imminent, and in more detail), it will enrich your life, he will.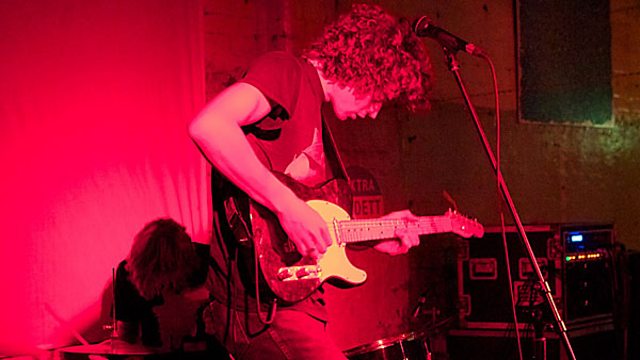 H. Hawkline onstage in Manchester, 2012
The only person he reminds me of is Cate Le Bon. But as they have a personal connection, and Huw plays in Cate's band, this is inevitable. It'd be musically disingenuous and unconvincing if Huw sounded like a one man Van Halen or Aretha Franklin when he's playing solo.
He's funny, charming and self-deprecating between songs. Even without a fully functioning voice his songs are brilliant: happy nightmares, anti folk, a flu hallucination, open heart vulnerable, Jabberwocky awry, completely ace.
My schoolfriend Menna Lukey is in the audience, right at the end. I haven't seen her for eons. Her mum - Mrs Lukey - taught me 'A' Level English at the Alun School in Mold. She was brilliant. So, now you know who to blame.