Wildlife Patrol: It's like Batman and Robin, but without the cool car
Ian Durham is the series producer and editor for Rhys Jones's Wildlife Patrol. He describes what it's like filming a responsive series and working with Dr Rhys Jones.
There's never a dull moment making Wildlife Patrol with Dr Jones – be it filming the insides of a 4,000 year old mummified snake, or trying to keep up on a police raid. Filming usually starts with a phone call from Rhys which goes something like this: "Ian, we've got a call out – venomous snake in a lavatory in Swansea." Then I grab a camera, jump in the car, pick up Rhys and we hot-foot it to the scene.
It's kind of like Batman and Robin, but without the costumes - or the cool car.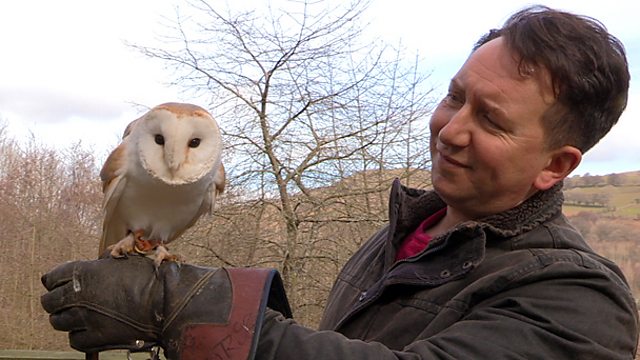 Dr Rhys Jones with a barn owl
Although if I said it was top action all the time, I'd be lying.  For series two of Wildlife Patrol, I did spend two days inside a tiny camouflaged hide, in a cold, wet and windy forest in the middle of November, too scared to move on the off-chance that a fabled red squirrel might appear before my eyes.
Luckily for all of us, it did – and I was fortunate enough to be the first human being to film an Anglesey red squirrel alive and kicking on the mainland side of the Menai Straits in north Wales. Although a full six months later, I've still got pins and needles in my bum from the experience.
Truthfully, the real privilege of working alongside Rhys – and it genuinely is a privilege – is that over the course of four series (Rhys to the Rescue series one and two, and now Wildlife Patrol series one and two), Rhys still astonishes me with the variety of work he's involved with as a herpetologist, a conservation biologist, a licensed animal handler and a scientist and lecturer at Cardiff University's School of Bioscience.  
It was only a chance conversation with him about some DNA profiling he was possibly doing that led to the incredible story about the rhino that we see in episode two of the new series. The fact that Rhys was involved in a piece of work of international scientific significance, as well as to the survival of rhino in the wild, is awe-inspiring, and makes jaw-dropping TV.
Rhys is a genuinely lovely bloke, very polite and very accommodating; but where he does stir from his default nice-guy setting is when we deal with cases of animal cruelty. In episode one of the new series, he was as upset and as angry as I've ever seen him over a snowy owl left at death's door through neglect.
On the other hand, episode one also contains the funniest story I've ever filmed with Rhys. I won't say what it's about for fear of spoiling it – suffice to say, I bet anyone it'll be the scariest and funniest five minutes they'll see on TV this month.
After filming with him for almost five years now, I can genuinely state that what you see is what you get with Rhys. Nothing is put on for the cameras, nearly everything is shot as it unfolds in real-time (hence the wobbly camera and out-of-focus bits).
Everything we film is governed by the passion and the conviction of Rhys and, it has to be said, a number of other like-minded individuals who support and work alongside him – particularly PC Mark Goulding; who, as well as being a thoroughly brilliant Wildlife Crime Officer for South Wales Police, is also one of the funniest people I've ever met. I count myself incredibly fortunate to work alongside such people.
Dr Rhys Jones is a special fella, doing important things on and off screen (he works tirelessly for animal charities across Wales, though he'd be too modest to admit it) – and here in Wales we should all be very proud of him.
Rhys Jones's Wildlife Patrol is on Monday 31 March at 7.30pm on BBC One Wales