There's nothing like a challenge. And when CBeebies' Alex Winters signed up to become Radio Wales' newest presenter, he probably didn't expect what was in store for him.
Alex is the station's new action man. He and Caryl Parry Jones will be presenting Clueless, a new Saturday afternoon game show with a classic format. Caryl will be in the studio with a map; Alex will be on the road with only a clue to guide him to his next destination. They both need your help to guide him there. And while I can't promise helicopters, jumpsuits or cut-glass English accents, I can promise bags of fun. It all starts Saturday at 2pm.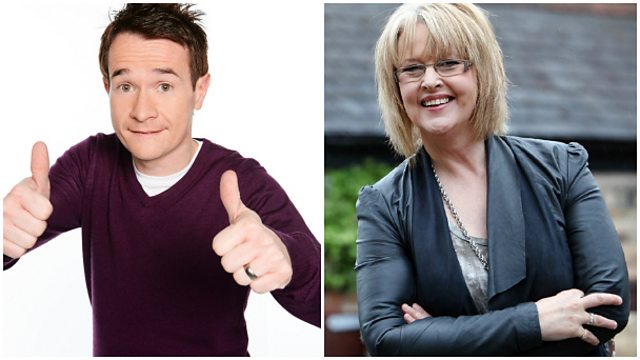 Alex Winters and Caryl Parry Jones
Clueless is the first of two new shows on Saturdays from this weekend. New between 4pm-7pm are Gareth Gwynn and Nadia Kamil. I wouldn't like to guess at what kind of madness they have planned…
Elsewhere this week, Glamorgan will be looking to bounce back from their T20 Blast defeat last week with victory over Hampshire on Radio Wales Sport, Wednesday at 7pm. Carwyn Ellis, the frontman of former Radio Wales Artist of the Week, Colorama, will be having a DJ showdown with Adam Walton on Saturday at 10pm.
Meanwhile, this week's Radio Wales Artist of the Week is Cardiff three piece We're No Heroes. You can hear the single Wild Life across the station and they'll be joining Eleri - who is back this week - on Wednesday at 2pm. Wynne's also back in the presenter's chair, and the stars of the War Horse production at the Wales Millennium Centre will be joining him on Friday's Big Welsh Weekend.
On Sunday at 2pm, Aled Jones plays tribute to the late author, Leslie Thomas, with an interview they recorded back in 2005; Korkey's in charge of Best of Radio Wales at 3pm.
Meanwhile at the National Botanic Gardens in Llanarthne, there's a chance to meet the team behind BBC Radio 4's Gardeners' Question Time at their annual Summer Garden Party. They'll be recording a show for us which you can hear on Sunday 6 July. Details of how you can be there are here.