Not couponing - extreme couponing!
Now, you know we love saving a bit of cash on X-Ray, and we pride ourselves on knowing how to do it pretty well. In fact, it's not often we're surprised by money-saving tips. But the results of extreme couponing - and we are talking extreme here - have been the talk of the office.
This is a new craze that's sweeping the States - and it's taking off here too. We're not just talking about snipping the odd coupon here and there. We are talking focussed scouring for coupon offers in newspapers, magazines, online and on apps.
If you think that sounds like too much effort, how would you like to halve your supermarket shopping bill? And not by going for value lines or cutting down on your shop. With a little bit of effort, you can get the big brands for a fraction of the price.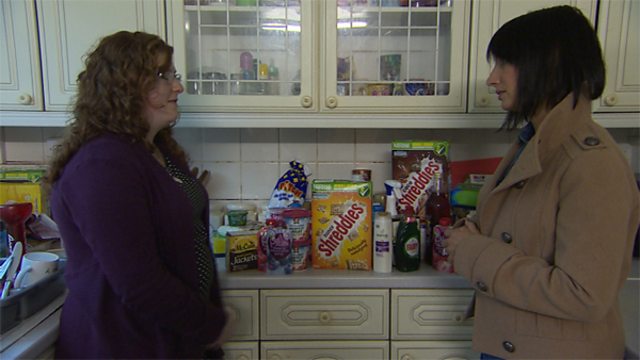 Lucy and Zoe with her discounted shopping.
There's a knack to it of course, especially if you're going to make the extreme savings that Zoe Philips from Blaen Rhondda makes. She started couponing when money became a bit tight after the birth of her second baby - and she hasn't looked back.
Now she'd never pay full price for a product, gets a real buzz from the savings she makes, and can't understand why anyone would pay full price.
And if you've ever felt a bit embarrassed at the checkout handing over your coupon, don't be shy. Coupons have lost their stigma, present them with pride!
We'll be giving you loads of advice on how you could give extreme couponing a go. It's not just about the quantity of coupons you use - it's about offers, using coupon on top of coupon and stocking up. Check out how it's done tonight. By the end of the programme you'll be reaching for the nearest newspaper with a pair of scissors.
Find out more in the next episode of X-Ray on Monday 24 February at 7.30pm on BBC One Wales.