Welsh music at Texas' SXSW festival 2011
Remotely reporting from South By South West (SXSW) festival in Texas is no fun at all, but having been for the past few years, I can't really complain (mumble, grumble) and I've loved seeing the continued support for the Welsh bands heading out to the cowboy state this year.
SXSW is one of the biggest showcases of new music in the world. It started as one long street of music venues pumped out live music all day and night, and has since spread to the whole city, with free microcosm festivals taking over empty parking lots and any space available in the Texan city of Austin, Texas, the self proclaimed 'live music capitol' of the world.
Despite not being there, it has been fun following the bands from Wales as they report on crazy parties, hot barbecues, free booze and their first impressions of the maddest festival in the annual calendar.
This year there was a particularly strong Welsh contingent of bands out at the festival at the official Welsh music showcase and at various other events, and I've tried to track down as many as possible, to ask them how things went for them at SXSW.
Gallops, Bright Light Bright Light and We Are Animal. It was a cracking show. It was lovely to play with loads of other Welshies! The crowd was great, reaction was fantastic, venue was lovely! We also had free beer and food, as did the audience, which was nice! You don't get that back home!

"We Are Animal are an amazing band. We've never seen them before. Their show was cracking. Tons of energy going on. Bright Light Bright Light were awesome too. Nothing like a bit of pop to get you going before a gig!

"The rest of the week has also been amazing. Played some wicked shows to some amazing crowds. It's been lovely to have had such a welcoming and to have gone down so well. Here's to next year!

Jonathan Powell told me via Facebook about his mad time: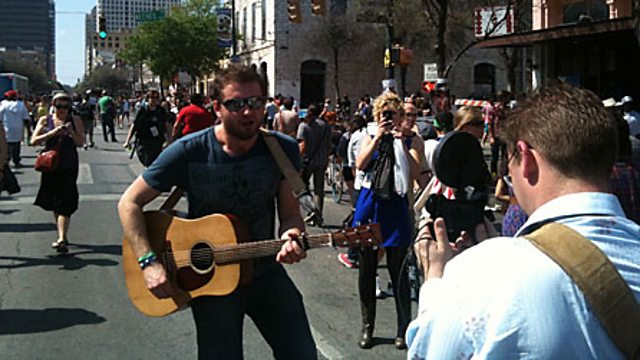 Jonathan Powell
"Between encountering, respectively, Sufjan Stevens' ex-roommate, Michael Stipe and a checked-shirted Texan booze-hound who seemed really quite keen on 'getting down', I happened upon some of the best gigs I have ever seen, mostly from artists I have never heard of. Whilst names like Boy And Bear (Australia), Mieka Pauley (Boston), and Kill It Kid (Bath) are now searingly emblazoned upon my tequila-sodden mind, there were some pretty star-studded moments too.
"We accidentally got backstage at The Strokes gig, accidentally found our way to seeing Ellie Goulding (who entirely changed my opinion of her, Your Song or no), and quite by chance saw John Grant perform a song called JC Hates Faggots in a Presbyterian chapel. But everything in SXSW happens to you by chance (or fortune).
"You can try a schedule, but once 6th Street envelopes you, good luck getting to see that all-female Cajun dubstep troupe you read about. And why bother scheduling? I didn't see anything that wasn't brilliant. As an artist it is the most worthwhile gig I've done so far. Playing SXSW has opened up so many avenues for me on both sides of the Atlantic, including US college radio deals, supports all over the shop, potential publishing deals and a multitude of new listeners. I only wish I'd played more shows. Get thee to SXSW. Or more fool you."
Bright Light Bright Light's Rod Thomas sent me this report from the Welsh Showcase:
"SXSW 2011 has been an absolute blast. I was lucky enough to have three great shows in really good venues - two at Latitude 30, the British Assembly, and one at Ghost Room. It's such an amazing opportunity for new bands, to play somewhere were people from all over the world can see you before you're big enough to tour internationally, and to see bands who aren't big enough to come to where you live. It's a bit pot luck whether your showcase is any good so it's always a good idea to have more than one show - luckily all mine were well organised and busy!/p>
"The Welsh showcase was so much fun at Latitude 30, and the guys from Welsh Music Foundation were so fun to hang out with. It's VERY odd hearing Welsh being spoken in the middle of Texas! Aside from bands I played with, I saw some really amazing bands - old favourites like James Yuill, Casio Kids, and Owen Pallett, and first time views like Twin Shadow (who were incredible), Wise Blood, Baths, Chateau Marmont and of course the bands who you watch but have no idea who they are. Even if all you get out of SXSW is watching a few new bands, or meeting some people you've been emailing about shows but never met, it's just the best week full of sunshine, free food, free beer, (largely) good music and terrible dancing.
From Cerdd Cymru: Music Wales, and Welsh Music Foundation, Lisa Matthews sent this report on the Welsh contingent at SXSW this year:
"The showcased opened with We Are Animal in a flurry of bass guitar and cowbell to a packed crowd. They sound a lot more savage and boisterous live than on record and that had an affect, drawing delegates to gather outside the windows of the busy venue to hear more.
"From animal noise to the sophisticated pop sound of Bright Light Bright Light. Rod had played SXSW before but this new incarnation really is making a name for him in the US with his new single coming out there in a week or so. And he deserves all the plaudits. Gorgeous pop songs with huge hooks sounding both retro to the audience that grew up with Pet Shop Boys and fresh as a daisy to the Popjustice generation.
"The Last Republic had just rushed over from the SXSW conference centre where they had pitched their new AiR Guitar app to a team of industry professionals and now awaited their fate. TLR are just a huge sounding. stadium sized band with all-encompassing hooks and a stage-perfect showman. The people queuing to request contacts for BLBL were replaced by an equally long line for TLR info.
"Also showcasing at SXSW was Jonathan Powell and his band. Jonathan has made a really big impression at another of the big music industry events - Midem in Cannes - in January and as a result had been selected by Tony Moore, the promoter of the Bedford venue in London, for the Bedford Acoustic Showcase at SXSW, a far more sedate and respectful affair than most of the rough around the edges shows at SXSW, it gave Johnny's crafted songs the chance to be heard and appreciated properly.
"JP is a seriously gifted songwriter and performer, the former demonstrated again when he was joined by backing singer and secret headliner Charlotte Church for a short set. What a voice."
Also out in Texas for the first time, featuring Welsh members, were the electronic band Nedry, who played for Clash magazine among other official showcases. Matt from the band emailed me this feedback from their time in the Wild West:
"SXSW was a great experience for Nedry. It's everything you've read and heard about. As a small indie band, you really can't be prepared for the overwhelming experience and bedlam of the festival. We really enjoyed going to seminars during the day, learning about the particulars of the industry. Most of the panels we went to had UK representatives as well as US which really helped build a bigger picture for the industry at large."
"Without the PRS Foundation and UKTI providing funding for our journey and without the tireless work of Monotreme Records in supporting us with getting onto the right billings, SXSW would have never been possible and we would like to thank all of those who helped us get here including Clash Magazine for inviting us to perform at their party at the British Embassy Showcase. We rode around in the back of a pick up truck drinking beers, met some wonderful people and played our 100th show at a house party that stocked 3,000 beers. We really hope we can make the trip back to SXSW again in the future."
If you are in a new band and are looking to head out to Texas in the future, perhaps the first port of call would be the Welsh Music Foundation website, and the official SXSW website, where you can register your interest. Here's to 2012 - good luck!