This week, 35 years ago, Queen's Bohemian Rhapsody reached Number One in the UK singles chart.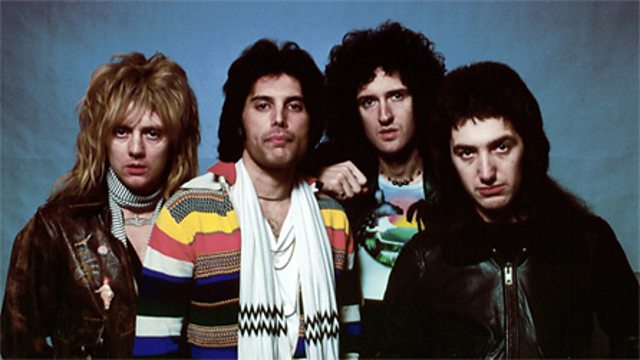 Queen
So what? I hear you ask. Well, it has a very special place in the history of music in Wales as it was famously recorded, in part, at the Rockfield studio complex near Monmouth.
Listen to a discussion of the single on Radio Wales' Jamie and Louise show:
Recording began at Rockfield on 24 August 1975, after Freddie Mercury had constructed the whole of the near-six minute opus in his head, writing in his Kensington flat that spring and summer.
The track was so grandiose, so uniquely complex for that time in history, that Rockfield was just one of four studios used. It was the most expensive single ever made and necessitated so many overdubs that the tape ran clear from over-use.
Quoted in Jeff Collins' Rock Legends At Rockfield (UWP, 2007), Queen's producer Roy Thomas Baker said: "I remember Freddie playing me Bohemian Rhapsody for the first time on his piano at his place in London. Then later at Rockfield, with the basics mapped out, he focused on pinning down what was right. He played me the beginning part and said, 'Right, now this is where the opera section comes in' and he'd leave a gap and I'd have to imagine this dramatic opera style segment.
"And it just kept changing all the time at Rockfield. It took three weeks to record on a 16-track tape machine and we used 180 overdubs, which was very, very unusual for back then."
While not much of the song was actually recorded at Rockfield, it was largely honed and polished there. And a lot of its parent album, A Night At The Opera, was put to tape at the Monmouthshire facility.
It's hard to believe now, but it wasn't a sure thing that Bohemian Rhapsody would ever be released as a single. Its sheer length and its unusual structure simply didn't fit with the three-minute glam pop songs of the era.
But when Queen's friend and radio DJ Kenny Everett played it 14 times in two days, its success was assured. It got to Number One in November 1975 and stayed there for nine weeks. It topped the charts in eight countries and went top 10 in the USA.
Sixteen years later, after Freddie's death, it was re-released and again hit Number One, this time remaining there for five weeks. (It was the first single I bought, on shiny seven inch vinyl)
In 1992 it maintained its momentum with an appearance in the cult comedy Wayne's World, with its most metallic section providing the soundtrack to some superb synchronised headbanging.
Bohemian Rhapsody's legacy at Rockfield has provided inspiration to other bands down the years. Tigertailz insisted when recording there in the 1990s on recording on the same desk, and The Darkness actually recorded there with Roy Thomas Baker, in an ecstasy of classic rock history.
There are joined in a constellation of top rock acts who recorded at Rockfield after Queen's success there by the likes of Rush, Motorhead, Echo And The Bunnymen, Simple Minds, Black Sabbath, The Boo Radleys, The Charlatans, Coldplay, Manic Street Preachers, Oasis and The Stone Roses.
Rockfield's place in rock music history is unarguable, but it was largely down to the legend that grew up after the success of Bohemian Rhapsody three and a half decades ago.
Feel free to comment! If you want to have your say, on this or any other BBC blog, you will need to sign in to your BBC iD account. If you don't have a BBC iD account, you can register here - it'll allow you to contribute to a range of BBC sites and services using a single login.
Need some assistance? Read about BBC iD, or get some help with registering.