Gerry and Dennis, uniting two cousins who had never met
My last reunion film for BBC One's The One Show was broadcast at the end of January and as usual a flurry (or perhaps more accurately I should say 'blizzard') of requests for help came flooding in via email and have kept me and my mind occupied ever since.
One of the emails that caught my eye was one sent in by 76-year-old Gerry Farber from Cheshire, who said:
"My late mother had a younger sister, called Helen Barnett. She joined the WRAF during WW2, where she met and fell in love with the man she later married. However, because of religious prejudice my aunt was rejected by her parents because her husband was not Jewish. I know my aunt died many years ago but I believe there is a cousin whom I have never met. Can you please help?"
It seems such a shame that this could happen at any time but it seemed to me to be especially poignant that this occurred during the war and so I felt compelled to help Gerry search for the cousin he had never met.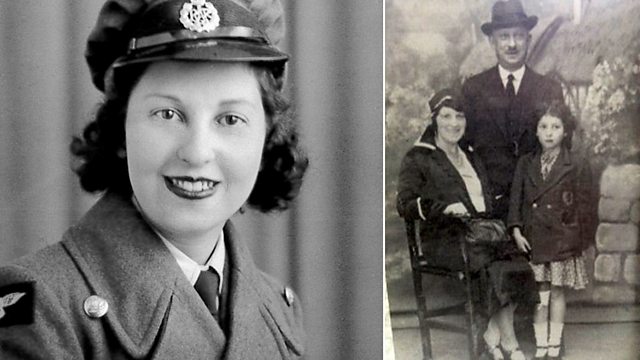 Helen Barnett in her WRAF uniform in 1942, and aged around eight with her parents Harris and Mary. Photos courtesy of Gerry Farber and family
As usual the first issue was to confirm the correct spelling of Helen's name. In fact it turned out that she was registered in 1922 under the name of Ellen Barnett, which is not that different from Helen Barnett but significantly different enough when searching through the indexes. Since the family knew her as Helen then that is what I shall call her too.
Helen was born on 6 December 1922; the youngest of 12 children born in Manchester to Harris and Mary Barnett, who were strict parents with Victorian values. The older children can be seen living at 23 Weatherall Street in Cheetham with their parents on the 1911 census. On the 1901 census Harris is listed as Harry, a hawker of jewellery aged 25, born in Manchester. 
Incredibly, Helen's service history with the RAF had already been traced by another relative way back in 1988 during an earlier attempt to trace their lost cousin. 
At the young age of 19 Helen enlisted as an aircraft woman with the WRAF in March 1942. She must have met her future husband William Tracey fairly quickly after that because they were married by the end of 1943 in Rochford, Essex, a long way from her home in Manchester.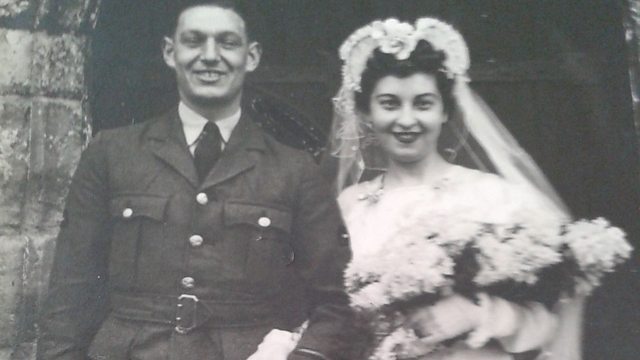 Helen Barnett and William Tracey on their wedding day. Image courtesy of Dennis Tracey
The service records also revealed that Helen was discharged on compassionate grounds on 24 November 1944 and six months later, in May 1945, Helen's son Dennis was born. This was the confirmation I needed; that Gerry did indeed have a cousin and so I quickly sent Dennis a letter and kept my fingers crossed. 
Although Gerry had never met Dennis and did not even know his name, he knew that they had something unusual in common; tuberculosis. 
After the war ended Gerry's father Myer decided to take his young family to start a new life in South Africa. However, during the medical examination required prior to travelling he was diagnosed with TB. Subsequently at the time when the family should have been onboard the ship he was actually quarantined in the Plas Ucha Sanatorium near Abergele with its refreshing and healthy sea air. 
During his confinement Gerry's father regularly wrote to his aunt Helen because, incredibly, she too was suffering with TB. Sadly Helen never recovered from her illness and she died aged just 25, before Dennis reached the age of three. 
Dennis' father William could never speak of his wife, perhaps because of the painful memories, and so Dennis was raised without any real knowledge or understanding of his mother and her religious struggle.
40 years ago Dennis asked the Salvation Army to help him find out anything about his mother but they drew a blank and so he felt it best to let things lie. He had no memories of her at all. 
So you can imagine his surprise when we spoke for the first time and I was able to tell him that not only was his cousin Gerry so keen to trace him that he had contacted the BBC for help, but that his mother Helen was the youngest of 12 siblings and so there were many, many more cousins for him to meet.
His most recent email to me is very precious and one of the main reasons that I keep helping people trace their family:
"I have spoken to a cousin on the phone who actually knew my mother! It is so overwhelming as I have wondered all my life if my mother had any living relatives. I don't know how to thank you enough for your help. Will keep you informed of future developments. Thank you once again. Dennis"
A reunion is planned for later this summer and although Dennis is a little apprehensive about being the centre of attention it will be a very special day for all concerned, regardless of their faith. One of his newly discovered extended family is Arek Hersh, an Auschwitz survivor who was awarded an MBE for his Holocaust educational work. Dennis has already read his book A Detail of History in anticipation of meeting Arek and all of his other Jewish family.
Although he is not a religious person Dennis was christened into the Church of England. He knows that his Jewish mother was buried at St Andrews in Rochford, the same church where she married. Ironically, however, any person born to a Jewish mother, even if they are an atheist and never practices the Jewish religion, is still a Jew.
Gerry Farber and Dennis Tracey will be talking to Cat and Eleri live on BBC Radio Wales this Wednesday, 25 June, between 2-3pm.