Some of you may already been hooked on the BBC 4 series Symphony. I don't think there is enough content like this on our screens and I've found the series so far very interesting and really quite inspiring, in particular the Orchestra of the Age of Enlightenment playing Beethoven and Schubert under the baton of Sir Mark Elder - amazing playing!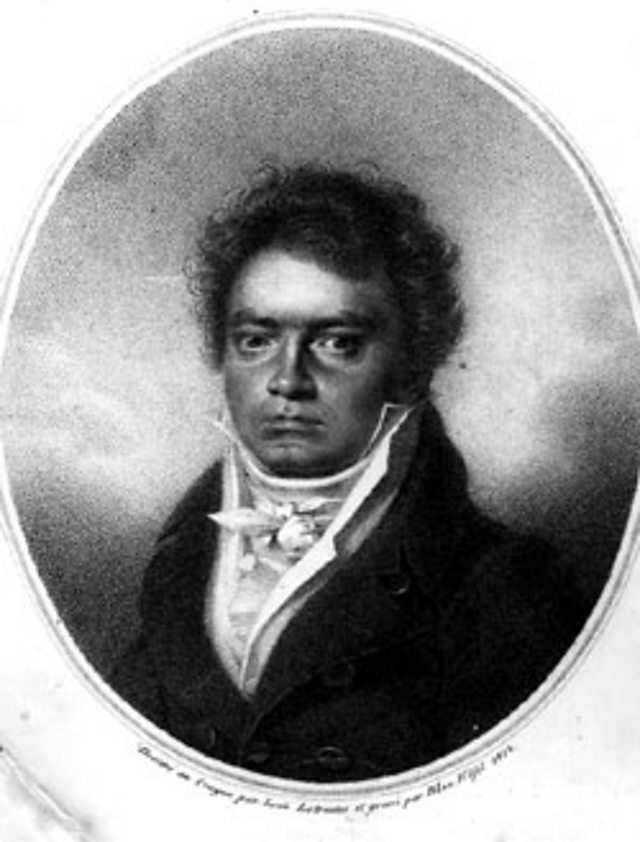 Engraving of Ludwig van Beethoven by Blas Hofel, from a crayon drawing by Louis Tehonne, 1814
We are involved in the Radio 3 link up to the series and this week performed a live broadcast from Hoddinott Hall of Beethoven's Fifth Symphony. It was a packed hall and it was nice knowing that my newly-retired father was listening in at home (incidentally, he enjoyed it very much). It was also the first time we had the opportunity to work with conductor Michael Francis - I really enjoyed his no nonsense, efficient, yet very enthusiastic approach. Hope we see him again soon!
I was always a very imaginative child. If I was caught up in reading a really good book, a full complement of marching bands would pass the front of the house and I would remain blissfully unaware. As an only child, I would happily spend hours in my own company with my own imaginings, fueled by day trips my parents would take me on to the Ulster Museum and the Armagh Planetarium. As I grew up, music was the medium that increasingly captured my imagination.
Beethoven's music in particular has always grabbed me, whether it be the symphonies or the great Razumovsky Quartets. The seventh symphony is my preferred symphony for sheer exuberance, but the fifth truly moves me. There is something about the first movement that makes my heart thump. You can almost taste the composer's desperation. When the oboe has its mini-cadenza in the recapitulation, I could cry for poor, deaf, still raging against the unfairness of it all, Beethoven.
Through the beauty of the second movement's variations we reach the electric final movement. As well as making my arm want to fall off, this movement always makes me break into a smile. There is such resilience, such fight, in this symphony. To me, it is a life affirming work, albeit in a much more personal way than the 'Freude!' of the Ninth.
Over the years, I must have played this symphony umpteen times. I never tire of it. I find something fresh in it every time I have the opportunity to play it. While there are times when I would genuinely like to pitch my viola out the nearest window, works like this symphony keep me excited about being a musician.
It can be difficult to hold on to that excitement sometimes, but how could anyone hear or play this music and not feel something? In a week that will also see us performing Elgar, Britten and Vaughan Williams at the Colston Hall, Bristol, in addition to recording soundtracks, it is Beethoven's Fifth Symphony that has kept me buoyed up this week.