The Joy Formidable - US tour diary 2013, part two
Sleeping on a tour bus that is weaving and bumping its way down the I93 is an acquired skill. I'm tossed and turned and sleep vaguely through the night.
Any moment of wakefulness where you remember you're asleep in a bunk (or a 'fart coffin' as I have christened mine) that happens to be travelling 60mph in the direction your feet are pointing, brings with it a real paranoia that you're going to end up squashed against the partition, with the top of your spine telescoping out of the back of your skull.
As you can see, I wasn't very good at distracting myself.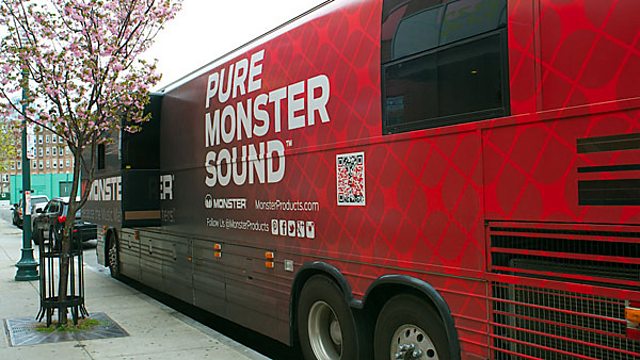 The Joy Formidable's tour bus
My fitful sleep is further disturbed by vibrations from my phone. Finding anything in a fart coffin is a challenge. Well, it is if you haven't spotted the handy pouch for storing essential whatnot on the bunk wall.
It takes me 10 minutes to find my phone. I'm a little frantic because it's 7am over here, which makes it 2am in the UK. If someone is trying to call me, it must be something serious. Or a drunk mate. I have quite a few drunk mates.
When I finally retrieve the phone - and my glasses - I see that my mum has phoned. My heart starts beating quicker: if my mum's phoning, in the middle of the night (in the UK), then something must have happened at home. A host of awful possibilities flashes through my mind. I type out a quick text reply.
Morning. Just missed your call. Quite worried about you. Is everything OK?
A couple of moments later, my phone vibrates with a reply.
We are fine. Just worried about u because of situation in Boston. Mum.
"Situation in Boston"? What "situation in Boston"?
I drag myself out of the fart coffin and go to the front of the bus to see if I can find out what is going on.
The Joy Formidable's indefatigable and laconic tour manager, Andy Tinsley, a man who'd have an escape route planned in advance of the apocalypse, tells me that a terrorist is at loose in the city, that the terrorist has been throwing bombs at people, and that we're under 'lockdown'.
"What does that mean?"
"Well, the bus can't go anywhere, the gig's postponed and we're not supposed to leave the bus or let anyone on the bus, unless they've got police ID. As soon as they say it's OK for the bus to move, we're getting out of this city."
Oh, this is not good news for me! Not only am I supposed to be doing my radio show in Boston the following day, but Mike - who's babysitting me at the radio studio - has managed to get us tickets for the Boston Red Sox ballgame the next day - which has also been postponed.
Selfish bloody terrorists!
The real disappointment is the fact that I won't be able to do my show. It's Radio Wales Music Day today and the opportunity to broadcast live from the US on tour with a band (mostly) from Mold would have been brilliant. Last year I picked up a number of new listeners, some of whom are still tuning in (Hello Joe! Hello Lynn!). They're buying Welsh music, telling their friends about it. It's quite something.
I open the blind on the tour bus window and peer outside, expecting to see someone in a balaclava weaving down the street towards the bus, Looney Tunes bomb in hand, but there's no one out there. Not a single soul. I can, however, see Fenway Park, the home of the Red Sox. We're parked right next to it. Fate has quite a way with salt and wounds.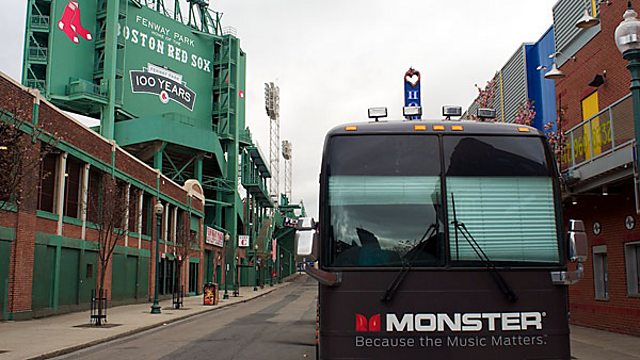 The bus outside Fenway Park
I do a live insert into Radio Wales' news show Good Evening Wales, standing outside the bus. I feel safer outside, frankly. A 50-foot long bus feels like a much bigger potential target than even my catastrophically large cranium.
Of course, the journalists on Good Evening Wales appear to know an awful lot more about the situation in Boston than we do. The satellite TV on the bus is being flicked from rolling news coverage to 80s films to US cartoons, mostly staying with the latter two.
Andy has navigated bands through earthquakes, storms, mass brawls: a lone terrorist isn't going to faze him, not so that we'd notice anyway.
The rest of the bus are stirring, now. There's the band, of course: Ritzy, Rhydian and Matt. There's Emma, the merch manager (from Connah's Quay, near Mold). There's Christian on lighting and easygoing profundity. Aaron handles monitors, flat caps and tequila-fuelled wrestling. Neak is the bus geek and brilliant sound engineer. Mancini is guitar tech and effortless cool. This is Mancini's home city - how must he be feeling?
Sian is here, too (also from Mold - basically, we're invading). That's 10 people aboard the bus - not including Bob the driver - who's just about the best and the most reliable at what he does in the whole business.
When the band and crew wake they have certain bodily requirements that can't be met on a tour bus. If anyone ever explains 'hot bagging' to you, it'll haunt your every waking hour.
Everyone takes this most surreal of situations in their stride. There is good camaraderie aboard this bus. By all accounts, this is not always the case. Try and imagine living in such close quarters with nine other people, for months at a stretch, doing an exciting but rather repetitive and stressful job, far away from your family and friends. No one on the bus would want you to feel any sympathy for them. They understand they're involved in one of the most exciting industries in the world. But there are also times when they have to be stoic and unbelievably sacrificing of their personal space.
Neak shows me the area of Camarthenshire where his son lives on Google Maps. Beautiful green hills in a panorama that is so like my home I feel incredibly emotional - but manage to fight the tears back.
In short, despite the lockdown and the threat of a terrorist drive-by, we leave the bus and go hunting loos, coffees and sandwiches. Some things are worth the risk of extremist detonation.
Ritzy, Emma, Christian and I walk through a more of less deserted part of Boston. It's surreal but not scary.
Spirits and banter are good. Ritzy's Cookie Monster baseball cap helps lighten the mood. However perverse this universe can get, it's not going to allow someone in a Cookie Monster hat to get blown up.
We find a cafe that's open. Christian recommends something with steak and cheese. I phone home to discover that the whole family has been clustered around BBC News, monitoring the situation as if my life depended on it. It didn't feel that way. Not at all.
I learn that my daughter has had the results of a guitar exam she'd sat a couple of weeks ago. She's in tears because she hasn't done as well as her friend Anna. It's only weeks later that it dawns on me that she might have been in tears because her dad was in the middle of a news story eliciting all kinds of melodramatic coverage.
The overriding emotions of the day are relief that nothing happened to us; disappointment that the show in Boston - one that we'd all been looking forward to - had been cancelled; and gratitude that the long hours marooned in one place were alleviated by the great people aboard the bus. It was more fun than you might imagine.
Eventually, after over eight hours of not being allowed to move, word comes through that the lockdown in this part of the city has been lifted. We head out towards Philly and park overnight at a mall the size of Mold.
We shower and Emma and I eat Mexican food that isn't really Mexican food, surrounded by TV screens that let the remnants of the story flap in the wind for a bit, before resuming their normal schedules.
I go back to my bunk musing that sometimes the eye of the storm really is the most peaceful place to be. And I sleep like an old dog.