National Dance Company of Wales: 30 years at the top
Husband and wife duo Ann Sholem and Roy Campbell-Moore can scarcely believe it has been three decades since they realised their dream of founding a national dance company.
In that time the business, started in 1983 as Diversions, has developed an international reputation, commissioned work from some of the world's top choreographers and moved its studios from a warehouse to the buzzing Dance House at the Wales Millennium Centre in Cardiff.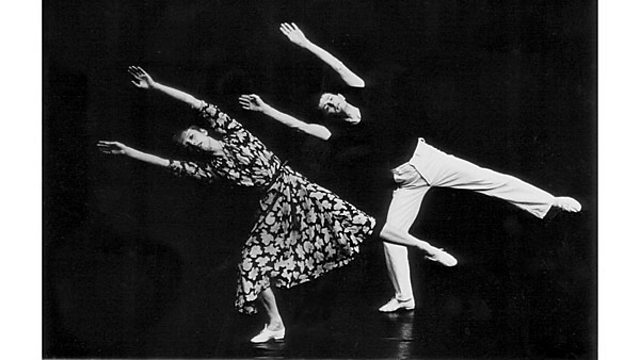 Ann Sholem and Roy Campbell-Moore
In 1999 it was awarded national status and became National Dance Company Wales.
In 2013 it will be celebrating this 30 year milestone with a series of special anniversary performances and a tour which opened in Ireland on Sunday and visits Wales, England, Scotland and Jersey.
I caught up with artistic director Ann over Skype from Ireland as she joined the company on the first leg of their tour.
She said that NDCWales has really exceeded the expectations they had at its inception.
"Our vision was that we wanted an international art form for Wales that was really rooted and grounded in the country but was outward looking as well.
"Obviously so much has changed for the company since then but I believe our core philosophy is the same.
"I feel the quality and scale of the work we do has evolved. We still tour, as we did back then, but now we are doing a lot more international work and we are known for it because we have definitely made our mark."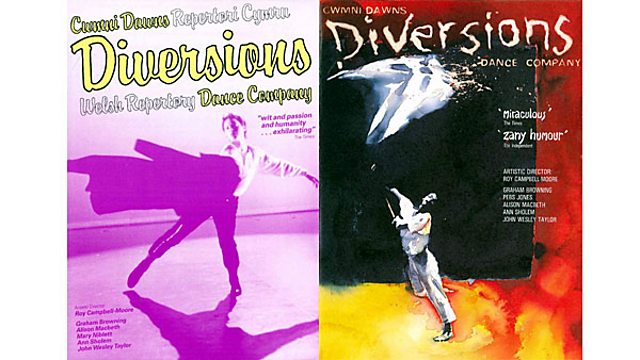 Artwork for Diversions productions, 1985-6
"A really good quality product takes time to nurture and develop. You have to have the right dancers and the right choreographers, so we can present shows that our audiences really enjoy and appreciate."
For Ann it is hard to pick out highlights from such a long and varied career, but one of the peaks she holds dear is last year's Olympic project, Dream, choreographed by Christopher Bruce.
"It was a real challenge, standing side by side on stage with English National Ballet and Scottish Ballet, but I was so proud to see us performing as equals, if not in size, in quality.
"Another big moment was the work we did with the big American choreographer Bill T Jones in the late 90s, when we performed with English National ballet in St David's Hall. I think that performance really changed national perceptions of us."
Moving into the Wales Millennium Centre helped transform the working lives of the company's members.
"Previously we had been split across four different sites and moving into a purpose-built rehearsal space really gave us the confidence to seek the world's best choreographers, whereas before they would demand facilities we could not provide."
The Dance House has not only transformed performance space for the company but is a Mecca for emerging artists who can utilise the facilities while NDCWales is away on tour.
Looking ahead
Nurturing home-grown talent is a cause close to Ann's heart, and in 2014 she hopes her dream of developing an MA for dance in Cardiff will be realised through concerted work with the Royal Welsh College of Music and Drama.
Part of this year's spring tour features a special show at Sherman Cymru which will showcase work that the company has been developing in the Dance House.
The programme includes Orient, choreographed by apprentice dancer Chris Scott and performed by 11 dancers in training, the Associates, as well as Chris Bruce's Olympic piece Dream, Virtual Descent by Eleesha Drennan and Purlieus by Lee Johnston and Joe Fletcher.
The tour will be bookended by this show and an event in November on the main stage at the Wales Millennium Centre, which offers a more international programme of dance.
Immersion in light
I spoke to company dancer Lee Johnston, who is presenting Purlieus, which fuses movement with animation and light, and is her first choreographed piece for the company's repertory.
It is the result of three-year collaboration with resident designer Joe Fletcher and borrows some of its method of thought from a poem by Conrad Aiken called Palimpsest: a Deceitful Portrait.
Lee was greatly inspired by the verse where Aiken writes:
"We move in crowds, we flow and talk together,
Seeing so many eyes and hands and faces,
So many mouths, and all with secret meanings,
Yet know so little of them; only seeing
The small bright circle of our consciousness,
Beyond which lies the dark."
Lee told me: "In Aiken's poem he touches on that idea that our consciousness and what we know is light to us whereas other people and their thoughts are darkness.
"This show is a jigsaw puzzle of light which becomes immersive as we try to reach out to the audience and make them feel involved."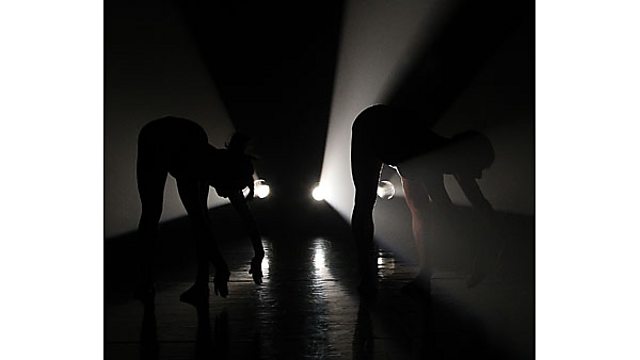 Scene from Purlieus by Lee Johnston and Joe Fletcher
The word purlieu has many meanings, from the boundary of a wood, the conceptual meaning of boundary, to a place one frequents and also a place where one can be free.
For Lee it was a perfect concept for the piece as they use confined areas of light and layers of gauze to trap the dancers and also to free them.
"The gauze walls represent the confines of our daily life and also the boundaries or habitual ways of thinking we have, which we might not even be aware of."
During the show Lee and Joe attempt to reach out to the audience by immersing them in light so the dancers can shed their boundaries.
Virtual Descent
Another piece, Virtual Descent, features the award-winning company dancer and house choreographer Eleesha Drennan and seeks out the essence of power and bravery that lies within the human body.
The dancers perform alongside a recording of a newly-commissioned percussion concerto, Heartland, from BBC National Orchestra of Wales' resident composer Mark Bowden.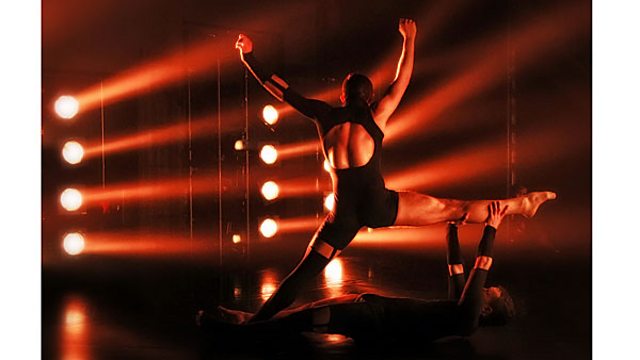 Scene from Virtual Descent by Eleesha Drennan
NDCWales will presents the four special 30th anniversary performances at Sherman Cymru from 27 February to 1 March 2013. For more details visit their website.