Swollen rivers and more rain to come
I've decided I don't like January - it's dark when you wake up and dark when you go home at night. Roll on Spring I say and hopefully some better weather too!
The rain I promised yesterday has well and truly arrived with warnings of heavy rain up and down the country.

In the 12 hours leading up to midday today, 24mm of rain has already fallen at Mumbles Head weather station in Swansea, so just under an inch.
20 mm of rain was recorded at Capel Curig in Snowdonia and there's plenty more rain to come so some large rainfall totals are expected.
The heaviest rain will be in the south and west and Mid Wales. Typically 40 to 60 mm by the end of today with over 100 mm on higher ground in Powys, Ceredigion and Gwynedd.
Some rivers are already swollen and at the time of writing, there are seven flood alerts in force across Wales and this number is set to rise.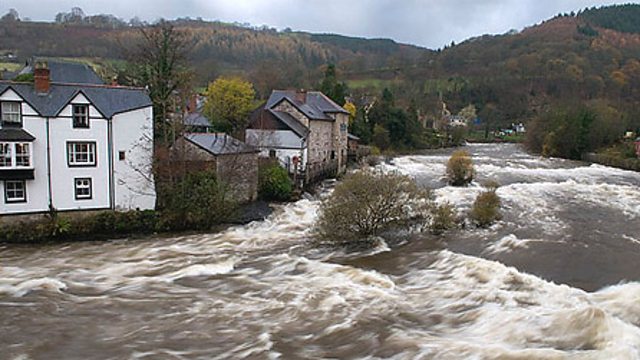 The River Dee at Llangollen during the floods in 2009. Image by Dave on Flickr.
The reason for the current heavy rain is an active front spreading through southern England tomorrow, bringing plenty of moisture in from Atlantic.
Tonight the heavy rain will ease but more heavy rain is expected tomorrow in South Wales.
Based on the latest information, another 60 - 80mm of rain is predicted in the Neath, Port Talbot and Bridgend area with a risk of 100 mm (4 inches) in the south west Brecon Beacons with extensive low cloud, mist and hill fog so drive carefully.
For Mid Wales, the north and east should be drier tomorrow with some drizzle in the west.
Friday will bring some respite from the rain with drier, brighter conditions and the odd blustery shower.

On Saturday, more rain is expected with the heaviest rain falling in the north and west accompanied by strong to gale force winds.
Sunday will start wet and windy but it should turn drier and brighter during the afternoon.
Take care
Derek