You can learn a lot from the gravestones that stand proudly in our churches and graveyards. Whether they are simple slabs of marble or slate, whether they are huge gothic or neo-gothic edifices, the tombstones of our ancestors can tell us much about the character of the man or woman concerned and about the times in which they lived and died.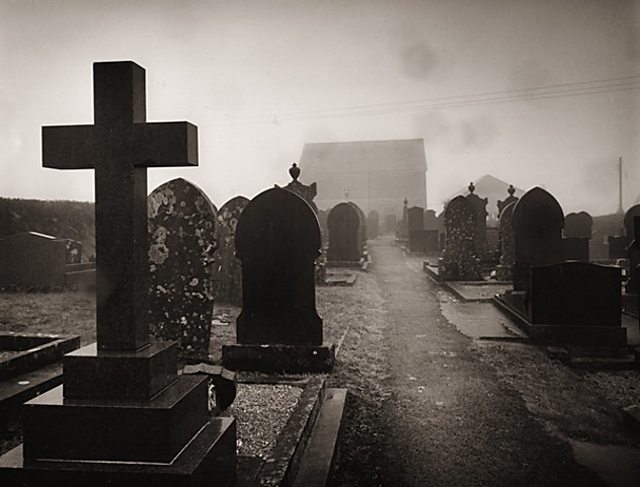 The grave of poet Howell Elvet Lewis, better known by his Bardic name Elfed. Photograph © Paul White
Dates of birth and death, length of life and, if you are lucky, information about family are all often inscribed onto a person's tombstone.
Sometimes there is even a little humour, as in the case of Private John Harding of the Royal Marines who was killed in October 1850 when he pitched headfirst into the unfenced moat of the Defensible Barracks in Pembroke Dock. On his headstone in the old Park Street Cemetery of the town it says:-
"Except the Lord direct our feet and guide with gracious care;
At every step we danger meet, in every path a snare.
Then reader, pause, whoe'er thou art, as thus my grave you view –
Remember, thou from life must part, perhaps as quickly too."
Sometimes the messages, the epitaphs, are simply the dates of a person's life. That in itself tells you something. Sometimes, however, they say so much more – like the telling epitaph on a grave in Key West, Florida, which states "At least I know where he's sleeping tonight."
In Wales, where the enjoyment of mourning became, in the Victorian age at least, almost a national pastime, there is a particularly rich vein of information to be gleaned from studying gravestones and church memorials.
A new book by the writers Damian Walford Davies and Mererid Hopwood, along with the photographer Paul White, maps out what Davies calls "the sepulchral topography" of Wales. In 'Poets' Graves/Beddau'r Beirdd'  (Gomer Press, 2014) the last resting places of over 70 famous, sometimes forgotten, sometimes little-known, writers are shown and written about. It is a telling reminder that no matter the reputation of the individual, there is always going to be one final comment on their career – their gravestone.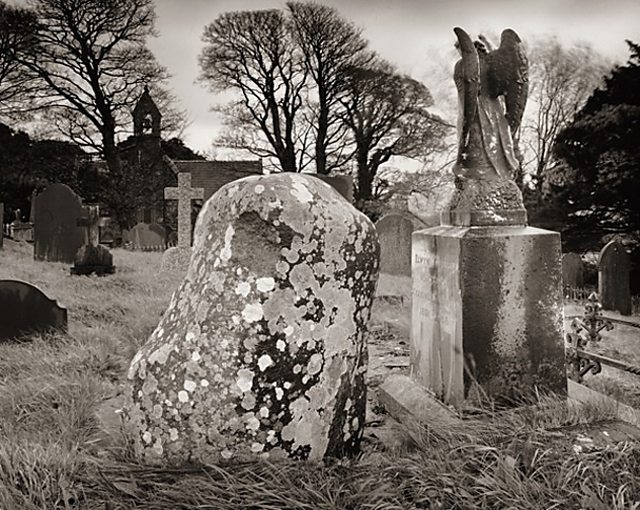 W.J. Gruffydd's grave in Llanddeiniolen. Photograph © Paul White
As you might expect, the two Thomases, RS and Dylan, feature – even though RS chose to be cremated and is remembered here by a simple plaque on the grass. Dylan lies in what Damian Walford Davies calls "overspill," the second section of the churchyard in Laugharne, the rest of which is stuffed full of "burgesses and cocklewives." Dylan himself would have been proud of that image.
Seminal figures like Dafydd ap Gwilym, Henry Vaughan, Islwyn and Taliesin take their place in this gazetteer of the last resting places of Welsh poets, men who by their skill and tenacity brought Welsh history and culture to life for thousands. For those who may never have read, or are ever likely to read, the works of such writers, the pathos of their monuments is sure to hit the mark.
Perhaps one of the most lasting images, however, is White's photograph of the now barely remembered Daniel Evans who died in 1846. Alongside the church wall and far more prominent than the grave, lies a wheelbarrow, on its side. It dominates the photograph, a sure reminder that the world goes on, no matter how notable the writer might have been while he was alive.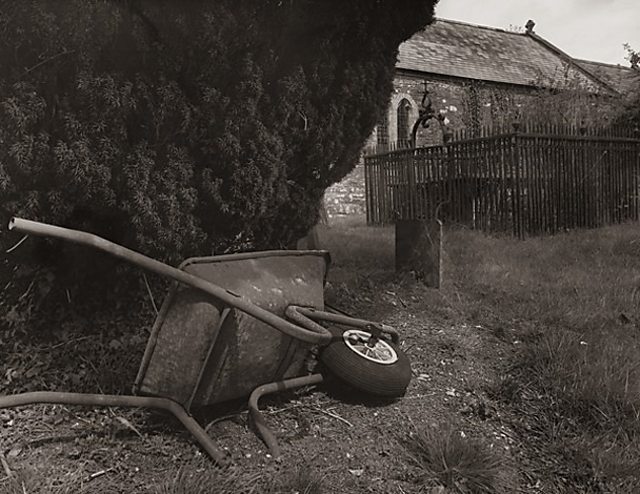 Poet Daniel Evans' grave in Pencarreg, Carmarthenshire. Photograph © Paul White
It is, however, the images of - and words about - the huge Victorian edifices that make a statement about a long-gone way of life. Arguably, in full and certain knowledge that they were going on to a "better place," the desire of these people – or at least their relatives – to leave their mark behind is quite a powerful statement. In the case of writers such as the ones commemorated here you would have thought that their words would have been enough. It was clearly not the case.
Anyone interested in history has to be left wondering about the effort, not to mention the inclination, it took to create something like the memorial stones to Evan Evans or Ceiriog (John Hughes). By contrast Harri Webb's simple stone in Pennard churchyard looks almost inconsequential.
Of course, it is not just poets or writers who were commemorated in this fashion. Ordinary men and women, right across Wales, were given gravestones that marked their lives.
A simple or cursory study of these stones can reveal so much hard historical fact. Anyone interested in history, and in family history in particular, would benefit from time spent in our churchyards and cemeteries. It is certainly not morbid and can be very revealing.