Some heavy rain is on the way
Parts of the UK were hit by severe thunderstorms and torrential downpours yesterday. Wales missed the worst of the storms but there was some thunder and lightning in the south and east.
David Bridle took this dramatic picture of fork lightning in Dinas Powys in the Vale of Glamorgan.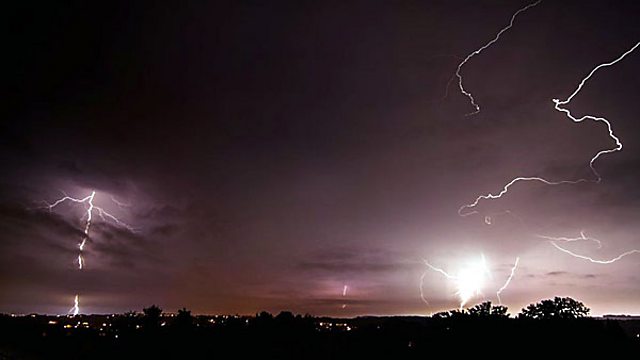 Fork lightning in Dinas Powys
Since 6 July somewhere in the UK has reached 28°C for 18 days in a row making it the longest hot spell since August 1997. Here at the Royal Welsh Show in Llanelwedd, 27°C was recorded on Monday.
Temperatures have since dropped by a few degrees. It's also less humid now making it more comfortable for walking around the showground but still warm with a high of 23°C today.
June was drier than average and July has been very dry so far as well. Some people including farmers are gardeners are desperate for rain and their prayers will be answered tonight. Some heavy rain is on the way lasting for a few hours. 20-50mm is expected, 1-2 inches, with a risk of thunder.
Tomorrow will start grey and misty in places with low cloud and hill fog but during the day it will brighten-up with some sunshine. A few scattered showers are likely and if you catch one it could be heavy and thundery in the north and a yellow warning has been issued by the Met Office.
Some places, though, will get away with a fine and warm afternoon tomorrow, especially in mid Wales and the south with a 20 to 40% chance of a shower in Builth Wells.
I think July will be the best summer month in Wales this year. August is likely to be more unsettled with low pressure bringing showers or longer outbreaks of rain but with some sunny spells as well.
Temperatures during the first week of August look set to drop close to average, 19°C in the day and 11°C at night, and it will feel fresher but still pleasantly warm in finer spells of weather.
If you are coming to the Royal Welsh Show tomorrow and fancy having a go at presenting the weather, pop along to the BBC building adjacent to the main ring between 2 and 5pm. My colleague Sue Charles will be on hand to give you a few tips!
Don't forget you can follow me on Twitter @derektheweather.