Bright Young Things books launch
This week sees the launch of Bright Young Things, a daring new collection of books from four up and coming literary stars which have been published by Welsh publishers Parthian Books.
Bright Young Things sees the talents of Welsh (or Wales-based) authors Tyler Keevil, Susie Wild, JP Smythe and Wil Gritten now in print, following their submissions of manuscripts to Parthian. They each varied in style and genre but, as the publisher puts it, were all examples of exceptional literary talent.
Parthian have a rather proud history of discovering and publishing the works of new Welsh talent before the big London publishers snaffle them up. For instance, recent gems have included the inaugural Dylan Thomas Prize winner Rachel Trezise and the 2009 Wales Book of the Year award-winner Deborah Kay Davies.
One of the Bright Young Things, JP Smythe, has already had his next two novels secured in a publishing deal with the HarperCollins imprint Blue Door, even before his first novel has hit the shelves.

Bright Young Things covers: Fireball by Tyler Keevil, The Art Of Contraception by Susie Wild, Letting Go by Wil Gritten, and Hereditation by JP Smythe.
London-born JP Smythe has a PhD in Creative and Critical Writing from Cardiff University. His first novel Hereditation tells the story of the Sloane family in New York: brothers Erwin and Maynard share their house with their perpetually ill mother, who has recently been abandoned by her philandering husband Ezra. But when Ezra dies of a heart attack a chest is unearthed, the contents of which force the Sloane brothers to look at themselves in a different light.
Wil Gritten grew up in north Wales. He moved to London at the age of 16 and modelled for some of the largest international fashion brands. He now lives in Australia, though he's jetting back for some of the Bright Young Things book launches. His non-fiction travel writing, Letting Go, takes the reader along on his journey from north Wales to South America.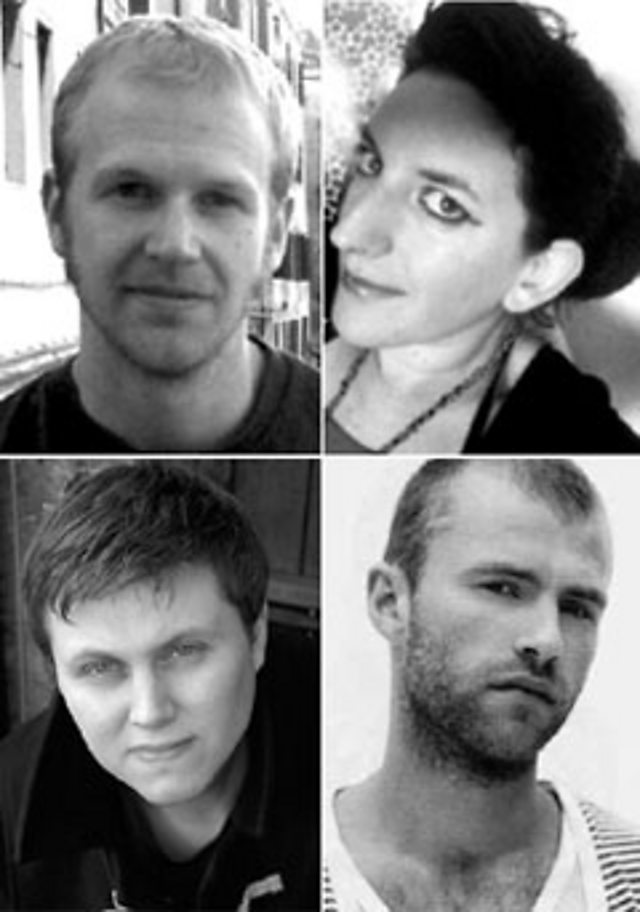 Bright Young Things authors (clockwise from top left): Tyler Keevil, Susie Wild, Wil Gritten and JP Smythe
Tyler Keevil was raised in Vancouver, moving to the UK in 1999 to study English at Lancaster University. He currently lives in Llanidloes, Powys, and has studied for an MA and PhD in Creative Writing at Aberystwyth University.
His début novel Fireball is set during a hot summer in Vancouver, in which Razor's best friend Chris has driven a stolen police car through a road block and over a cliff to his death. Keevil takes the reader back to the start of the summer and unravels the events leading up to Chris' death, and follows four teenagers through the months that will come to define their futures.
Susie Wild is a writer, editor and journalist. She has written for the majority of the Welsh press as well as national publications and her début short film - featuring her poem Dim Smoking, Girls - won The Co-op Award for New Directors at Beyond TV Festival 2007. Her début collection of short stories, The Art Of Contraception, contains a quirky mix of tales of the fantastic and the everyday.
The launch parties for the new collection begins this Thursday at Waterstones on The Hayes, Cardiff, and at the Dylan Thomas Centre, Swansea on Friday.
Further events are planned for Bangor, London, Aberystwyth (plus another in Cardiff) - take a look at the Bright Young Things blog for more details.
Feel free to comment! If you want to have your say, on this or any other BBC blog, you will need to sign in to your BBC iD account. If you don't have a BBC iD account, you can register here - it'll allow you to contribute to a range of BBC sites and services using a single login.
Need some assistance? Read about BBC iD, or get some help with registering.