More severe weather in store
Wales was battered by heavy rain and gales yesterday with disruption and flash flooding. Since Tuesday some places have had a month's worth of rain.
The highest wind gust recorded yesterday was 86mph at Capel Curig in Snowdonia with over 100mph at Clogwyn on the way up to Snowdon.
Capel Curig was also one of the wettest places in Wales yesterday with 43.2mm of rain.
The weather is in better shape today with a mixture of sunshine and scattered showers, the showers heavy in places with hail. But we haven't seen the last of the wind and rain by any means.
Low pressure currently to the west of Portugal is forecast to track northeast across the Bay of Biscay and into Britain over the weekend bringing another dose of heavy rain and strong winds.
Another 20-40mm, (1-2 inches) is expected. Not a huge amount of rain, but given the ground is so saturated there is a risk of more flooding with leaves blocking drains.
The Met Office has issued yellow and amber warnings for heavy rain.
At the time of writing, there are currently seven flood alerts in force in Wales.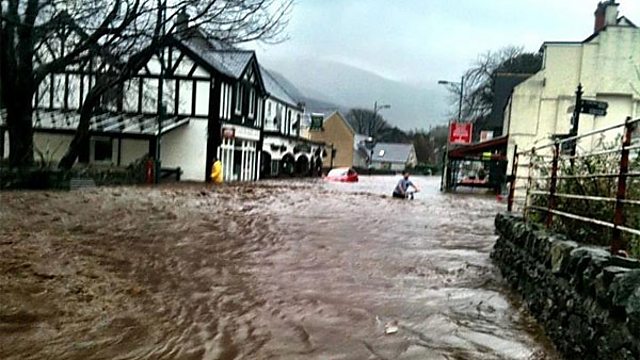 Flooding in Llanberis (image: Arfon Davis)
If you're going to the rugby in Cardiff tomorrow, take an umbrella. Saturday will start dry but rain will spread from the south with a wet afternoon and evening. Feeling cold too with a breeze. Check the local forecast.
On Sunday, the rain will clear and it will dry and brighten-up with some sunshine but more rain is expected overnight into Monday and on Tuesday falling as snow on the mountains. Later in the week, it looks like turning colder and drier with north-easterly winds.
Into December there is a trend for temperatures to fall further and snow may begin to fall to lower levels!
If you want to escape the rain for a while this weekend, join me at the Millennium Centre for an Open Weekend with the BBC National Orchestra of Wales.