Vets 24/7: Busy days and hectic nights
In making this series we aim to give a real insight into the round-the-clock work that goes on at a busy veterinary practice.  We want viewers to get a feel for the hours that the vets and nurses put in to treat and care for all the animals which come through their doors – whether it's a pedigree pooch, or a feral pigeon from Brynmill Park, the vets will do all they can to give the best care possible, with the animal's quality of life a priority.
Throughout the series I was based at the busy Parkway branch of St James. This is where the group's hospital is situated and overnight patients stay while they receive treatment.  You never know what will come through the doors at Parkway, and we would often receive a call from colleagues giving us the heads up to await the arrival of a pet which had been referred from another clinic and was in a critical condition, being sent for emergency treatment.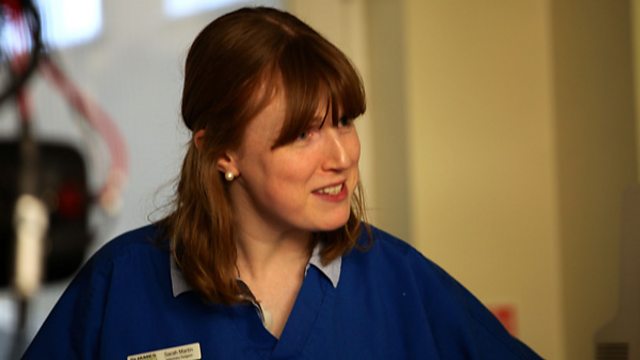 Vet Sarah Martin
One such arrival was anticipated with more excitement than concern as we heard that a pregnant cat was being rushed over in the animal ambulance from the Morriston practice.  Maebh (pronounced "Maeve" - blame the Irish vet Sarah Martin for choosing a tricky name!) was a beautiful black cat, barely out of kittenhood herself.  She'd been abandoned in a cardboard box, presumably by someone who hadn't felt able to cope with a litter to care for.  
Maebh was settled into a quiet cage away from the hustle and bustle of the emergency room, and was visited regularly by vets and nurses keen to monitor her progress. We wanted to capture the magic of the litter being born, but not to disturb Maeve unnecessarily, so decided to place a very small camera inside her cage to capture the magic moment.  The planning paid off as in the wee small hours, Maebh delivered three live kittens out of a litter of five, and she obligingly presented one straight at the camera lens, much to the joy of everyone involved. 
That wasn't the only birth during filming week, and others proved trickier to manage logistically.  Uchi, a German Shepherd bitch, had been rushed in by her concerned owner because she'd experienced problems in the middle of labour. She'd given birth to six pups but had stopped an hour and a half before.  The owner was concerned there were more puppies to come and their lives, plus that of their mother, could be in danger if they weren't delivered quickly.  Vet Sarah (in her role as animal obstetrician) made Uchi comfortable and, when a scan revealed there was at least one more pup to be delivered, we were all on tenterhooks playing a waiting game. 
While Sarah prepared medication for Uchi, a seventh pup was born. Our crew rushed with vet Alex into the hospital area, where she and Sarah battled to resuscitate the tiny life.  While we observed their efforts, a second crew had taken our place in the consultation room which had become a maternity ward.  They filmed Uchi's eighth and final pup being delivered by her proud owner.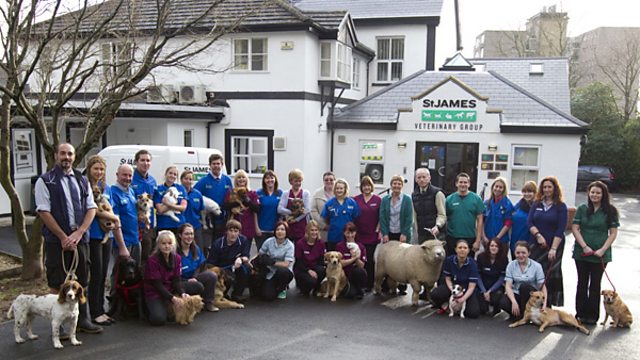 The team at St James Vets
There's a real team effort involved in running a successful veterinary practice, and filming in one requires teamwork too.  We were lucky to have a great support structure around our filming crews, with runners and production staff working together to make sure we got what we needed when we needed it and all our footage was loaded in an efficient system at the end of each day. We don't use tapes to record our material, so memory cards are handled with care – an entire day's work can be wasted, jeopardising a week-long storyline, if the rushes are lost or corrupted. 
Each evening as the day crews set off for home, the night shift took over. The dedicated team stayed at Parkway, poised to follow whichever vet was on call to treat an emergency case. 
The new series of
Vets 24/7
starts Monday 6 January, 19:30, BBC One Wales.