Winds easing but heavy rain on the way
I'd like to start my first blog of 2012 by wishing you all a very Happy New Year! But sadly there's not much to celebrate on the weather front...
Wales has been hit by the worst storm of the winter so far with heavy rain, flooding and severe gale force winds causing widespread problems.
At the peak of the storm this morning, the wind reached violent storm force 11 on the Lleyn Peninsula with a gust of 93 mph at Aberdaron. While 71 mph was recorded at Mumbles Head in Swansea.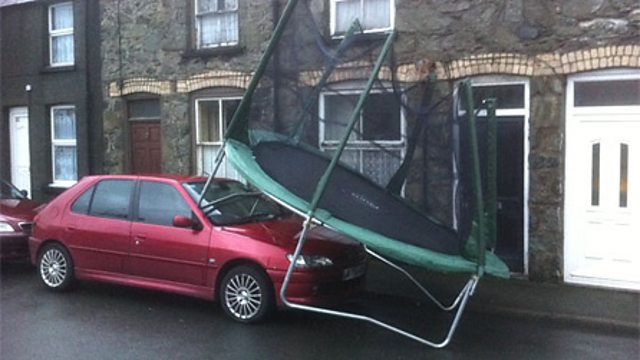 A flying trampoline spotted in Bala today by Dylan Vaughan Evans.
The gales were strong enough to bring down trees, blow over wheelie bins and even pick-up a trampoline in Bala, Gwynedd and drop it onto a car. There have also been reports of Xmas trees (put out for rubbish collection), flying away!
Torrential rain has caused many rivers to become very swollen and at the time of writing, there are 2 flood warnings in force in the Conwy Valley and in the Lower Dee Valley plus 29 flood alerts.
The reason for the stormy weather is a deep area of low pressure which moved in from the Atlantic last night.
It crossed Scotland and is now heading towards Scandinavia so we've seen the worst of the heavy rain and severe gales for the time being but there's still a sting in the tail this evening.
The wind will increase for a time, especially in the north and west with a risk of severe gales and blustery showers. It should become drier, clearer and less windy after midnight.
Scattered showers are likely as well with more rain on the way tomorrow, over night into Thursday.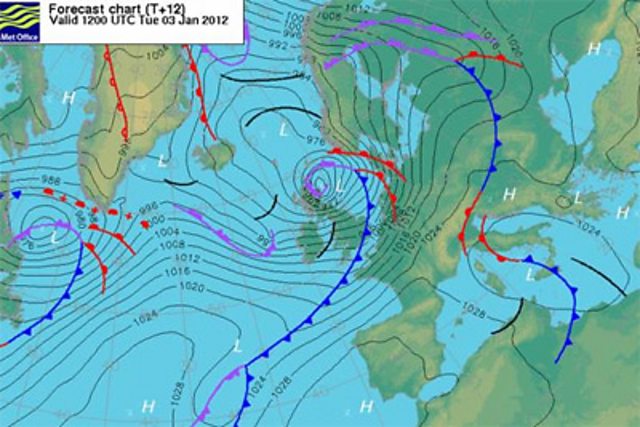 Met Office weather chart from midday today on Tuesday, 3 January 2012.
The Met Office has also issued a warning of heavy rain.
40 to 60mm, (over 2 inches), of rain is expected on higher ground, especially in Mid Wales, the Cambrian Mountains and in Snowdonia. Given that the ground is already wet and saturated, there is a risk of more flooding to come.
On Thursday the rain will clear and the strong to gale force wind will slowly easel. Friday should be less windy and after a dry and cold start it will turn milder with only a little rain.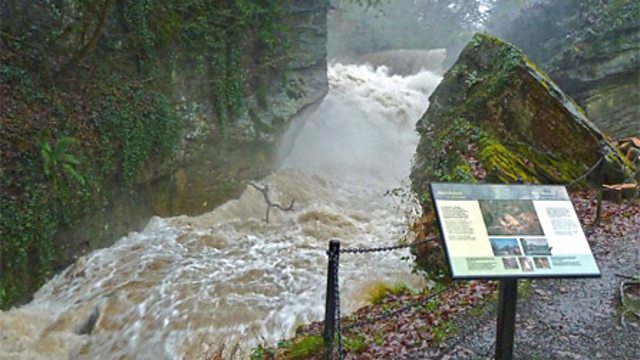 Aberdulais Falls in full flow today. Image by Mike Davies.
There is still no sign of any really cold weather and significant snow on the horizon - just short bursts of cold air from time to time but nothing to get too excited about.
I will let you know if I see a change in the weather pattern which so far this winter is being driven by a strong jet stream bringing bouts of heavy rain and gales in from the Atlantic.
Derek