Vets 24/7: Alpacas and constipated terrapins
Despite the vets in our team tending to specialise in large or small animals on a routine 9-5 basis, the beauty of working in a large mixed practice is that there is never a dull moment. Filming in the spring gave the opportunity to film some of the more seasonal large animal calls against the ever present picturesque Gower back-drop.
Having had a sneak preview of series three, it is safe to say the series has more than a generous sprinkling of large animal stories - including rams, cows, horses and sheep. Despite the varied case load, the series does appear to be "alpaca - tortoise-centric", in particular, with more alpacas that you can 'spit' at!
In the interests of balance and from the practice point of view, I can assure that you that we weren't running any kind of promotion on visit fees for alpacas or tortoises that week! In true mixed practice form, it's just the way it is.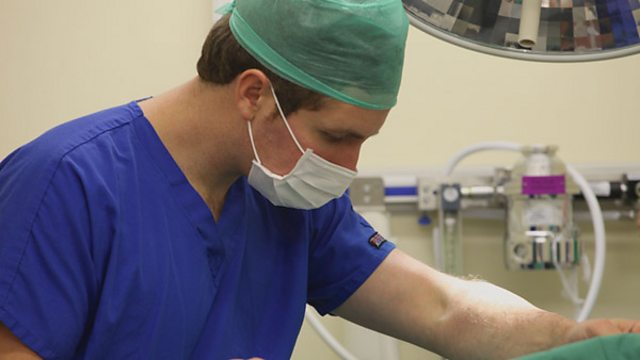 Vet Geraint Jones
In this new series, exotic vet Lance Jepson features with an array of classic one-liners and a constipated terrapin. Sarah goes on a late night wild badger hunt, and Rebecca Lee, in a true James Herriot-style finds herself having a 'methane-based facial' for the team, on camera, at the back end of a cow! This is definitely not a perk of the job!
Despite staff and vets at the practice being a bit more 'BBC savvy' during the filming of series three, it is still quite hard to get your head around watching your colleagues (or indeed yourself) on TV. In particular, it's interesting seeing the story from the owner's perspective.
As a vet, during difficult consultations when pets are put to sleep, it's fair to say that sometimes you have to try and distance yourself from the owner's emotions in order to remain professional,  to ensure that you do your job as well as possible.
Despite the professional guise this is still an upsetting part of the job particularly with clients and animals that you have grown to know over the years. However, if I'm being honest, I was surprised how watching an animal put to sleep on TV, passively, looking in as an observer, without knowing the animal or the clients, was also so upsetting - considering it is something we do on a daily basis.
Filming Vets 24/7
I guess, even as a vet, it can be quite easy to forget the massive role animals and pets play in peoples' lives, and also to take some of the things that you do on a day-to-day basis for granted.
At the end of the last week of filming most of the veterinary team were admittedly pretty exhausted! Under the scrutiny of the camera, it's amazing the level of energy taken to concentrate, not to say something foolish, inaccurate or controversial on TV under the watchful gaze of your peers, clients and colleagues.
We are, as always, extremely grateful to all our clients and their animals for their cooperation and the BBC for their professionalism, in order to give the general public hopefully a representative insight into the day to day goings on at our practice.
Vets 24/7 is next on Monday 13 January, 19:30, BBC One Wales.