Aneurin Barnard on David Bailey and We'll Take Manhattan
Welsh actor Aneurin Barnard portrays a young David Bailey in BBC Four's We'll Take Manhattan, a one-off drama that explores the explosive love affair between the iconic photographer and 1960s supermodel Jean Shrimpton.
Predominantly set in 1962, We'll Take Manhattan centres on a week-long Vogue photo shoot in New York that sparked a love affair between the 23-year-old married Bailey and 18-year-old model Shrimpton.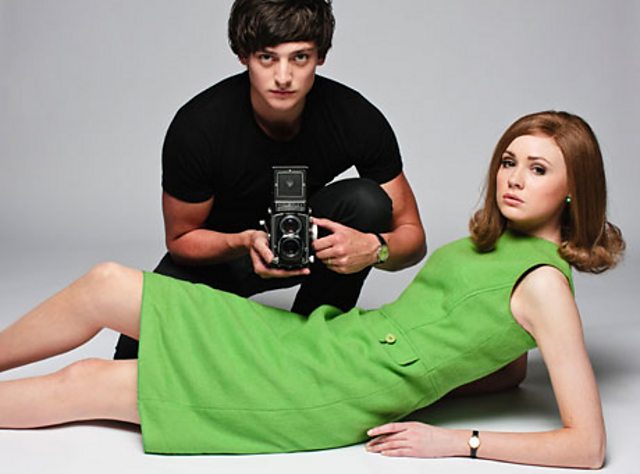 Aneurin Barnard and Karen Gillan in We'll Take Manhattan. Photo: BBC/Kudos
Aneurin Barnard is very much a star in the ascendency. After graduating from the Royal Welsh College of Music and Drama in 2008 he entered the world of musical theatre and won an Oliver Award at the age of just 23 in 2010 for his role in Spring Awakening. Last year he appeared in the 2011 medieval action film Ironclad alongside acting heavyweights James Purefoy, Derek Jacobi, Paul Giamatti and Brian Cox.
He's already got a number of new films under his belt that are due for release this year, including Welsh director Marc Evans' Hunky Dory, Elfie Hopkins - starring father and daughter duo Ray and Jaime Winstone - and drugs-trial-gone-wrong thriller Guinea Pigs.
But the first chance to see Barnard in 2012 is in We'll Take Manhattan. I recently spoke to the actor about his role in the drama.
How did it feel to land the role, and to have the chance to portray an icon such as David Bailey?
Landing the role was an absolute pleasure, I was very happy. I think there were a lot of people of involved for the role so I was over the moon really to get it. And to portray Mr Bailey, I was really excited and so happy that I was given the opportunity to get underneath his skin and to tell his story. Just brilliant.
How did you research for the role? Did you have any contact with Bailey?
I didn't have any contact with him until after we had shot the whole thing. The research I did was watching certain videos of him at the time, lots of interviews and material from when he was about 23. After that I didn't really look into his work. I know his work anyway, but all my research went in to when he was younger and what influenced him in photography as a person.
For instance, one of the strongest influences on him was Picasso, especially one painting called Jacqueline. So stuff like that, and looking into his involvement in the army, his family, his mum being a single mum and growing up in the Mile End area of London. That kind of stuff was really important for me.
Then the biggest research really at hand was his voice, his accent. Because he's not just a 'normal' cockney, he has a very particular way of speaking and that was the challenge at hand.
Have you ever dabbled in photography yourself?
I've picked a camera up a few times. I remember buying my first camera when I was about 18 and really going wild with it, as you do as an 18-year-old, especially when you're in college.
For this role I was given the two cameras that Bailey used back then, a Rolleiflex and a Pentax. I was given them two weeks beforehand and I spent a day with a photography specialist who went through the ropes with me with the cameras. And then I was given them to play with so I was just taking shots of friends at home, in my flat, on the street, on the Tube, kind of just getting used to using them in the way that Bailey does.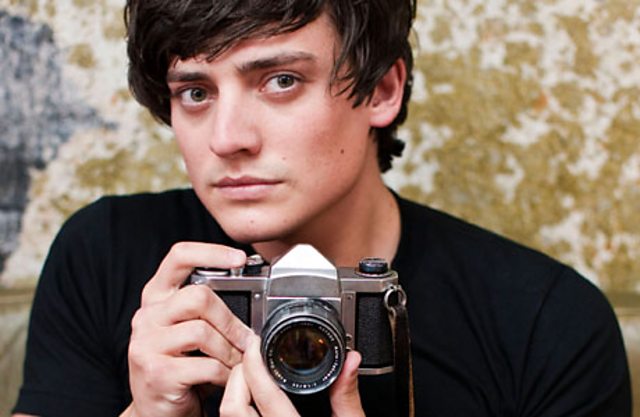 Aneurin Barnard holding a Pentax camera. Photo: BBC/Kudos
Plus, Bailey shoots through his left eye and I normally shoot through my right so I had to learn to change that. It was almost like changing from being right-handed to left-handed in a sense.
The subtle things like that, that really key in to him - probably things that only he would notice - were really important to me.
What was shooting in New York like?
We were shooting for a week. We were there for about eight or nine days, and it was a pleasure from the moment we got there until the moment we left.
It was beautiful weather, the streets were busy, there was a buzz in the air as the city always has.
To shoot on Brooklyn Bridge was the highlight for me, and then we shot on a tower which was overlooking the UN building and that was a moment as well. Just phenomenal.
Taking shots of Karen Gillan as Jean Shrimpton then, looking down at the long streets of New York with all the taxis underneath you, was just sensational. You know you have some moments in your life where you think 'it'll never be this good' and that was one of them.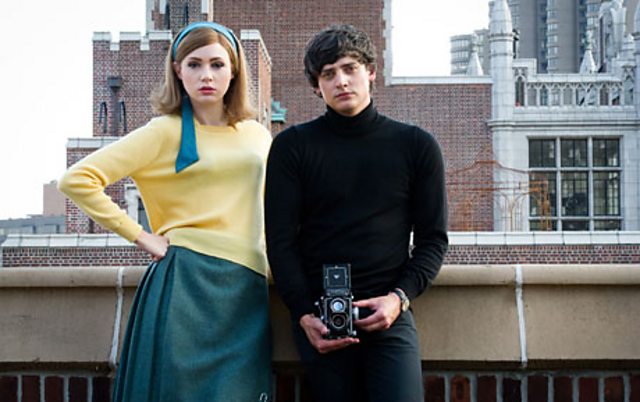 The pair on a New York rooftop. Photo: BBC/Kudos
Do you have any plans to move to America?
Not to move, I don't think I could ever move there permanently. I definitely will have to go there for some time; I have done in the past and I will continue to have to.
I could live there for a short period of time, I could probably live in New York for a good couple of years actually because it's such a phenomenal city, but... [in an exaggerated voice] I love this country too much!
What was it like working with Karen Gillan?
Karen is sensational. She's a very talented actress, she's very beautiful and very elegant on screen. We became really good friends; there was really good banter between us. Also, the concentration was there to really zone in on scenes and to really take control of the story and make sure that we were portraying David Bailey and Jean Shrimpton with respect and admiration.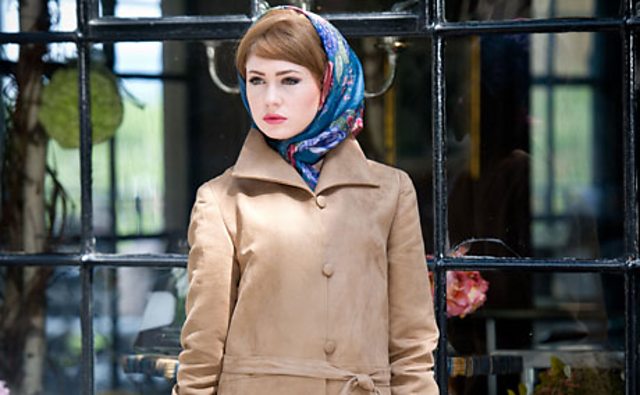 Gillan, a former model herself, portrays 1960s model Jean Shrimpton in the drama. Photo: BBC/Kudos
Bailey and Shrimpton were among some of the most stylish people around at the time. Did you get to wear any particularly memorable 1960s-style costumes while filming?
There was of course the black polo neck which was very Sixties, and the turtleneck that Bailey wore, so that's what I had on for a long time. [jokingly] I had a nice white vest at one point!
And the leather jackets and Cuban heels, it was very Sixties. But the thing is, Bailey was almost wearing these clothes before they even hit the streets, if you know what I mean.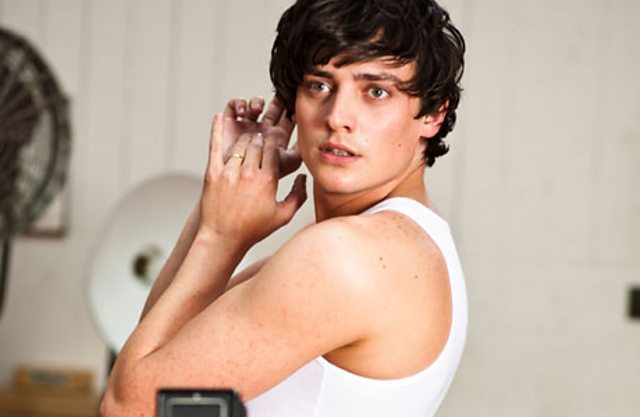 Aneurin Barnard in a scene from the drama. Photo: BBC/Kudos
He almost had the 'Beatle' look before The Beatles had it, even the Beatle bob as that's how his hair naturally fell. He was ahead of his time in a way, and I think that's what was quite attractive about him because he was on it; there was influence where the fashion was coming from other places, and he was getting it before anyone else was.
What did you find most enjoyable about filming the programme?
One thing I learnt was that you don't have to spend all day shooting: you can get it done in half an hour if you're that talented as a cameraman. You can get the shot done very quickly, and there's no one who works as fast as Bailey. It's astonishing how he can get the quality he does, which is the best, in so little time.
Another thing I learnt was to plough on really; if you believe in something then you really have to drive through it. Bailey was told many times that he was doing the wrong thing or that it was never going to work for him, but everything that he stuck with actually panned out.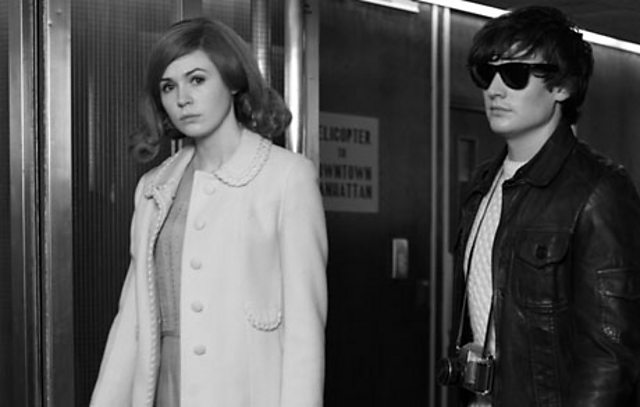 We'll Take Manhattan can be seen on BBC Four on Thursday 26 January at 9pm. Photo: BBC/Kudos
Can you tell us about any future projects you've got coming up?
Well there are a lot of films that will be coming out. Hunky Dory will be out soon; it is set in Swansea with Minnie Driver. Another movie called Elfie Hopkins with Ray Winstone and Jaime Winstone, another called Citadel which is set in Glasgow with James Cosmo, and another called Guinea Pigs.
So there's lots coming out. People will be able to see something that I've done, which is quite nice as it's been a while since anything has come out. I'm just looking forward to being seen really.
Are you likely to return to theatre or musical theatre in the near future?
Hopefully. I don't turn my back on anything. It's a really good format to have, to go back to theatre and build yourself as an actor. I think it's a great skill to go from screen to stage.
So definitely, I absolutely want to get back on stage, it's just about making sure it's the right show at the right time.
How often do you get back to Wales?
I try to get back as much as possible. Unfortunately it's been pretty difficult over the past months because I've been filming on several different projects and most of them have been overlapping. So every few months I get back, but I'm constantly on the phone and I do miss everyone there dearly, but they know I've got to do what I've got to do right now.
What would be your dream role?
Oooh, right, I've been asked this before and I'm going to stick with it, for a very personal reason. Bond is actually my dream role. Only because it was the film I watched with my grandfathers and father from a very young age, and it would be the only way that I could actually repay them with my art form for what they've done for me.
We'll Take Manhattan can be seen on BBC Four at 9pm on Thursday 26 January, and on the BBC iPlayer for the subsequent seven days after transmission.
Browse a photo gallery of images taken from the drama.
Read an article by the writer and director of We'll Take Manhattan, John McKay, on the BBC TV Blog.