The surf has been perfect recently and surfers all over Wales have been making the most of it.

I even surfed twice yesterday for some reason - before and after work? The warmer weather and sunnier skies, have definitely helped with motivation and the sea is warming up nicely.

We've recently reached a balmy 7.7°C so it won't be long before we're in summer wetsuits and removing all traces of boots and gloves.

Bill Webber, from Pembroke sent in these photos of Manorbier beach from yesterday showing some lovely, clean lines wrapping into the bay: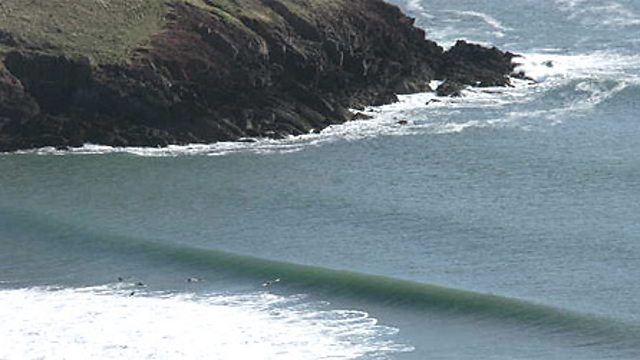 Look at the colour of that water - it resembles the Bahamas! Something us Bristol Channel surfers can only dream about...
Freshwater West
- One of Wales' finest surfing beaches is to have lifeguards for the very first time this summer. The beach has vastly increased in its popularity in recent times, mainly due to the increased profile of surfing in the UK.
Surfing is now one of the biggest growth sports in the world, bringing in millions of pounds to the UK economy alone.
Once upon a time we'd have to wait for other surfers to arrive at this beach before we'd venture out if the waves were big. Nowadays, you struggle to find a parking spot down there, even in the winter.
The beach can be dangerous though and like many surfing beaches, does have strong rip currents and softer quicksand at the north end, so this is great news for everyone.
The lifeguarding runs from June until September for around 10 weeks.
Last weekend saw the 'Border Control Challenge'. Two surf clubs - West Coast (WCSC) from Porthcawl and Aberavon battled it out at Aberavon beach in a friendly surf contest.
This year, the event was blessed with excellent surf as a solid 2-3 metre swell pounded the coast and made for classic but tricky conditions, especially for the longboarders who had to paddle their 9ft boards out into the 6-8ft waves.
Local surf photographer Claire Beach was on hand to capture the action. In this shot, local surfer - Richard Perkins drops into a good sized wave at 'the peak':
Aberavon won the contest this time around but it was a closely fought battle.
Staying in South Wales - there are two surfing competitions planned for Rest Bay, Porthcawl this weekend - 'The Longboard Classic' which also features a retro surfboard event (that I'm hoping to enter), and the Welsh Inter-club Contest where regional surf clubs from around Wales battle it out for the crown.
Unfortunately, I've a sneaky feeling that they will both be cancelled due to a lack of surf. The current spate of high pressure will be turning the ocean into a calm, placid lake over the next few days.
It might be time to dust off the BBQ's, as this could be our summer. Blink and you'll miss it ;)
Gull