So far they've only caught fleeting glimpses of it on the stills 'camera trap' so we don't have any video yet...
We've dug this image out of the BBC Wales Nature gallery: It was sent in by a security guard at Talacre in 2006: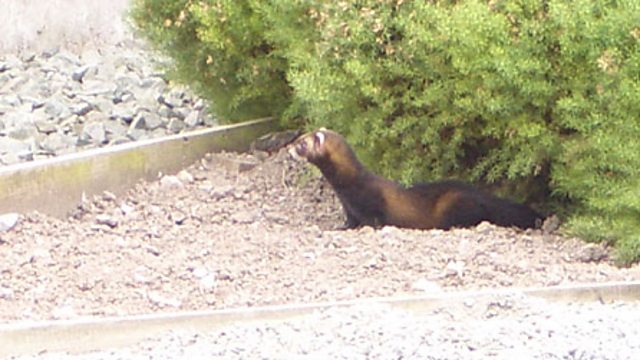 The only footage captured so far features a very fat cat that continues to eat all of the bait put down for the polecats.
If you own this particular moggy, perhaps you could keep it indoors for a few nights and give us a fighting chance?!
Here is a photo of the sketch that Simon King drew the other night to use in the programme: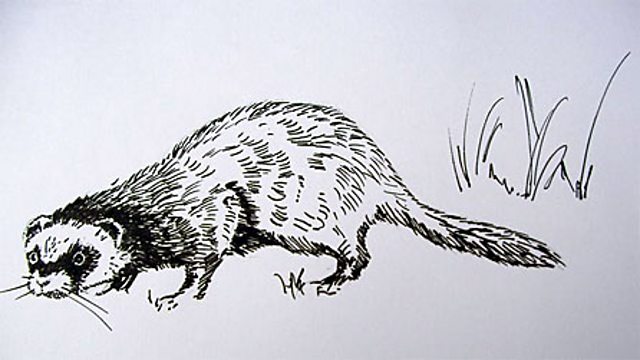 I've suggested keeping the cat in the carvan, fed and watered for a few days until they've got the footage, but the team here wouldn't stoop that low, although Jamie (as you may have seen in last night's programme) did resort to dragging a dead 'road kill' rabbit around a field to lay down an attractive scent and yes... the fat cat made yet another appearance.
If it features much more, it's in danger of having its own show, so we really need your help in finding polecats in Wales.
The team head out each night and sit in a caravan near the polecat location, staring red eyed into monitors all night long until they return to base at Lake Vyrnwy around 7am to catch up on some much needed sleep.
There have a been a few more leads via the Springwatch message board recently so they will be followed up soon.
In the meantime, keep sending in your photos to our Flickr group.
Gull
Links:
Simon King's blog on polecats
BBC NE Wales on the search for polecats