Warning: This review can cause severe jealousy! Ah Barcelona. What a city! We touch down in the golden glow of setting sun, and hit the sticky tarmac; embracing that warmth that bounces off walls and fills you with smiles. I was back for more Primavera Festival fun, which I've decided is most definitely one of the best festivals in the world.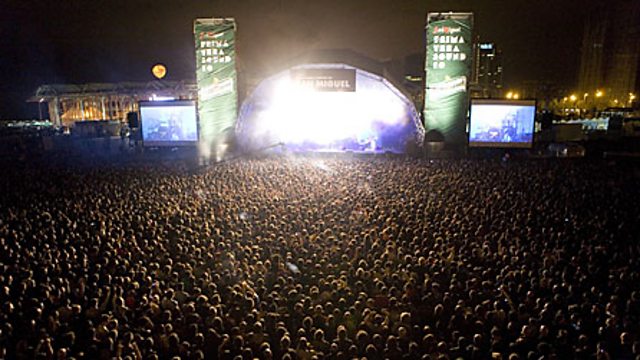 Primavera crowd. Photo: Inma Varandela
First stop, a quick check-in to a beautiful apartment overlooking the marina of Port Vell. Our balcony has one of the best views in the world: the city, the sea, the mountains, the boats, and looks down on an ants nest circuit of tourist buses and people bustling around the seafood restaurants. Perfect. It's late already, but life in Barcelona is only just kicking into life - no wonder they need a siesta in the afternoon.
Word on the street is that there's a B Music party in a swanky hotel called Me. B Music is the collective of DJs including Andy Votel, Cherrystones, and Bob Stanley from St Etienne, who like to unearth rare records, and have released compilations on the label Finders Keepers including the Welsh Rare Beat collections.
The modern, sculptured lobby of the hotel is awash with the seven inch 60s sounds of Bob Stanley's record collection, and beautiful people are looking nonchalantly on. There's a queue snaking through the sofas, past Wayne Coyne, past Big Boi's posse and seems to be heading into the elevators. Yes, this is the entrance to the club that's on the sixth floor. I feel like I've entered a 'Being John Malkovich' surreal world. On the club floor there's a pool and deck area, and the whole situation is gorgeous beyond belief. Needless to say it was a rather fun way to start the visit here to Barcelona, a beautiful, modern, glamorous and above all totally unpretentious city.
One of the treats at Primavera is that unlike UK festivals, the main activities don't really start till the evening, so there's time in the day to wander the city, head to the beach, shop for food at the amazing indoor market, eat tapas, go sightseeing or whatever. Barcelona is full of gorgeous little shops too - I found one 80s clothes closet which was a new favourite. There's always something new to discover. Yes, this is a busman's holiday but I'm not complaining one bit.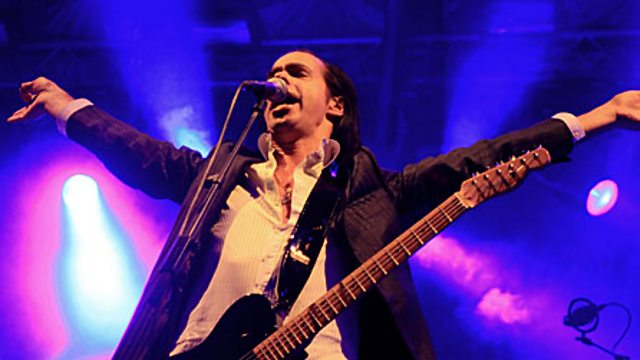 Grinderman. Photo: Dani Canti
Okay, back to the festival.
Thursday. The Welsh massive are in early to catch Islet who are playing the ATP stage at 6pm. A few technical hitches aside, they are impressive and feel like they're ready for the international stage. They are certainly a band with something different to offer in the current musical climate. Passionate, instinctive and breath-taking, whether in a small club or scaling the stage at Primavera.
(On the metro home on the last night a girl from Paris is telling me all about this band she's discovered at the festival, called Islet! They've put in a memorable performance.)
The rest of my Thursday night I wander around and catch the following: Of Montreal, a delightfully bonkers band, who wash the mainstage with wrestlers, balloons, and all sorts of madness. Glasser, edgy electro with the soaring vocals of Cameron Mesirow, Big Boi from Outkast and a full stage of party hip hop energy and dancing girls. The highlight of the night is the menace and darkness of Grinderman. They are severe, beautiful, energetic, raw and everything you want from a band. The songs are unique, gems, something I want to listen to in a dark room, something private, something pained, something that just speaks directly like a sinner at a confessional - it's like pleading for mercy out loud. If you think I'm being dramatic, check this description from John Robb:
"There is some biblical thunder going on up there. Breathing fire and brimstone and speaking in tongues with songs of lust and fury Grinderman are, perhaps, the best rock band in the world. Their sound is all at once tough, dark and spliced with a foul, black humour. Like a bunch of gunslingers posing as god's servants they take the stage in beautifully cut suits and some of the best hair and beards on god's own stinking earth." My night ends at the furthest point of the festival with Interpol, and Caribou, and then sadly my heavy eye lids don't make it through till Flaming Lips, who take to the stage at 2.30am. I'm done for the night with a dark but happy heart."
Full review from John Robb here.
Friday. I start my day chilling on a grass bank looking down on the main stage, drinking in the late evening sun. M Ward's warm country sounds spill around the arena from the main stage. He plays one of my all time favourite tracks, his version of Buddy Holly's Rave On, and the night is well and truly on.
Onwards from the main stage to see British band Wolf People, who are criminally underrated in the UK, but seem to be on one massive European jaunt this year. They have a remincent sound to Led Zep, and sound classic without being pastiche or cheesily retro. It's a big, rich, passionate and unique sound, that particularly makes me wanna headbang while watching!
I don't know why I'm not a little more adventurous for the next couple of hours, as I've never been a huge Belle And Sebastian fan, but their festival set is back to back hits, and I' m sucked in, and probably getting a bit excited by now about the main band of the weekend, the re-emergence, and revival of Pulp.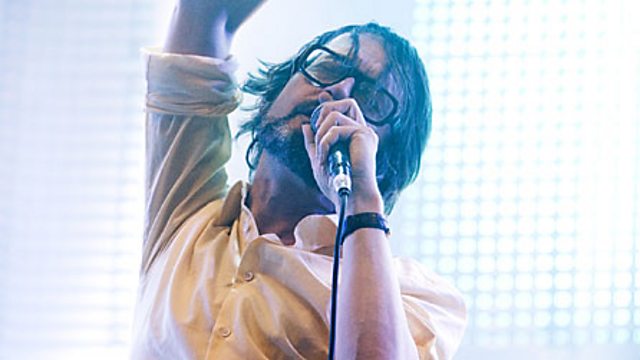 Pulp. Photo: Inma Varandela
It's slightly weird for me to be seeing so many of the bands that had such a huge influence on me growing up; that impressionable era of leaving school, and short few years at university. The Charlatans, Blur, Primal Scream, St Etienne, Suede, Echo And The Bunnymen, Sonic Youth and Mercury Rev: 90s bands in droves are coming back together and performing classic albums. Tonight with Pulp it feels very special and their music has certainly lived on beyond the bands' touring life and songs like Common People and Disco 2000; just absolute all-time classics.
The set runs like this: Do You Remember The First Time, Pink Glove, Pencil Skirt, Something Changed, Disco 2000, Babies, Sorted For Es and Wizz, Feeling Called Love, I Spy, Underwear, This is Hardcore, Sunrise, Bar Italia, Common People, Razzmatazz.
Jarvis is charm personified throughout, and dedicates Common People to the recent treatment of protestors in Barcelona's Placa De Cataluna. The whole set is considered, intelligent, fun, beautiful and uplifting pop at its very best, and Jarvis such a strong and confident front man. I'm trying to remember if the skinny strange dancer I saw when Pulp toured my University in the 90s is still the same man. Older and worldly wise he maybe, but with a life of experiences to add to that one time 'outsider' status, and a growing three decades of cult followers, he's becoming more and more impressive and a man you can listen to. It's why we still need bands like Pulp, and front men like Jarvis, and I'm so glad that pop is more and more allowing everyone to grow old disgracefully.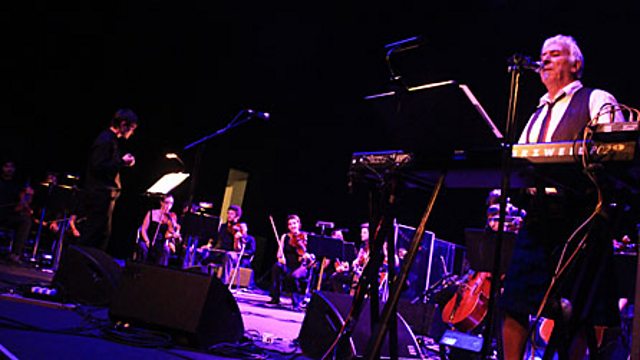 John Cale. Photo: Dani Canto
Saturday. Saturday starts in a very special way, in the dark auditorium with a Welsh music legend about to take to the stage. John Cale is performing Paris 1919 with full orchestra, bands and backing singers. Wow and again I say wow! The next hour I am in raptures. Cale's voice sounds strong and forthright, not a word spoken just absolutely lush orchestrations of amazing songs.
The run around the festival continued with Tuneyards, Fleet Foxes, Einsturzende Neubauten, Swans, Money Mark, Gang Gang Dance, Kurt Vile, and back to the main stage for PJ Harvey and Animal Collective, before ending the festival over with Pissed Jeans and DJ Shadow.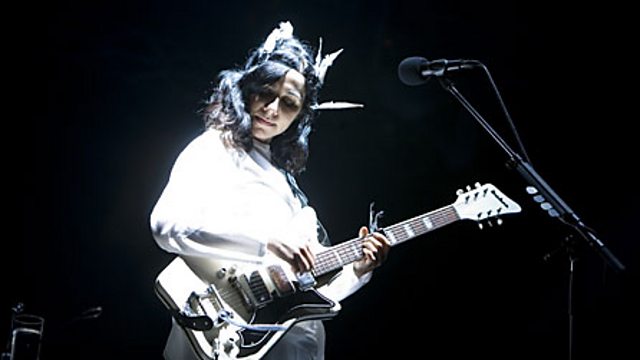 PJ Harvey. Photo: Inma Varandela
It takes till the last night to really get into the swing of the festival, the late nights, running from one end of the wide festival site to another, and feeling like the Spanish sea legs are in full working order. Still, better late than never, and it is a great night to end the festival, with so many delightful discoveries, and audio and visual simulations. Primavera, I'm booking again for next year: 2012 here we come!
Feel free to comment! If you want to have your say, on this or any other BBC blog, you will need to sign in to your BBC iD account. If you don't have a BBC iD account, you can register here - it'll allow you to contribute to a range of BBC sites and services using a single login.
Need some assistance? Read about BBC iD, or get some help with registering.