Yesterday, 2 February, was Candlemas Day.
Candlemas is a traditional Christian festival and it was the custom on Candlemas Day for clergy to bless candles and distribute them to people. A lighted candle was placed in churches and windows to brighten up the dark winter nights.
In pagan times it was known as the 'feast of lights' and celebrated the increase in the strength of the sun between the winter solstice in December and the spring equinox in March.
In the United States and Canada, Candlemas is better known as Groundhog Day - made famous by the film starring Bill Murray and Andie MacDowell.
Some people believe that the weather on Candlemas Day can tell us what the rest of the winter will be like and there's an old rhyme:
"If Candlemas Day be fair and bright, winter will have another fight, but if Candlemas Day be clouds and rain, winter is gone and will not come again."
Well there was some fair, bright weather and sunshine yesterday together with a few showers. Mind you, there is still no sign of any really cold and snowy weather heading our way, just plenty more wind and rain.
In fact in the next eight days some parts of south and west Wales could have another 100mm or more of rain. That's 4 or 5 inches and about a month's worth of rain. The average rainfall in Wales for the whole of February is 111mm.
Tuesday night into Wednesday an Atlantic storm will move towards southwest Ireland bringing more heavy rain and blustery showers.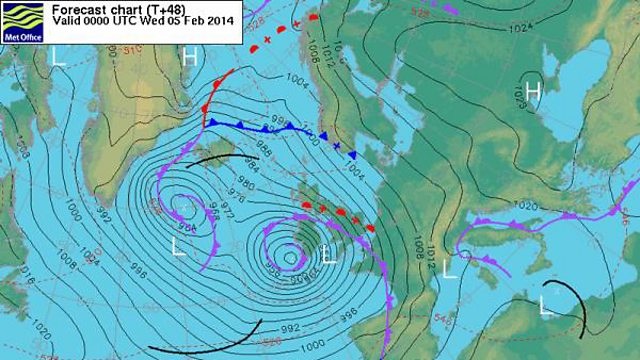 Met Office weather chart for Wednesday 5 February 2014.
Strong to severe gale force winds (storm force in the Celtic Sea) are expected as well with Met Office warnings in force.
There is also a risk of flooding on parts of the coast from Anglesey to southwest Wales with large waves and fairly high tides.
Thursday will be less windy and brighter with showers. The showers will be wintry on higher ground with a little snow on the mountains. Friday may start dry followed by heavy showers and more disturbed weather next weekend as, yet another, deep area of low pressure moves in from the Atlantic.