During Whitsun week - 27 May to 1 June - the Urdd National Eisteddfod visits Boncath in Pembrokeshire.
The Urdd is one of Europe's biggest touring youth festivals, attracting 100,000 visitors a year. Over 15,000 children and young people will compete during the Eisteddfod week in a vast array of song, dance and performance-based competitions.
These 15,000 are the elite few, whittled down from over 40,000 competitors across Wales, winning their place following local, district and regional rounds.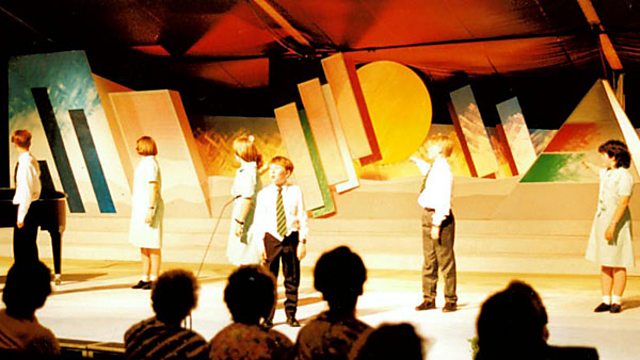 The young Owen Williams takes centre stage at the 1990 Urdd
I began my performing career, much like hundreds of thousands of other Welsh-language educated schoolchildren, as a small child at local Eisteddfodau.
Ysgol Gynradd Pont Siôn Norton's headteacher in the early 1980s was a loud, passionate, blonde-bobbed wonderful woman named Dorothy Todd.
Each child admitted through the Victorian schoolyard gates would be run through Mrs Todd's performance mill. You were either a performer or you weren't. There didn't seem to be a middle ground.
I flew close to the wind; I was deemed a non-singer (infamous karaoke performances at the Drovers Arms in College Road, Carmarthen would later discredit that theory), but was discovered to have an ability to orate prose and poetry with enormous gusto.
I recall, with some clarity, the Urdd Eisteddfod regional heats, conducted in the mid-80s at Mountain Ash Comprehensive School. My father was a teacher at the school at the time, so I bore the confidence of a small person already attuned to the large parquet-floored hall. My rendition of Y Wiwer (The Squirrel) would surely be the stuff of legend.
I had not, somewhat unfortunately, reckoned on the thespian ability of my main competitor. Ysgol Gynradd Rhyd-y-Grug possessed a force of nature by the name of Iwan England (a surname that patently wouldn't wash with the adjudicators, I thought), who delivered that squirrely poetry with such verve as to render the audience agog.
Eight years old, and utterly distraught, I vowed to never forget that fateful day.
Comprehensive school was to be my moment in the sun.
After all, Ysgol Gyfun Rhydfelen had a formidable reputation for drama, particularly their famed annual rock operas, which ran for a week - two sell-out performances a day. Yes, Rhydfelen was the big ticket in the Valleys in the early 90s.
My confidence in our upcoming Urdd Eisteddfod success was bolstered by my Glee-esque lineup of new classmates - the aforementioned Iwan England, the golden-haired songbird Gwen Heulyn and the soaring vocal talents of Catrin Southall.
We had been grouped with other talented Rhydfelen students, not least a teenaged Daniel Evans, who would later win a glittering array of coveted acting prizes, from the Richard Burton Memorial Prize to the Laurence Olivier Award.
Our merry band was entered into a series of categories - among them the Cyflwyniad Llafar (Dramatic Vocal Presentation), Cân Actol (Musical Play) and the Choir.
We hurdled the regional heats with ease. Secondary schools in the area didn't even bother competing against us.
Our confidence was brimming.
The 1990 Urdd National Eisteddfod took place in Dyffryn Nantlle and Arfon. We stayed, as I recall, at a local leisure centre (yes, these were simpler times). I recall being asked what I'd like from the chip shop, and unable to remember the correct word for chicken in Welsh, requested "cockerel and chips."
We were bussed to the Eisteddfod preliminaries early one morning in readiness for the Cyflwyniad Llafar heat, from where we, and two other schools, emerged victorious.
We were close - we could smell the fear on our competitors' uniforms.
We'd been coached to within an inch of our lives, and we were flawless.
The main stage on the maes was all that stood between us, and glory.
Put simply, we were immaculate. We held the audience in the palms of our tiny hands.
It was an unparalleled victory.
In 1992, Ysgol Gyfun Rhydfelen cleaned up at the Urdd Eisteddfod.
We took it all, and then some.
As happy times go, there aren't many that compare to a hazy Whitsun week in early summer, leaving every single school in Wales floundering in your wake.