Primavera Sound festival 2010
Concrete and steel constructs frame the blue sea and bright skies like modern art sculptures. Welcome to Spain's festival by the sea, Primavera Sound. A festival in Barcelona, a sister festival to the UK's All Tomorrows Parties.
Having travelled to Barcelona last year for Sonic Youth and Neil Young, it was pretty essential that a festival bill including Pixies, Pavement, Grizzly Bear, Yeasayer, The xx and Coco Rosie would be on my year's itinery. It was Primavera 2010, here we come!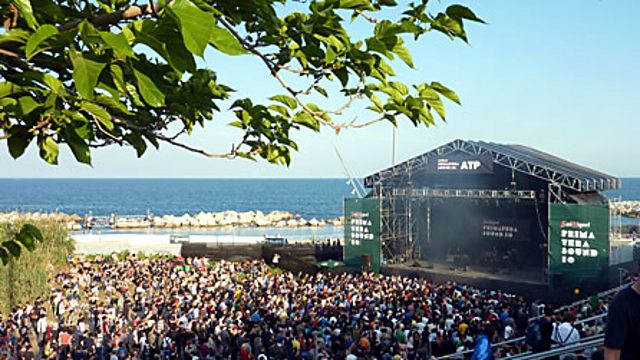 Thursday Night: Surfer Blood, Titus Andronicus, and The Smith Westerns were the first few bands I saw on the Pitchfork stage, a perfect billing of the new sounds of USA indie rock, very much the sound of the year so far. It was a good mellow start to the weekend, followed by the vocal pitch surfing and amazing songs of Wild Beasts.

Over on the big stage nestled quietly with the sea behind it The xx put on a magical display of sparse songs, drenched in echoing effects, reverb and simple clean girl/boy vocals. Their light show was magnificent dramatic, dark and brooding and really stole the evening for me.
Friday Night: Early evening started with some summery indie pop on the Pitchfork stage A Sunny Day in Glasgow swiftly followed by the retro surfesque duo Best Coast, and West Coast slackers Ganglians (below). Over on a larger stage Coco Rosie were putting on a rather surprising display of theatrics, operatics, quirky instruments, and joyus strangeness.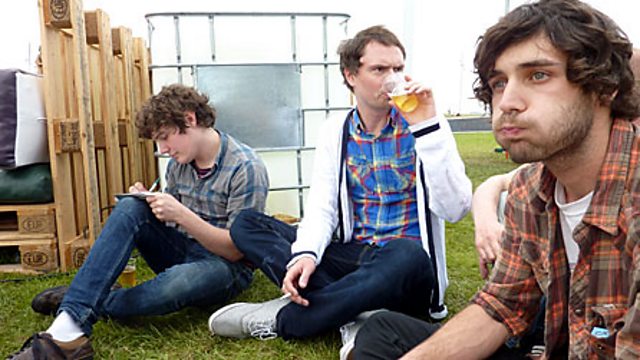 At eleven in the evening its time for a pick me up with Japandroids who are a ball of furious noise and crazy antics musical gymnastics with just two in their army! Pixies on the main stage gave way to Yeasayer's world fusion prog dance fun, and the night became morning with a live scary pummelling set from dance band The Bloody Beetroots.
Saturday: At tea time I'm watching the warm sounds of Real Estate, who I reckon are just going to charm at every festival from here on in. Then it's a quick bite of a falafel wrap to some retro garage rock from The Clean, followed by a surprise appearance from cult singer songwriter and comic book illustrator Jeffrey Lewis under the guise of The Bundles (below). I catch a little of an excellent and rawkus set from Spain's own Mujeres. Then its back to the main stage for an ebullient and celebratory performance from Florence And The Machine.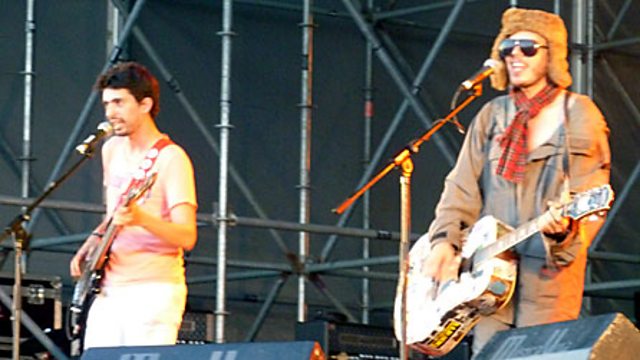 A little jogging around meant that I caught some of The Antlers, Grizzly Bear, The Drums (below), but eventually settled for a nostalgia playing of Some Friendly by the Charlatans. Pet Shop Boys were big, pop, colourful and fun but I snuck out to catch a moment from legend Lee Scratch Perry and ended the night with a taste of Health but a dance with the excellent Orbital.
Sunday: Joan Miró park in University heartland of Barcelona. Sunday afternoon was an unexpected surprise and treat, a free post-festival event which opened with Spanish band Mc Enroe. However, The King Khan & The BBQ Show, a riot of rock and roll attitude, stupid stage get up, a tirade of abuse on the poor sound guy, and frequent visits from King Khan himself into the audience took the quiet park by surprise. Generic, stupid, fun and 'crazy' but ultimately totally engaging and enthralling all the same and the lively Spanish crowd lap it up.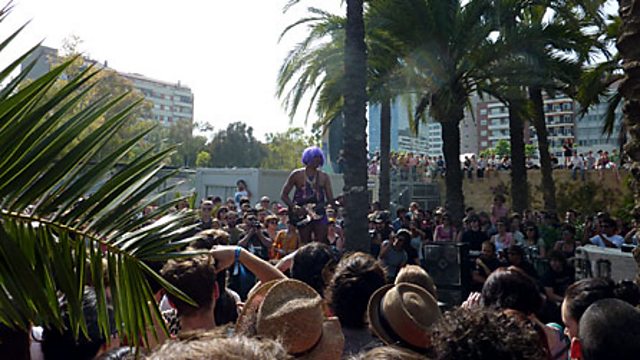 Next up on the small open platform are Real Estate whose beautiful guitar sounds and longing and lovely sunshine drenched songs are a perfect afternoon park experience.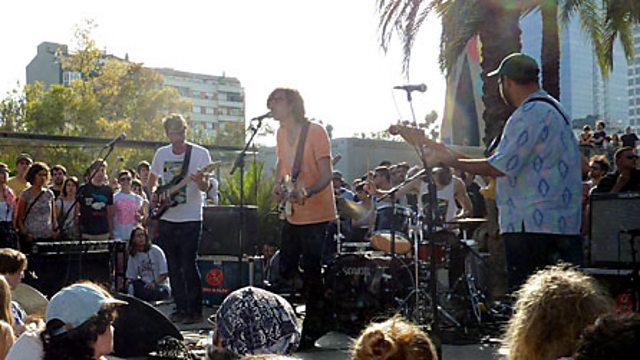 They were followed by Smith & Westerns and the Dum Dum girls on a stage surrounded thickly on all sides by the crowd, to the point where you could hardly hear them. And so a little gathering in a clearing of palm trees becomes a perfect end to the weekend in Barcelona.