A wild walk around Parc Slip
In between the showers on Saturday I decided to drag the family out for a walk to Parc Slip nature reserve near Bridgend.
The reserve is 305 acres and managed by the Wildlife Trust of South and West Wales and home to many species of butterfly, birds, amphibians and reptiles such as great-crested newts and adders.
It's very close to Bridgend and Maesteg and fairly easy to get to - I say fairly, as I took three wrong turns getting there and struggled to spot any sign posts saying 'Parc Slip' but my mobile phone and Google maps saved the day.
We arrived just as one of the wildlife wardens was marching off, closely followed by a line of parents and kids - complete with wellies and fishing nets, so I'm assuming there was a pond dipping exercise taking place somewhere.
The rain eased and the sun threatened to come out and once we were on the trails, the wind eased and the wildlife hunt began.
Our first stop was at the wildlife pond to show my young apprentices some frog spawn, which was so easy to find, it could have been placed there - but perfect for little eyes to spot.
Moving along the trail, grabbing kids from jumping into the deepest puddles, we passed teal and mallard and entered the first bird hide - overlooking a decent sized pond with a small island in the middle.
There was plenty of birdlife on show including black-headed gulls, swans, a heron, plenty of teal and mallards and a lone lapwing sat on the island.
There weren't many people about but I chatted with one gentleman who looked like he knew a thing or two about the reserve and he informed me that there was an adder hotspot nearby.
I was surprised to hear that adder were out and about this early but he assured me there was a section of trail where he regularly saw them when the sun was out, basking in amongst the old bracken and undergrowth.
We by-passed the butterfly and dragonfly walk as my little boy already had soaking wet trousers, socks and wellies and I couldn't face pulling him face-first out of any more mud.
Following a narrow road, I noticed something moving in the verge and was delighted to find a medium sized toad, attempting to burrow its way inside a grassy tussock.
I gently eased him out onto the palm of my hand to show the boys what a toad looked like and after some initial cries of 'monster' and 'dragon' they were genuinely intrigued by this lumpy little brown creature with its long back toes and golden eyes.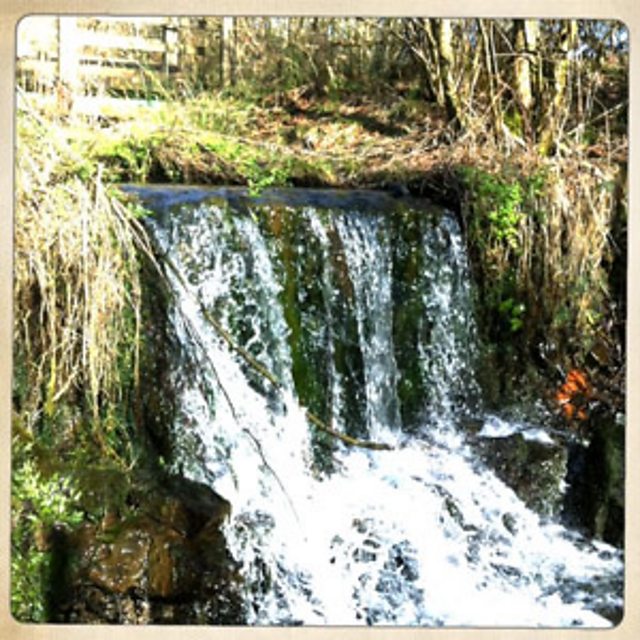 A miniature waterfall at Parc Slip nature reserve.
There are a few different trails to take, varying in length and I may well have gone wrong opting for the easiest and driest routes on the day but we passed over some little wooden footbridges spanning mini waterfalls flowing into a crystal clear stream.
Along the way we spotted a green woodpecker flitting low across a marshy field, saw great tits and blue tits in the woods and heard chiffchaff and robins up in the tree tops.
Nearing the 'snake section', I moved up ahead of the group as snakes are hard enough to find normally, without two little boys in tow, whacking the brambles with swords fashioned from muddy sticks.
After 10 minutes of pain-staking searching, I spotted what looked to be a silver-grey coloured lizard, approximately 1.5cm in circumference, nestled in a shallow hole surrounded by brambles - my first adder sighting of 2012.
I was expecting to see the pronounced dark zigzag markings of a larger adder but from the small part I could see - this juvenile only had a few black stripes on its side.
I shouted 'adder!' but by the time the group had caught up, it had slowly slithered back into its hole, away from prying eyes. Nevertheless, it was exciting to actually find one, as it literally was like looking for a needle in a haystack.
Incidentally - snakes don't hibernate, they brumate over winter. In other words, their body temperature is maintained at a cooler level than normal, but they are awake and slowly move around to keep warm.
The return leg took us past a memorial stone marking the colliery disaster that happened here in the 1892 when 112 people lost their lives and it's hard to believe that this site was once an open cast mine.
From here it was a short trek along a tarmac road past woodland and marshland back to the car park.
I'll definitely be returning in summer, once the reed beds have grown, the weather is warmer and there are a few more birds about, but for a first visit - on a cold, wet and windy day in March, I was very impressed.
Try one of the Parc Slip walks