Normally the weather improves in September when the children go back to school but not this year! It has been a disappointing week weatherwise and the weekend is not looking great either. Low pressure in the Atlantic will bring more unsettled weather to Wales. Some rain, blustery showers, and strong to gale force winds. But I can promise a few patches of blue sky and some sunshine as well.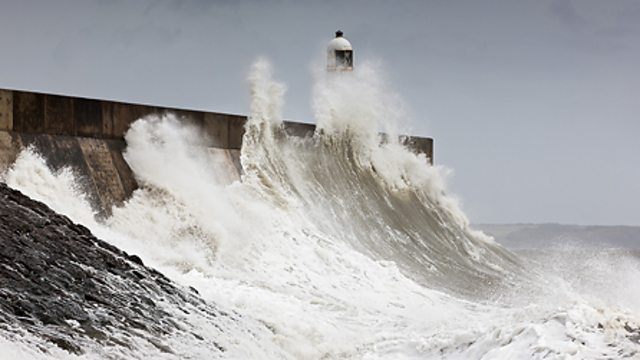 Stormy seas at Porthcawl taken earlier this week by Allen Lloyd
The BBC Proms in the Park is taking place on Saturday evening in Caerphilly. If you're going along, it will be breezy with the risk of a few showers. So take a coat, umbrella and a blanket just in case!
The Rugby World Cup kicked off today in New Zealand. Wales play South Africa on Sunday and the weather there is not much better than ours. Damp and breezy conditions are expected in Wellington on Sunday with highs around 13 or 14 Celsius.
Back home, on Sunday night and Monday we've got the remains of Hurricane Katia to deal with. She will move northeast in from the Atlantic towards the UK.
There is still a fair amount of uncertainty on the exact track she will take, but the Met Office has issued a yellow alert for strong to severe gale force winds. Gusts of 60 to 70mph are possible. Perhaps as high as 80mph on a few exposed coasts and hills. Strong enough to bring down a few trees and cause some disruption. So we may need to batten down the hatches on Sunday night and Monday. There is also a risk of coastal flooding in the south and west due to the combination of strong onshore winds and high tides.
It would be worth keeping a close eye on the forecast over the weekend.
Derek