RD Blackmore and the Maid of Sker
Mention the name RD Blackmore and most literally-minded individuals will probably reply "Lorna Doone". Set in the Devon countryside, Lorna Doone was the Victorian novelist's most famous and most popular book.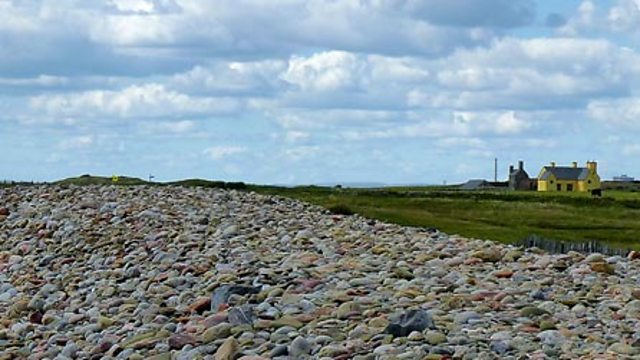 Sker House (Photo by Gill Jones)
However, what many people do not know was that this gentle, unassuming lawyer, teacher and author had strong connections with Wales and that he even set one of his romantic novels, The Maid Of Sker, in and around the Porthcawl area.
Richard Doddridge Blackmore was born at Longworth in Berkshire in 1825, the son of the Rev John Blackmore and Anne Barnett Knight.
It was a distinguished ecclesiastical family, John Blackmore's wife Harriet being descended from the famous Nonconformist hymn writer Philip Doddridge - the reason RD Blackmore carried his name. Another ancestor, William Wake, was Bishop of Lincoln and, later, Archbishop of Canterbury.
Blackmore's mother Anne had strong Welsh connections. She came from Nottage, outside Porthcawl, the family living in some style at Nottage Court. The house had originally been part of a wheat farm for nearby Margam Abbey but after Henry VIII dissolved the monasteries in the 16th century the house and its lands passed into private ownership.
Unfortunately for the young Richard, his mother Anne died from typhus just three months after he was born. His father was unable to look after him and the baby, along with his elder brother Henry, were sent to Nottage Court where they could be brought up by his mother's sister Mary.
Blackmore enjoyed the first six years of his life at Nottage, roaming the sand dunes around Kenfig and developing a love of nature and the countryside that never left him - and which is a major factor in nearly all his books. He was later to say that his aunt Mary taught him to read, write and spell and made sure that he was familiar with the history, folklore and dialect of this part of Wales.
The family also had connections with Devon, just across the Bristol Channel, and several holiday periods were spent there. Between the coastal scenery of Glamorgan and the rolling hills of the English county, the young boy could not have had a happier early childhood - even thought he concept of orphans and the thought of being left without family often haunted him. It surfaces many times in his writing.
One of the places that Blackmore saw during his time at Nottage was nearby Sker House. This large and imposing building was a Tudor-built house, originally part of five farms that supported and serviced nearby Neath Abbey. It was a lonely and imposing building with a mysterious legend attached to it.
According to folklore the house eventually passed into the ownership of Isaac Watkins whose daughter supposedly fell in love with a young harpist from Nottage. The young musician had few prospects and Watkins forbade the match, forcing his daughter to marry another man. It was no use and the girl duly died of a broken heart. It is a legend that is quite similar to the more famous Maid of Cefn Ydfa, a story soon to be made into an early silent movie by William Haggar.
Other versions of the legend have the maid of Sker locked up in the house, imprisoned in a room with no windows and no way out. And, of course, like all such legends, her ghost was said to walk the corridors and staircases of Sker House.
Blackmore would have heard the stories about Sker during his childhood but his novel, when he came to write it in 1872, had nothing to do with them. His book, a novel that he thought much better than Lorna Doone - though literary critics and posterity have clearly thought otherwise - was an improbable tale of mysterious orphans, shipwreck and true love that does, eventually, turn out right in the end.
Like the rest of his literary efforts, the book sold well and was popular with the reading public. It was just one of 15 novels Blackmore published during his lifetime. He died in 1900, one of the most popular and widely read authors of his generation, a man who could count Rudyard Kipling and Thomas Hardy among his friends.
His books are not so widely read these days, apart from the perennially popular Lorna Doone, but they remain well-researched and written, showing a clear love of nature and the countryside. Blackmore left Nottage at the age of six when his aunt married and settled at Elsfield Rectory near Oxford. After University he became, first, a lawyer, then a teacher. He wrote, almost as a part-time hobby, during his holidays and at weekends.
He developed a strong love for the county of Devon but, a quiet and retiring man who was fortunate enough to receive a large and valuable legacy when his uncle died, he rarely left his home at Teddington - apart from annual holidays to the Devon coast.
Although Blackmore always considered himself a Devon man, his one work of fiction with a Welsh setting is an interesting book to read. It shows that he had an affinity with the land and people of south Wales - a clear case of what might have been if his interests had not steered him in another direction.