Surf report, 7-9th January
9am Friday morning update: There are no waves showing for South Wales yet but fingers crossed that the swell is with us by this afternoon. The outer wave buoys are all picking it up now with the swell ranging between 3-5 metres off Southern Ireland.
However, with the swell comes strengthening S/SW winds. Saturday will be a good size but messy due to the winds but sheltered spots will be nice. Sunday looks much more promising now with lighter WNW winds.
I'd thought I'd start the new year by bringing back the occasional surf report and see how we get on so feel free to moan if I'm wrong, or praise me if I'm accurate ;)
We've currently got two lows battling it out over the UK - one to the North and a new one on the scene pushing in from the Atlantic, both of which are currently measuring 980 hpa.
It's looking tiny out there at the moment but we should start to see some waves arriving later on today and into Friday.
South Wales has a decent underlying wave period of 12 seconds today so the small swell is being converted into something almost rideable (on longboards), around half a foot but swell lines are beginning to show at Rest Bay and Llangennith.
Further West towards Pembrokeshire it's a similar story with tiny surf and light offshore NE-NNE winds. Pembrokeshire is probably your best bet for a small, 1-2 foot wave today.
Friday is looking like the best day for surf this week with the start of a new swell kicking in and ESE winds veering SSE during the afternoon.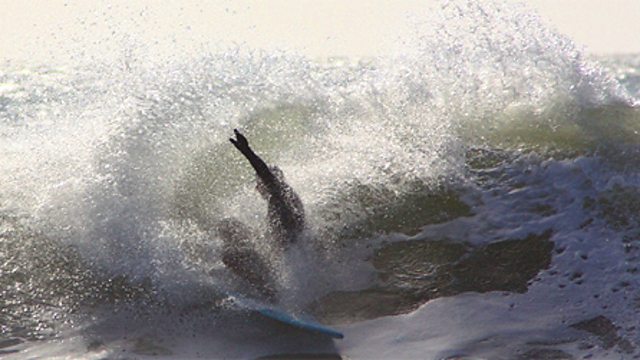 Me having some fun, surfing on Gower in Winter 2009. Image by Mark Evans, Porthcawl.
Friday will hopefully have clean 3 foot+ surf with the swell building into Saturday and should range between 3-5 feet over the weekend.
Depending on what time you're awake on Saturday - you could either have left over S or NW winds so set your alarms accordingly ;)
On Sunday the wind is pretty variable but strengthens and tends to have W in it for most of the weekend changing from SW to WNW to W. However should see plenty of NW winds thrown into the mix offering some surfing options for parts of Gower though.
On Sunday the low drifts in closer and heads north east over the rest of the UK and a weak high drifts in behind it to fill the void.
So in summary, I'd say Friday afternoon and Saturday morning are currently the best days for surfing in South and West Wales but don't write off Sunday as if the swells holds, it could be okay at sheltered spots in NW winds.
Quite large tides at the moment with 9 metres + today and high tide around 7.30am.
If you want to know more about surfing in Wales then take a look at our mini site and beach guides.
Let me know how you get on this weekend - I might see some of you out there and If you take any good surfing shots, you can email them to me here at wales.nature@bbc.co.uk.
Gull